Locals or tourists who want to book Ly Son – Da Nang fast ferry ticket when this line comes into operation is easier and simpler.
The fare for a trip from Ly Son to Da Nang by speedboat on weekdays is only 590.000 VND and weekend only 720.000 VND.
Da Nang – Ly Son fast ferry route does not have a fixed schedule, so passengers who want to take the Ly Son fast ferry to Da Nang can refer to the schedule of Da Nang – Ly Son – Da Nang fast ferry to arrange a schedule suitable for your trip.
Currently, the demand for locals and tourists traveling from Ly Son to Da Nang for study, medical care, business trips, tourism… is very high, so this fast ferry route partly meets meet that need.
Travel time from Ly Son to Da Nang
If in the past, tourists and locals who wanted to go from Ly Son to Da Nang had to take a high-speed train from Ly Son, which took about 30-40 minutes by train, then by road from Sa Ky to Ly. Painting about 152km takes 3 hours and 3.5 hours. That is not to mention the waiting time for the car, waiting for the train and the train schedule often changing, not fixed, so it is difficult for passengers to arrange and schedule their own.
With the fast ferry route from Ly Son to Da Nang directly in only about 2 hours and 30 minutes, it is safe, fast and healthy for all passengers, which is the optimal choice for many locals and tourists.
After booking fast ferry ticket, passenger just need to go to Ly Son Port to get on the ferry to go straight back Han River Port – Da Nang city center location, from here, can go to any location in Da Nang. Estimated departure time in Ly Son: 14:00, expected arrival time in Da Nang: 16:30.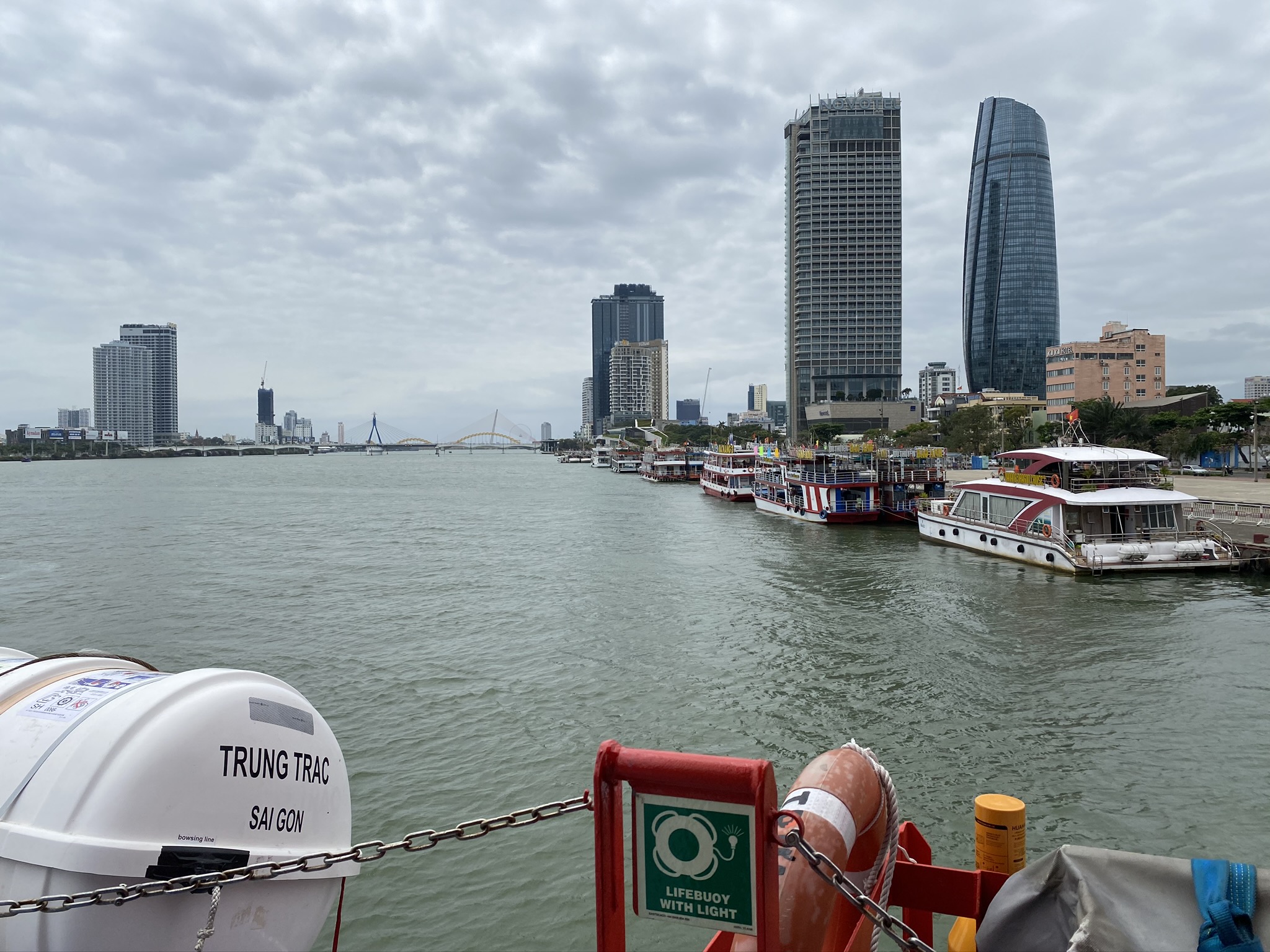 Why should you choose to take Ly Son – Da Nang fast ferry ?
"There is no faster way than a straight road" taking the fast ferry directly to Ly Son – Da Nang is also one of the experiences you should try with the Trung Trac fast ferry with outstanding advantages:
The largest double-hull fast ferry in Vietnam
ROLLS ROYCE technology
Safe, no seasick
It takes just over 2 hours to move Ly Son – Da Nang
High-class services: Large capacity air conditioner, free wifi, drinking water, cold towels…
Deck sightseeing Ly Son, Da Nang…
Please contact us at the address:
Hotline: 0889211234
Telephone: 0889371234 – 0889271234
Email: booking@taucaotoc.vn
Website: https://vetaulyson.vn
Address:
Fast ferry ticket office – Song Han Port, 08 Bach Dang, Thach Thang Ward, Hai Chau District, Da Nang City.
Fast ferry ticket agent Ly Son Express – Tay An Vinh village, Ly Son district, Quang Ngai province
Price of Ly Son – Da Nang fast ferry
According to the published fare table of the Ly Son – Da Nang fast ferry route, it is applicable for one-way travel/or return with all taxes and fees specifically as follows:
From Monday to Thursday
VIP: 900,000 VND
ECO: 590,000 VND
Elderly/Children: 470,000 VND
People with disabilities: 410,000 VND
From Friday to Sunday, Holidays, Tet
VIP: 900,000 VND
ECO: 720,000 VND
Elderly/Children: 570,000 VND
People with disabilities: 500,000 VND
Note:
VAT included
Children (6-11 years old) and elderly people (over 60 years old) apply Eco discount according to Company policy
Children under 6 years old or less than 1m2 in case of sharing a seat with an accompanying adult will be free of charge for boarding the ferry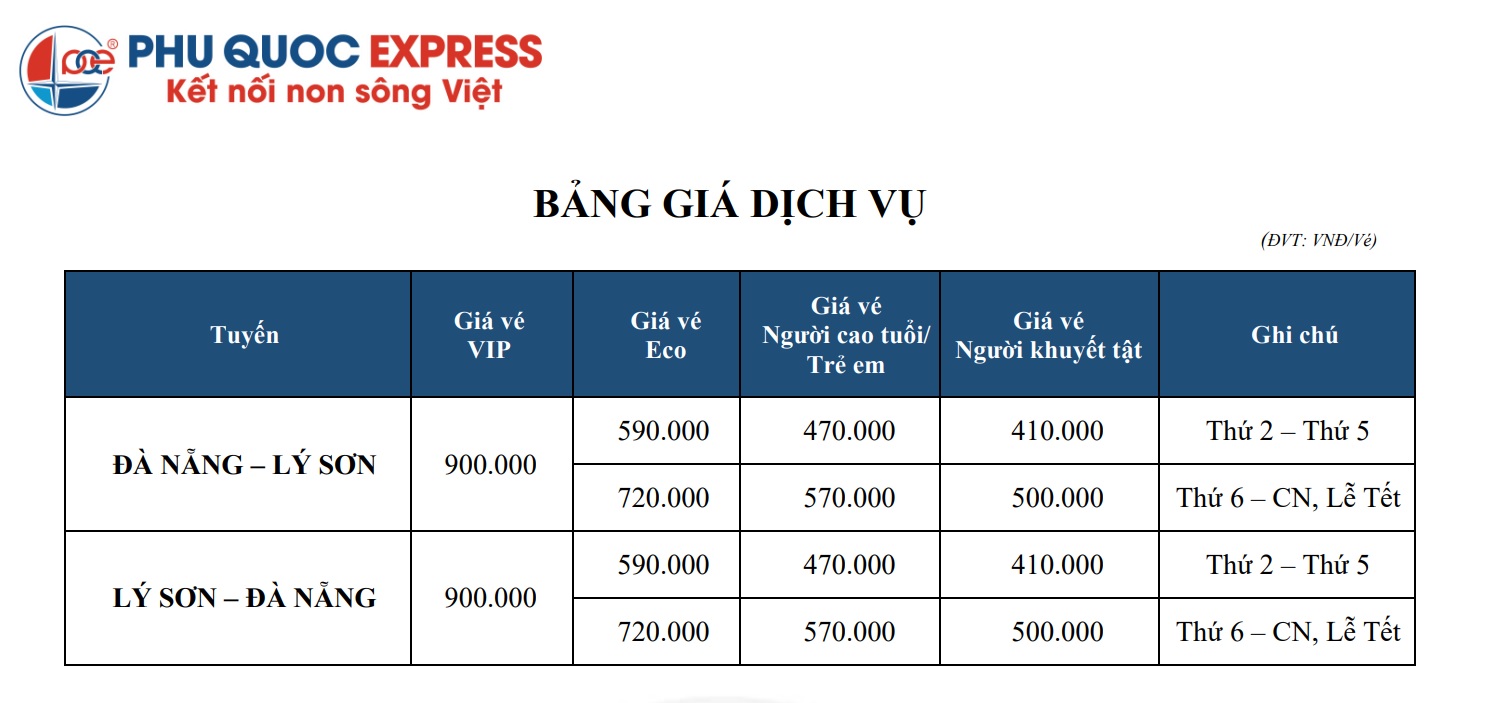 Tips for tourists to Da Nang
Da Nang is the 3rd largest city in Vietnam and is the perfect resting place for those who have traveled through the two ends of the country. Da Nang is developing into one of the well-planned urban areas with villas located neatly along the coast and the romantic Han River flowing through the city.
One piece of advice for you is to check the weather before coming to Da Nang. If you want to see the sea, the most suitable time for you to visit Da Nang is from March to mid-September because this is the dry season in Vietnam. Coming to Da Nang at this time, you will be able to enjoy the golden sun and the blue sea. The hottest months are May to August (30-38°C). From January to March, the weather can be quite cold (lowest temperature is about 16°C), overcast and gray skies will affect your stay. You should also avoid coming here in late September, October and November when it rains a lot.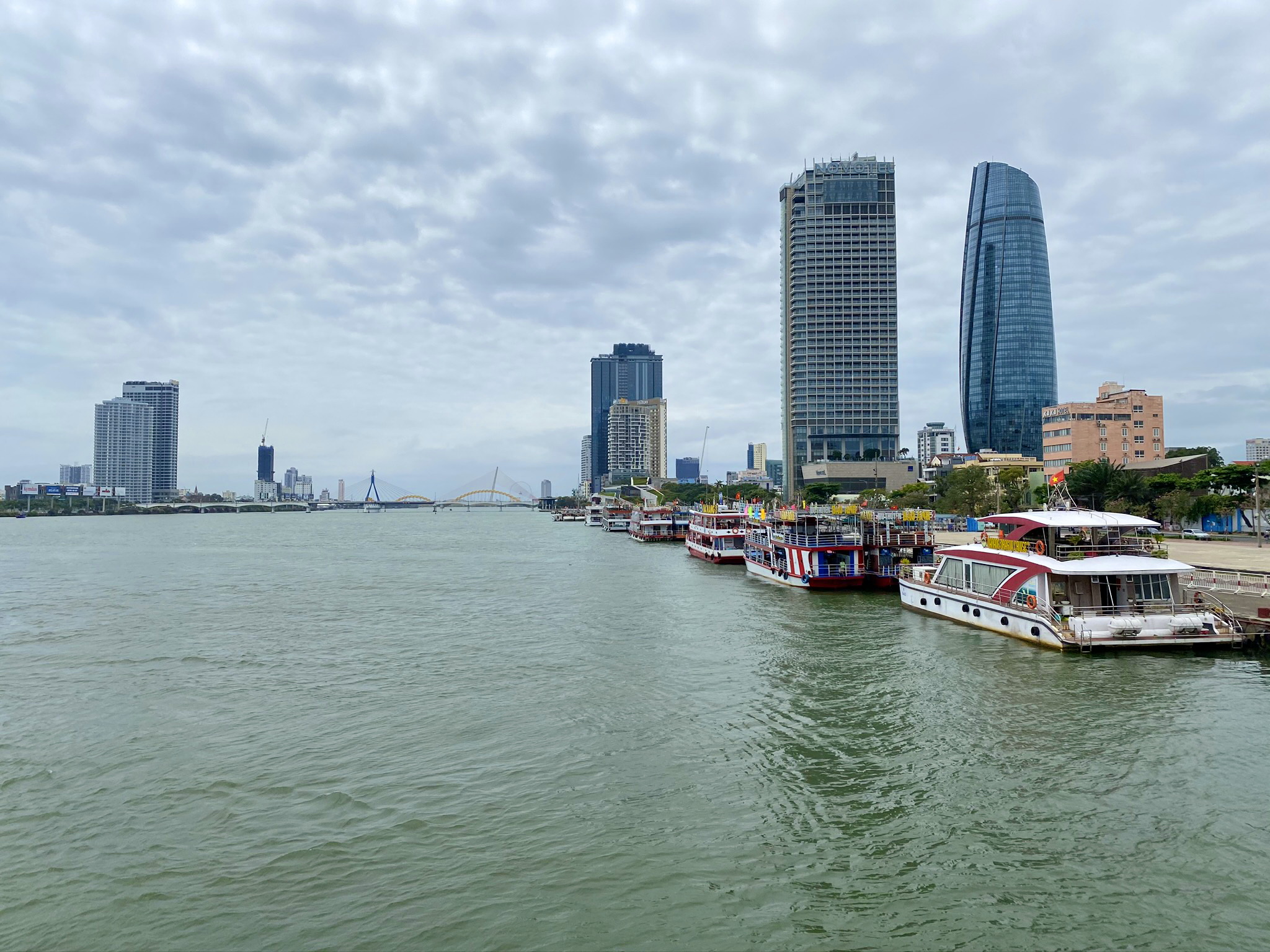 Da Nang is a tourist city that is honored with many natural attractions such as Ba Na, Son Tra peninsula, Ngu Hanh Son mountain … and many entertainment places such as Bai But, Bai Rang … Da Nang Nang is famous for many beautiful and unique bridges such as Dragon Bridge, Tran Thi Ly Bridge, Song Han Bridge … These are bridges connecting the two sides of the city and also an ideal place for visitors to have a look. more about this beautiful city.
If you have 2 days in Da Nang 2 days, you should go to Ba Na on the first day. At the top of Ba Na is a European-style castle and a spectacular amusement park below. After visiting Ba Na, spend a night walking the bridges, participating in recreational activities at bars or clubs near the Han River. The next day, you can visit some famous places of Da Nang such as Marble Mountains, Linh Ung Pagoda, My Khe beach, Cham museum… Then try taking a boat trip on Han River to enjoy the fresh air and watch the city shimmer when the lights are on. Or you can try the panoramic view of the city at night in the "Sun Wheel".
If you want to stay close to the downtown area, you can choose hotels along the Han River. Most of them are hotels with reasonable prices, modern, safe and reputable facilities, including a few hotels opposite the pier such as: T26 Hotel, Kaka River Hotel…. These are hotels close to the Han River, visitors can experience walking along the romantic Han River…. If you want to stay in a 5-star luxury resort, there are many choices for you. friends such as: Hilton Da Nang, Da Nang Sheraton, Furama Resort, Olalany, Alacate, Muong Thanh Hotel…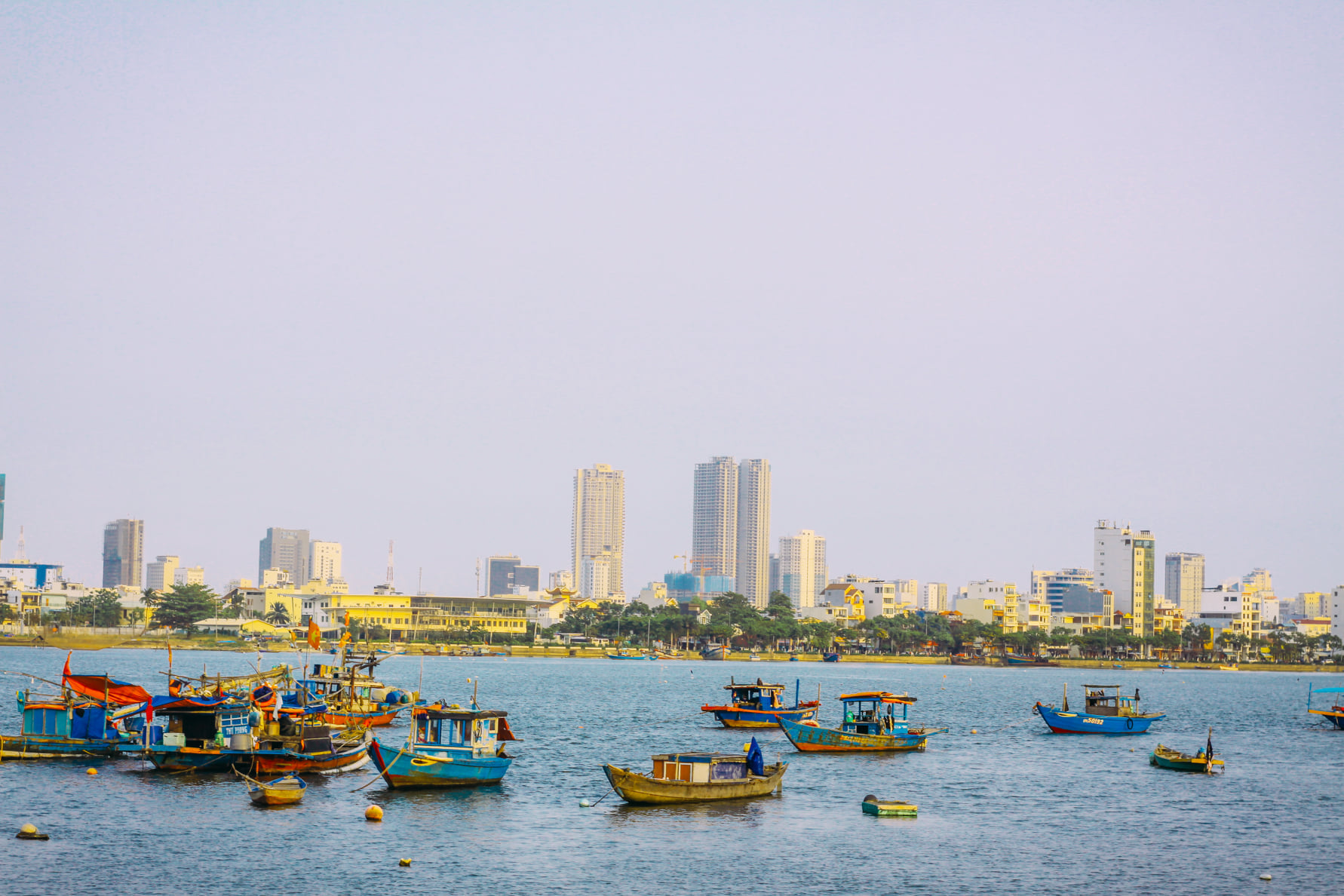 Da Nang is also an ideal place for you to enjoy the true taste of Central cuisine. There are many restaurants and eateries all over the city. I have tried a lot of food here and the two dishes that impressed me the most were Quang noodles and fish noodle soup.
If you want a romantic atmosphere, book dinner at a restaurant along the Han River. There are many restaurants on My Khe beach for those who love seafood, some outstanding restaurants you should try such as My Hanh, You, Ngoc Suong, Phuoc Thai… these places offer fresh seafood with stable prices.