Phu Quy is one of the islands of Binh Thuan province, the distance from Phu Quy island to Phan Thiet city is about 90.1km (about 48.6 nautical miles), to get here you have to book fast ferry from Phan Thiet to Phu Quy. We will guide you on how to book fast ferry ticket.
Vehicles to go to Phu Quy Island
Currently, on Phan Thiet sea route to Phu Quy Island, 05 high-speed passenger ships are in operation, including:uperdong PHU Quy I, Superdong PHU Quy II, Phu Quy Express, Hung Phat 26, Phu Quy Island. These ships operate in weather conditions from level 1 to 7 (winds from level 8 and up almost stopped working). There is also a slow boat Phu Quy 07 (launched in 2001 and has expired 20 years of passenger carrying) is currently converted to cargo mainly.
You should book high-speed train tickets a few days in advance to avoid "ticket sold out". ou can refer to choose 1 of the 5 above ships with the specific fare and operation time as follows:
Hung Phat 26 ferry
This is one of the first high-speed crafts operating on Phan Thiet – Phu Quy route, he operating time from Phan Thiet to Phu Quy by Hung Phat 26 ferry is 3 hours and 15 minutes. Fare is 250,000 VND, air-conditioned room is 350,000 VND.
Phu Quy Express fast ferry
Phu Quy Express is the first two-hull high-speed craft running on Phan Thiet – Phu Quy route. The ferry has a speed of 27-28 nautical miles / hour. Load capacity of 317 passengers, including: 222 beds, 95 seats and 15 tons of cargo.

Fare: 350,000 VND, travel time: from 2 to 2.5 hours.
Superdong Phu Quy ferry
Superdong has 02 ships operating on Phu Quy – Phan Thiet route, namely Superdong Phu Quy 01 and Superdong Phu Quy 02. Fare is 350,000 VND, travel time from 2 to 2.5 hours. Remember to arrive 1 hour before departure to get ticket for Superdong fast ferry. Be sure to have your identification ready to get on the ferry.
Phu Quy Island
The newly built ship has a length of 47m, width of 7.2m, a speed of about 21 nautical miles / hour, withstands high waves of level 7, level 8. Phu Quy Island has 264 beds of passengers that can be adjusted into seats or depending on the needs of passengers, lifejackets with automatic signals (separate for adults and children) are installed in each passenger bed. Fare for 1 passenger is 350,000 VND.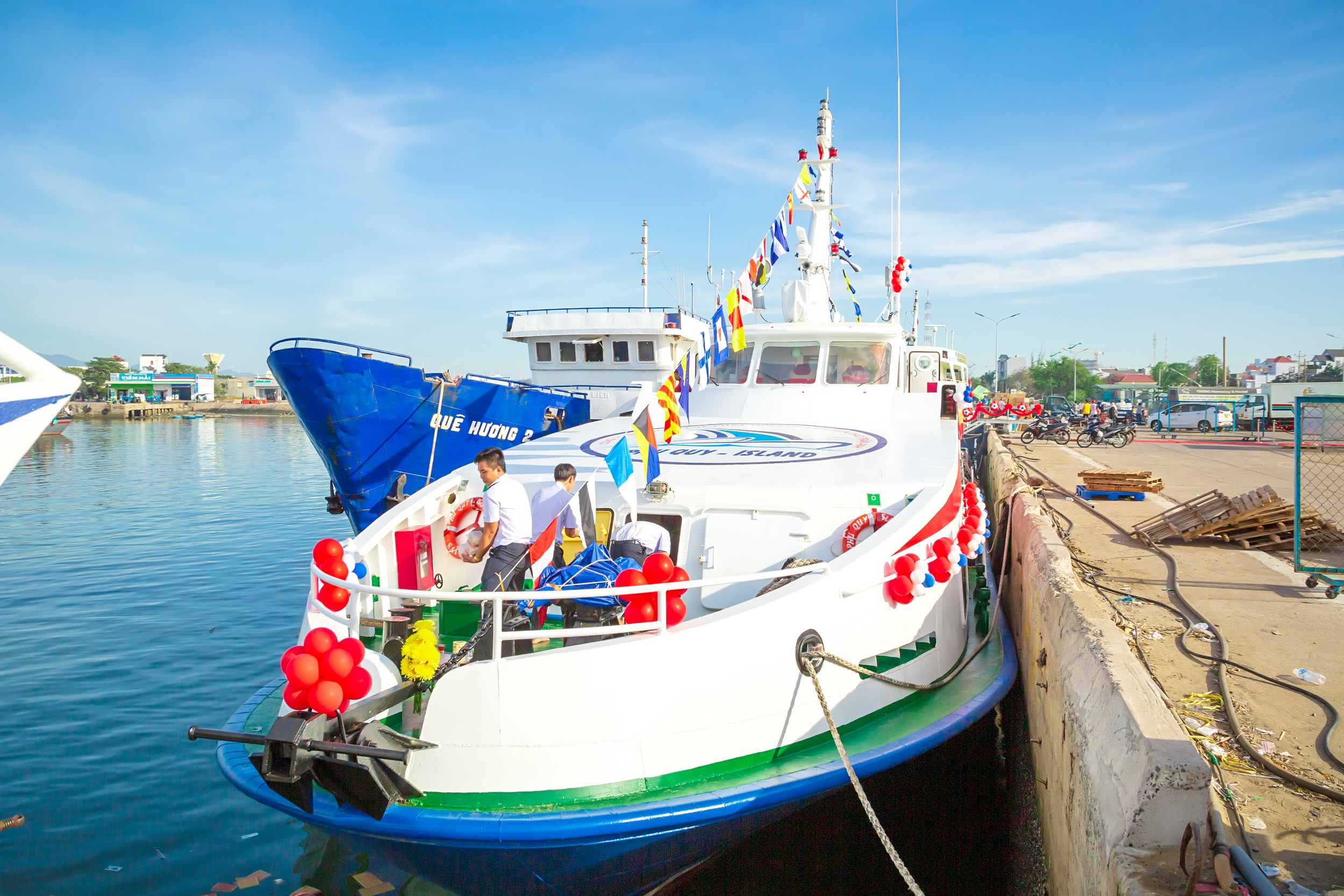 Contact for booking Phu Quy high-speed craft
Vietnam high-speed craft – https://taucaotoc.vn/ is the first ferry ticket agent in Vietnam to link with all high-speed craft lines across the country to take passengers to islands and districts of Vietnam, we are always ready to assist passengers book high-speed craft ticket to Phu Quy Island.
If you book ticket for Phan Thiet – Phu Quy high-speed craft, please contact: 0889271237– 0889211234 or email booking@taucaotoc.vn. Inbox FB Fanpage: m.me/taucaotocvietnam
Experience to travel to Phu Quy Island  
Good time to go to Phu Quy Island
According to the travel guide of Binh Thuan province, to go to Phu Quy island safely and conveniently, you should come here in spring and summer, especially passengers should limit go to Phu Quy island in the last months of the   year in case of big storm, big wind. In the summer, the weather on Phu Quy Island is quite beautiful, so it is very convenient for traveling, swimming, and watching coral. And you need to spend 3 days 2 nights if you want to travel to Phu Quy island completely.
Staying in Phu Quy
Currently motels and homestays on Phu Quy Island are free to pick up tourists at Phu Quy port, so you just need to contact these motels and hotels, then inform the ferry's arrival time and ferry number, they will pick you up.
Staying at Long Vy restaurant: Room price is usually 150,000 VND / night, contact booking 0917680344 – 01244093777; This motel is seaside but not very close to the center.
Anh Chan's motel: Room price 250,000 VND / night, contact 0903186208, this motel is in the center of island and the host is also very enthusiastic.
Homestay Co Sang: Price only 50,000 VND / night, contact booking 0937194908; according to the experience of traveling to Phu Quy island with cheap prices, staying in the form of homestay will save a lot of costs but the room does not have air conditioning.
Famous tourist destination in Phu Quy
If you do not know where to visit when coming to Phu Quy island, please see the following attractive tourist destinations in Phu Quy island:
Trieu Duong Bay
Trieu Duong Bay is the most beautiful scenic spot on Phu Quy island that anyone who comes here wants to come to have fun at least once. With a long coastline, fine white sand and blue sea water, Trieu Duong Bay is always crowded with tourists and locals coming to swim, take a walk.
Linh Son Pagoda
Linh Son Pagoda is located on the top of Cao Cat mountain of Phu Quy island, where people in this island often come to worship Buddha for peace and wish they could catch much seafood. Tourists to Phu Quy Island cannot ignore Linh Son Pagoda located on Cao Cat mountain because this is a famous sacred temple and standing from the top of Phu Quy mountain to sightsee is really wonderful thing.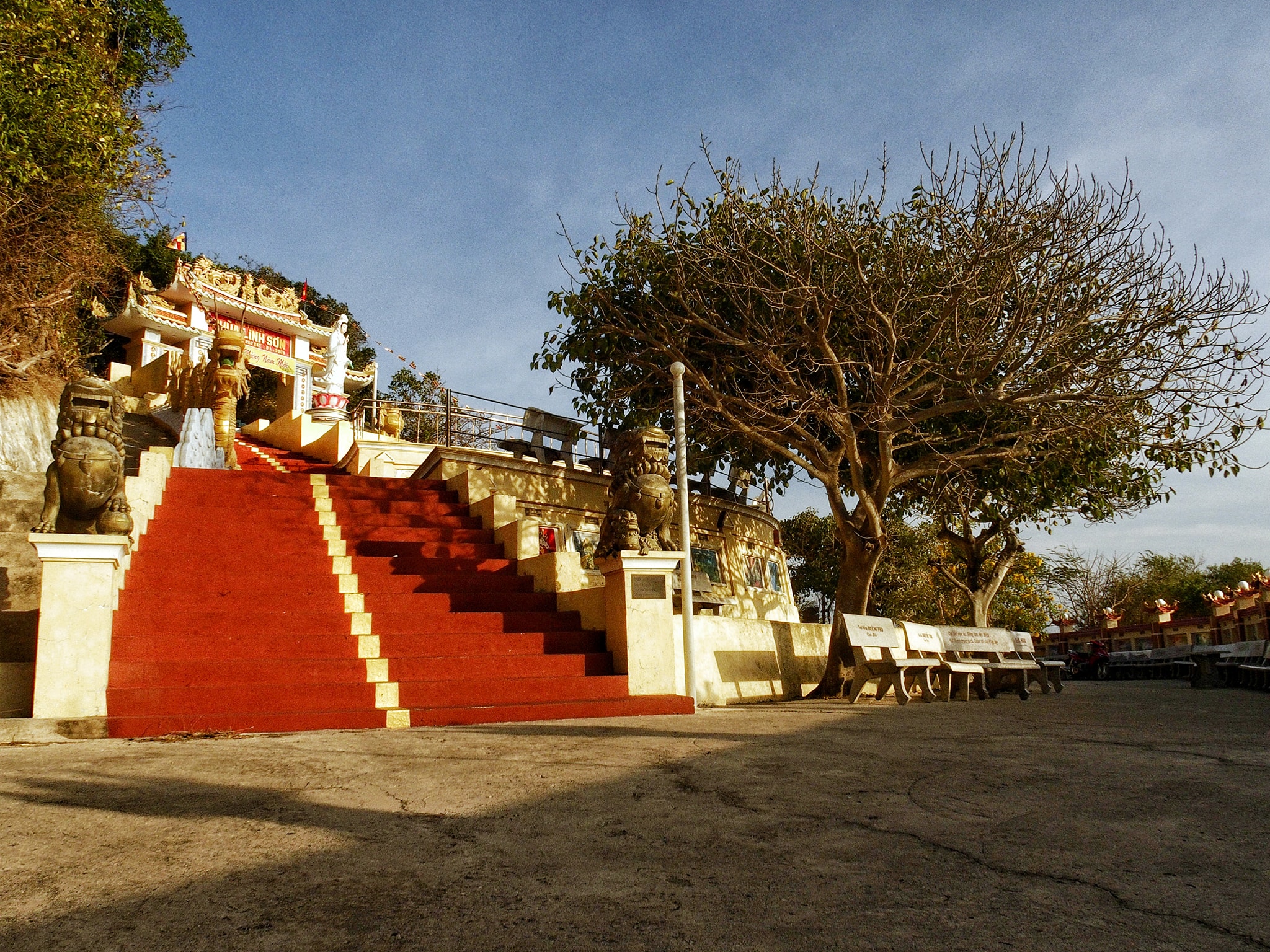 Hon Tranh
Hon Tranh has a rather unspoiled landscape located only 1km from the main island of Phu Quy, so you can take a canoe to Hon Tranh within 10 minutes. Hon Tranh has a green beach and if possible, you should rent yourself a fishing rod to catch fish at Hon Tranh beach!
The Light House
On the top of Cam mountain on the poetic island of Phu Quy is a lighthouse where boats from the far sea turn towards after fishing. This lighthouse is the most beautiful place to see in Phu Quy Island that everyone wants to once set foot in. The best time to see the scenery is when the sun is about to rise and when the sun goes down.
Phu Quy Island Cuisine
"What are specialities in Phu Quy Island?" is definitely a question that you always ask when traveling to Phu Quy Island, right? Then dulichfun will summarize the specialties of Phu Quy island for you:
Moon Crab
Moon crab is a quite special type of crab in Phu Quy sea, these crabs often live in the coral reefs. When the moon rises is the best time to eat Moon crab because of its delicious meat.
Huynh De Crab
Huynh De Crab is a type of crab with delicious meat, but the price is not cheap. To enjoy delicious dishes from Huynh De crab, you should book in advance with the restaurant because people on the island are not always catching enough number of Huynh De crabs to serve tourists.
Bailer Shell Salad
Bailer shell is quite large compared to the usual snails you eat, a large bailer shell can weigh up to 2 kg. People of Phu Quy Island have many ways to process food from bailer shell such as stir-fry, steamed, boiled, grilled, but the bailer shell salad is the most popular. In your Phu Quy island trip, do not miss this dish!
Chan Vit Jelly
Chan VIt Jelly, also known as ice jelly, is a nutritious and refreshing food. This dish is suitable for cooling down.
There are many restaurants on Phu Quy Island, you can eat right at the motel, homestay where you are staying, or go to Long Vi Restaurant, Hai Tham, Ong Gia Restaurant (you should ask local people for the detailed address).