Vung Tau – Ho Chi Minh City fast ferry ticket (District 1) are being preferred by many passengers because they want to experience the journey and enjoy the view on Vung Tau sea and Saigon River.
Vung Tau fast ferry to Ho Chi Minh City route departs from Ho May fast ferry pier (1A Tran Phu, Ward 1, Vung Tau City) through Can Gio, Saigon River route to Bach Dang fast ferry pier, District 1, Ho Chi Minh City.
Bach Dang pier is located in the center of District 1, Saigon, so moving from the pier to the districts of Saigon is extremely convenient, you can choose for yourself vehicles such as taxis, buses, motorbike taxis,… to move.
Fare for Vung Tau – HCM high-speed boat
Currently, there is only one Greenlines-DP line operating Vung Tau – Can Gio – Ho Chi Minh City fast ferry (replacing the previous hydrofoil fleet with new generation two-hull high-speed boats), ticket prices are applied flexibly on weekdays, weekends and Holidays, specifically as follows:
From Monday to Friday:
Adult (from 12 to 62 years old): 240,000 VND
Senior (from 63 years old and above): 160,000 VND
Children (from 6 to 11 years old): 120,000 VND
Children 5 years and under are free of charge (sharing seat with parents)
Saturday, Sunday:
Adult (from 12 to 62 years old): 280,000 VND
Senior (from 63 years old and above): 180,000 VND
Children (from 6 to 11 years old): 140,000 VND
Children 5 years and under are free of charge (sharing seat with parents)
Holidays, (Lunar) New Year, Compensating Days
Adult (from 12 to 62 years old): 320,000 VND
Senior (from 63 years old and above): 240,000 VND
Children (from 6 to 11 years old): 180,000 VND
Children 5 years and under are free of charge (sharing seat with parents)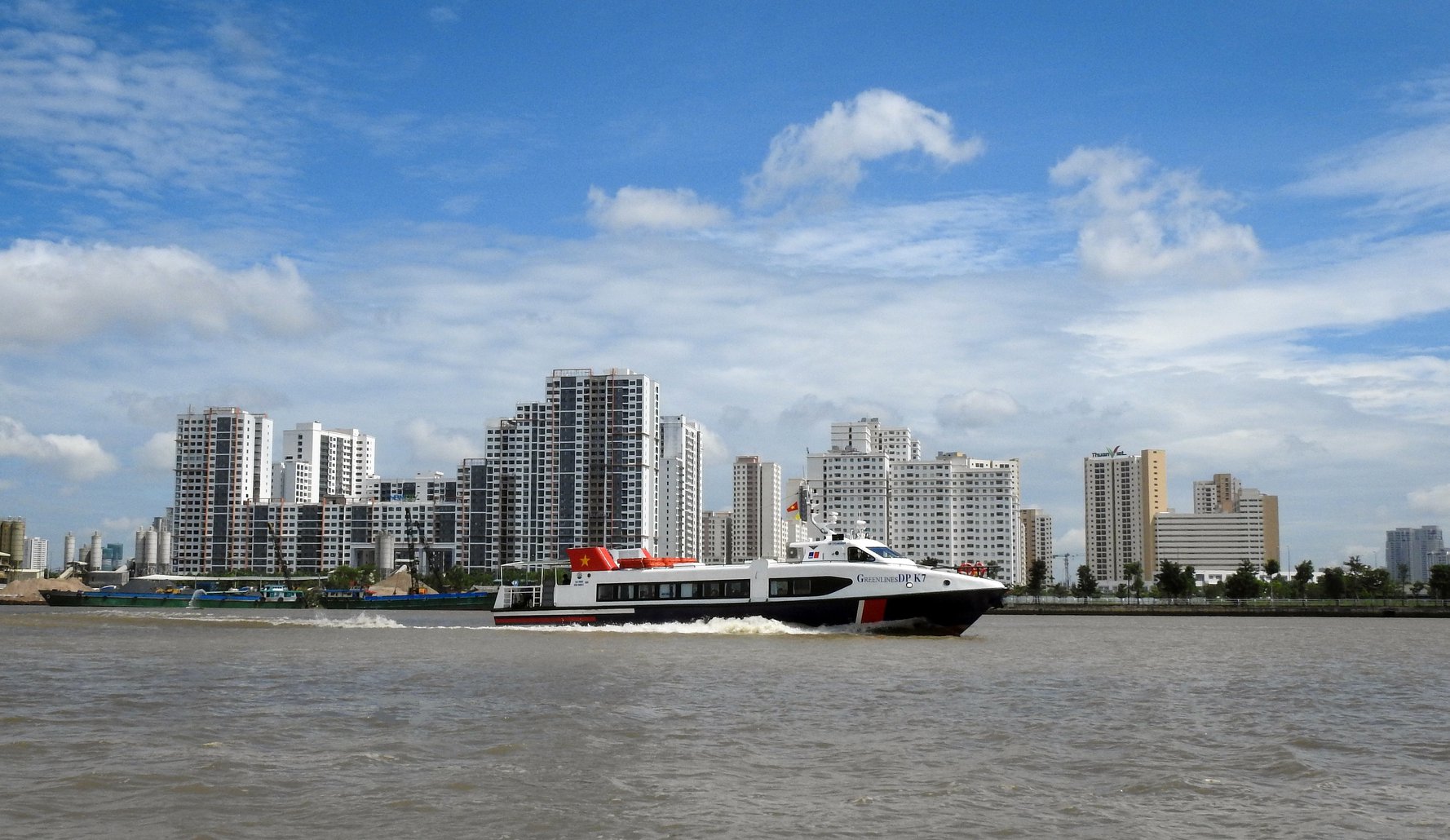 The boat schedule is flexible, depending on the times, the peak period can increase the trip to serve passengers.
Reasons to choose to take Vung Tau –  Saigon fast ferry
On holidays, Tet, weekends and peak hours, the Long Thanh – Dau Giay expressway is often stuck in traffic jams, and does not move for hours, making many passengers tired… Those are the topics and announcements in the daily newspaper. And many people have found the best solution to travel on the routes from Ho Chi Minh City – Can Gio – Vung Tau is traveling by speedboat with outstanding advantages:
Two-hull ship
ROLLS ROYCE technology
Safe, no seasick
It takes less than 2 hours to move to Vung Tau
High-class service: Large capacity air conditioner, free wifi, food and drink included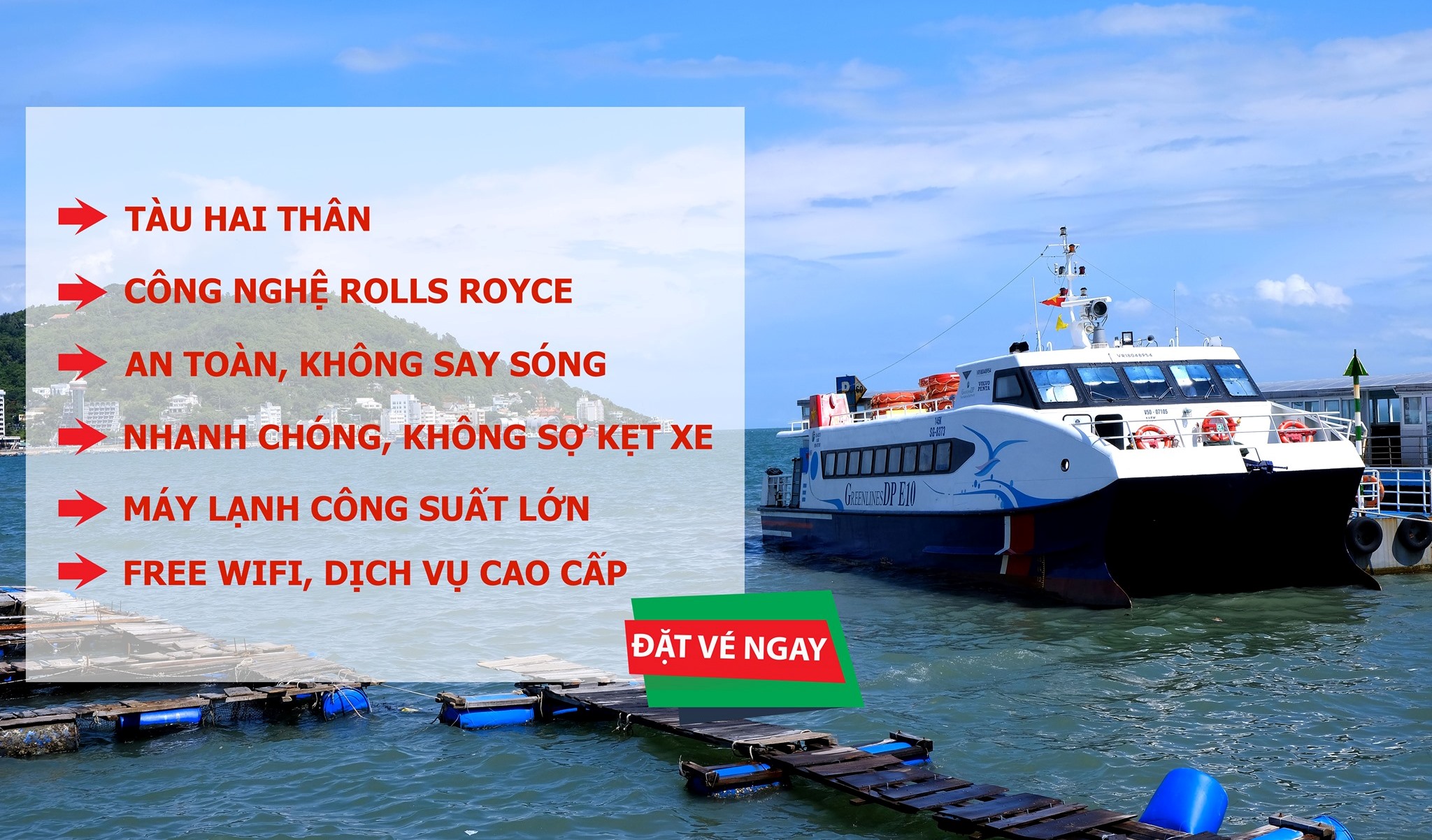 Traveling by high-speed boat is a time-saving method and is the best solution that you should choose with the current situation of traffic jams.
Attractions near Bach Dang high-speed fast ferry pier, Ho Chi Minh City
Notre-Dame Cathedral
Address: No. 01, Paris Commune Square, Ben Nghe Ward, District 1
Bus lines with nearest stops: 120, 30, 31, 42, 45
Suggested nearby destinations within a radius of 500m: Nguyen Hue Walking Street; Independence Palace; City Post Office; Rex Hotel; Vincom Trade Center.
Things to note for visitors when visiting and experiencing: Dress politely.
Notre-Dame Basilica is one of the large-scale architectural works built in the early years of the French colonial rule. In 1876, the Governor of Cochinchina held an exam to draw a new church architectural plan to replace the old church on the banks of Kinh Lon (present-day Nguyen Hue street) to have a place to worship and perform ceremonies for believers and promote Catholicism. Overcoming 17 other design projects, architect Bourard's project with both Roman and Gothic architecture was selected.
Notre-Dame Cathedral, also known as the Main Cathedral, was built under Bishop Colombt, in charge of the diocese. The bishop was the one who laid the first stone (October 7, 1877) and also celebrated the feast of the city (April 11, 1880) – Easter.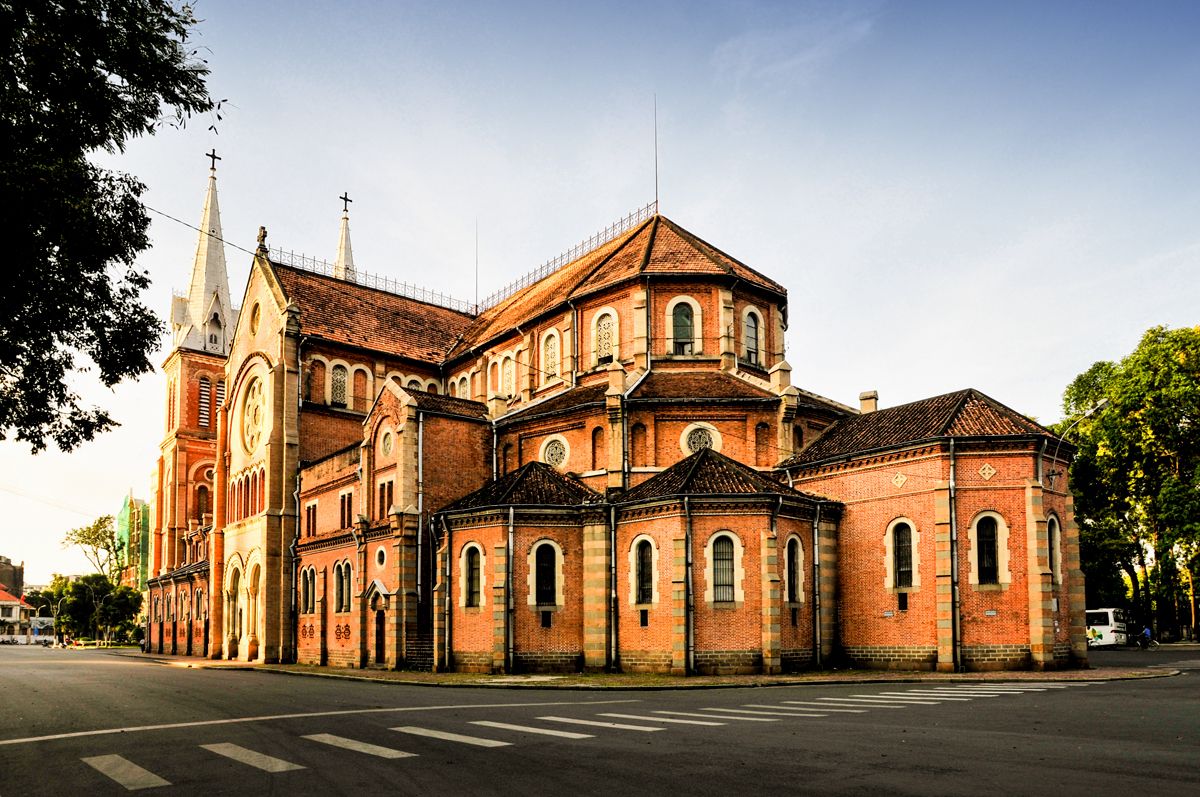 All materials from cement, steel to screws are brought from France. In particular, the outside of the building is made of bricks made in Marseille (France) that is bare, not plastered and still has a bright pink color and does not stick to moss. The church is decorated with 56 stained-glass windows depicting biblical figures or events, 31 round rose figures and 25 bull's-eye windows, all with decorative mosaics.
On December 5, 1959, the Cathedral was elevated to the rank of a basilica by the Vatican, and Cardinal Agagianian, Pope John XXIII's special envoy, blessed the statue of the Queen of Peace in the park in front of him. church, on the occasion of his arrival in Saigon. Since then, the official name of the cathedral is the Basilica of Notre-Dame Saigon.
Over the past 100 years, Notre-Dame Basilica, also known as Notre Dame Cathedral in Saigon, is not only the cathedral of the diocese of Ho Chi Minh City, but also a place of worship. famous tourist attraction for domestic and foreign tourists.
Independence Palace
Address: No. 135, Nam Ky Khoi Nghia Street, Ben Thanh Ward, District 1
Entrance fee: 40,000 VND/ticket/person
Bus lines with nearest stops: 04, 06, 18, 31, 93
Suggested nearby destinations within a radius of 500m: Ben Thanh Market; Notre-Dame Cathedral; City Post Office; Ho Chi Minh City Museum; War Remnants Museum.
In 1858, after occupying the Basse Cochinchine, the French government designed and built a mansion in the center of Saigon city and named it Norodom Palace. At first the Palace was the residence of the governors of Cochinchina, later the Palace became the French Governor General in Indochina. From 1871 to 1945, many French governor-generals used this mansion as a place to live and work during their stay in Indochina. From September 1945 to 1954, Norodom Palace was used as the working headquarters of the French government in Saigon – Gia Dinh and was returned to the representative of the Saigon government, Ngo Dinh Diem. In September 1954, Ngo Dinh Diem officially changed the name of Norodom Palace to Independence Palace and was used as the residence and workplace of President Ngo Dinh Diem and the family of advisor Ngo Dinh Nhu.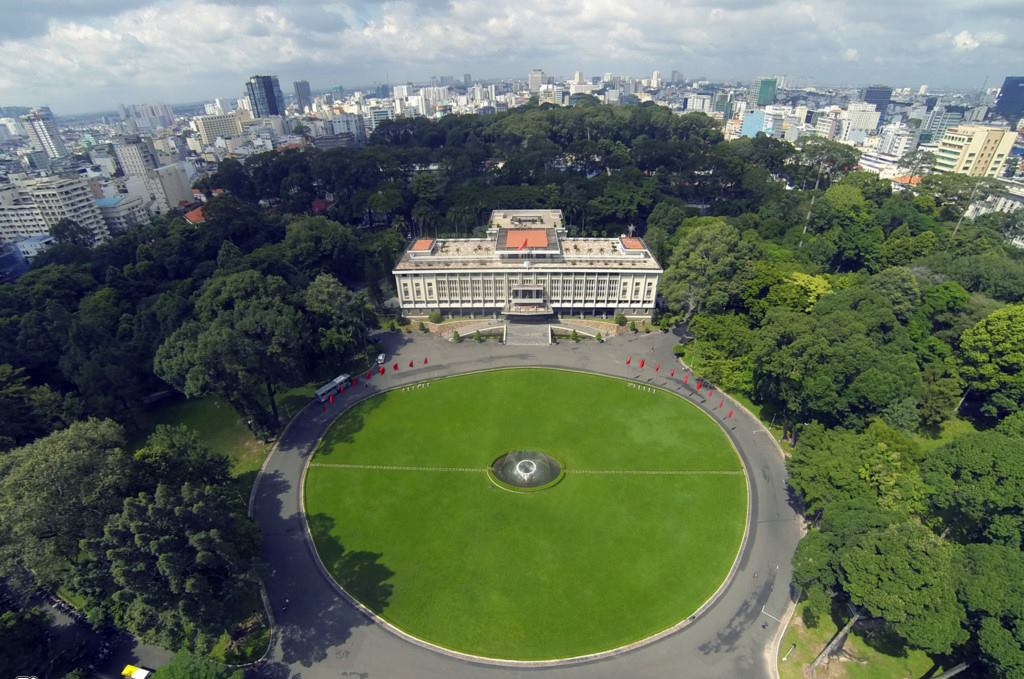 In February 1962, the Independence Palace was bombed by the coup d'etat army and destroyed part of the left wing. Because it could not be restored, Ngo Dinh Diem decided to destroy the old Palace and rebuild the new Palace right on that ground according to the design plan of architect Ngo Viet Thu – the first Vietnamese to win the Roman Prize for architecture, but still kept the name Independence Palace. On April 30, 1975, the Liberation Army attacked the Independence Palace, successfully ending the Ho Chi Minh campaign and the campaign to completely liberate the South. Independence Palace became the convergence point of victory. In 1976, the Independence Palace was called Reunification Hall.
Visitors to the Independence Palace not only learn about the glorious historic victory on April 30, but also admire a unique architectural work of the 60s by a Vietnamese architect. In addition, the Independence Palace provides narrator service, automatic narrator (audio guide), souvenir shops and restaurants and coffee shops to serve visitors.
Ben Thanh Market
Address: Quach Thi Trang Square (main door), Le Thanh Ton street (North gate), Phan Boi Chau street (East gate), Phan Chu Trinh street (West gate).
Visiting and operating time: 7:00 – 19:00 (every day)
Night Market: 19:00 – 24:00 (every day)
Entrance fee: Free
Bus lines with nearest stops: 01, 02, 03, 04, 05, 11, 102
Suggested nearby destinations within a 500m radius: Independence Palace; Arts museum; September 23 Park; Tao Dan Park.
Ben Thanh Market was established in 1914 with a total area of ​​13,056 m2 with four large doors in four directions with ceramic reliefs showing local products. The South Gate has the shape of rays, catfish, cows and fish and pigs. The North Gate is shaped like a banana and goose. The East Gate is shaped like a cow and a pig. West gate shaped like rays and bananas. In addition to the four main doors, there are many side doors to enter and exit the market. Prominent on the roof of the market is the three-sided clock tower at the south gate, facing the Quach Thi Trang square.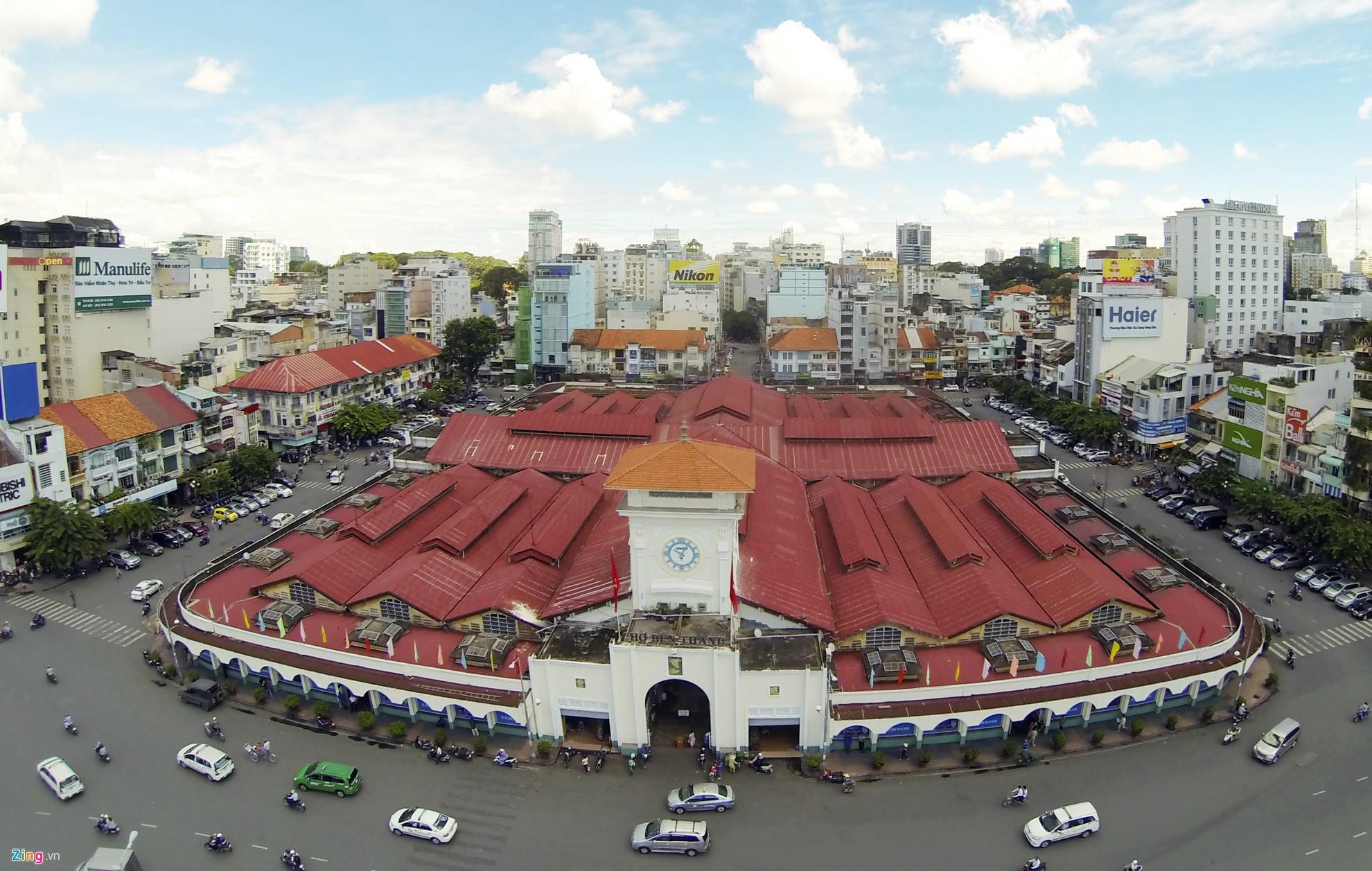 Currently, the market focuses on about 3,000 business households trading many essential and rare items in the country as well as abroad. The South gate area is a place to sell fabrics and dry foods, the North gate area is brilliant with fresh flower and fruit stalls, the East gate area attracts with cosmetics and confectionery and the West Gate area has a wide variety of footwear, handicrafts and souvenirs. Ben Thanh Market is not only an attraction for tourists to visit and shop, but is also considered by many to be a symbol of Saigon.
Book high-speed boat ticket from Vung Tau to Saigon at the best price
Traveling by speedboat will not be like traveling by other good wards such as buses, limousines just go to the station to catch the bus, but most of them have to be booked in advance. Therefore, if you want to book a train to Ho Chi Minh City, especially in the high season, Tet to explore culture, experience a vibrant and bustling lifestyle, you should schedule and book high-speed train tickets 1-2 days in advance. If you want cheap fares, you should book on weekdays (from Monday to Friday) to have the lowest price. On special occasions, the shipping line always has promotions for Saigon – Vung Tau high-speed train tickets at attractive prices for customers, if you act quickly, you can easily order tickets, however, this number of tickets are very small, only about 5% of the seats on the boat.
If you go in a large group, we will have a separate policy, you can contact the customer care hotline to get advice and support from the staff to help you find the price of the high-speed boat to Saigon and book the most accurate ticket.
Please contact us at the following address: