Tran De (Soc Trang) – Con Dao Island fast ferry pier located right at Tran De Port, Tran De Town, Tran De District, Soc Trang Province. From Kinh Ba bridge goes in the direction of Tran De Town People's Committee.
Tran De port is located just opposite of Tran De fishing port, with national highway 91C (South Song Hau street) passing wide open.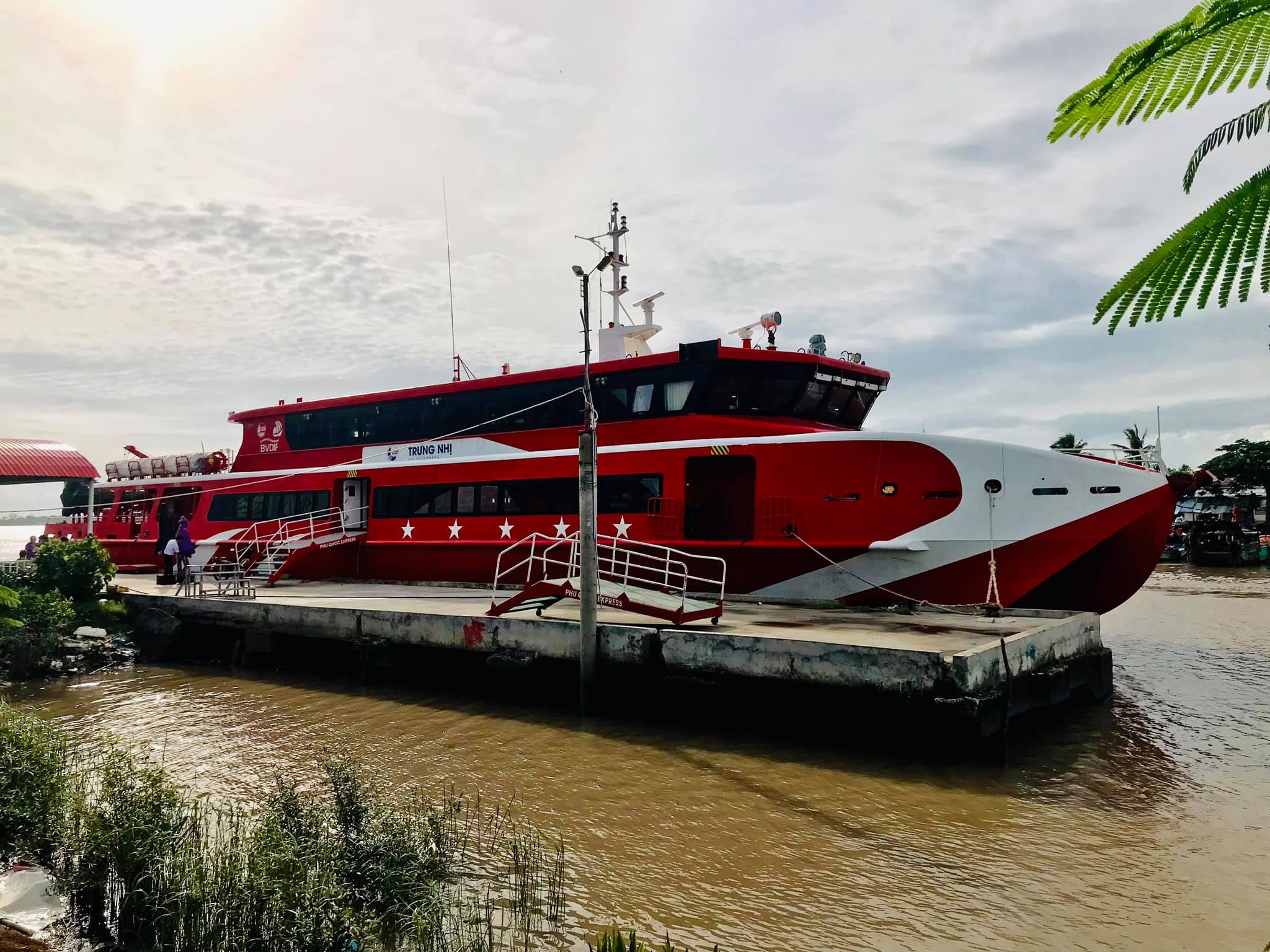 Location map of Tran De (Soc Trang) fast ferry pier
Address: Tran De Fish Port, 30/4 Street, Tran De Town, Tran De District, Soc Trang Province. The distance from Soc Trang bus station to Tran De port is about 35km. It will take you about 1 hour if you take the shuttle bus of Con Dao Express for 40,000 VND / person (the bus leaves at 7:00 am every day) or take a taxi for about 300,000 VND.
The shuttle bus transporting passengers is a contract car with a partner of Phu Quoc Express (Con Dao Express), you must book in advance via Hotline: 0962 714 699. Pick up at Soc Trang Ticket Office at 52 Vo Thi Sau, Ward 3, Soc Trang City, Soc Trang Province.
For the return trip, there are many cars waiting from Tran De port to the Soc Trang, Can Tho bus station or straight to Saigon so you do not have to worry. However, mainly the seat bus and the quality is not as good as Phuong Trang, My Duyen, … you should consider asking the flight attendant on board the reverse transfer method to best suit your need.
How to travel from Ho Chi Minh City to Tran De (Soc Trang) port
Should travel by My Duyen bus, trip from HCM to Tran De port is: 140,000 VND / person. The bus leaves at the Western Bus Station, the last one departs at 12 pm, travel time is 5 to 6 hours depending on the traffic density.
From Saigon, traveling by bus for more than 5-6 hours depending on the traffic density will reach Tran De (Soc Trang) pier, the last bus departing at the Western bus station departs at 12pm. Currently, at the Western bus station, there are 02 bus companies running Soc Trang – Saigon route: My Duyen and Phuong Trang, both of them pick up and drop off passengers directly at Tran De pier to go to Con Dao Island.
When you get on the car, you just need to inform the driver that you are going to RED FERRY – CON DAO ISLAND FAST FERRY. If in case you get off at the bus station of Soc Trang city, the distance from there to the pier is relatively far, about 35km, so the only option is to take a taxi to the pier about 300,000 – 450,000 VND.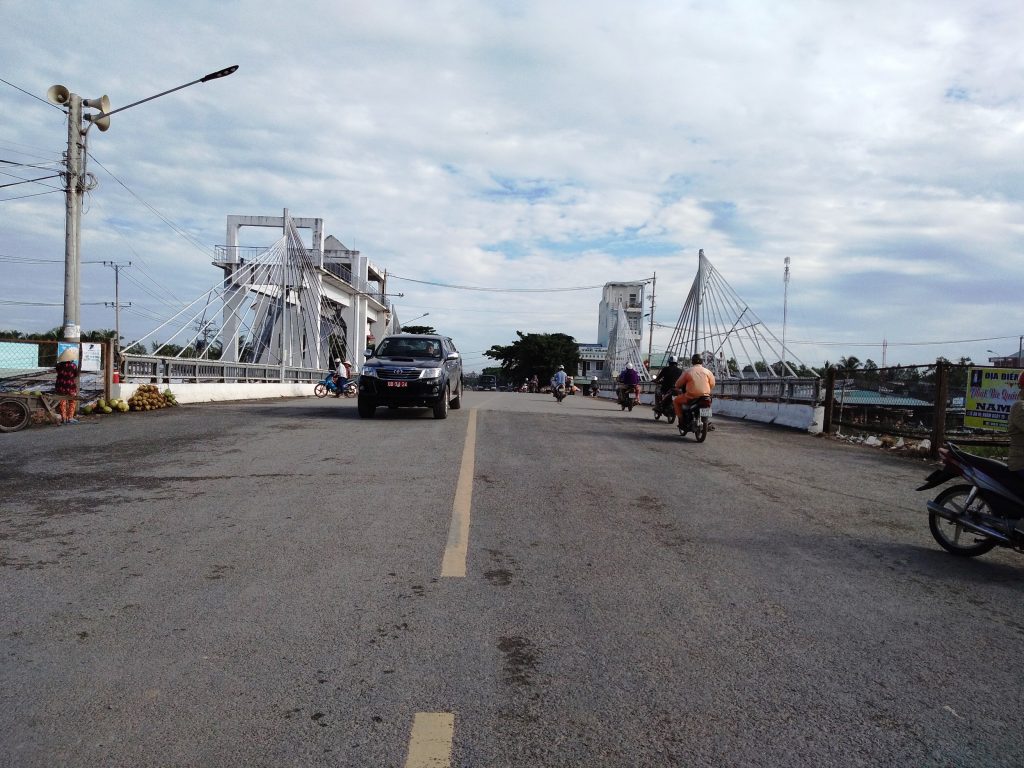 Move from Can Tho to Tran De pier in order to go to Con Dao
From Can Tho city, you will move 78 km to the south of Hau river to Tran De port (Soc Trang).
If you miss a certain bus, you can rent a car to get to Tran De Ben, the specific rental price is as follows:
| | | |
| --- | --- | --- |
| Types of cars  | Price | Note |
| 4-seat car | 1.000.000 đ | all travel charges are included |
| 7-seat car | 1.200.000 đ | all travel charges are included |
| 16-seat car | 1.600.000 đ | all travel charges are included |
| 29-seat car | 3.000.000 đ | all travel charges are included |
| 45-seat car | 4.500.000 đ | all travel charges are included |
Place of Tran De in the past and present
According to historical data, the first name of Tran De was Tran Di, which was recorded by Lord Nguyen in the address book in 1714 and Tran Di estuary also formed during this period, the Tran Di estuary later renamed as Tran De during the period when French invaders colonized Vietnam until today.
More than a hundred years ago, there were 3 estuaries on the Ba Thac River (now Hau River), namely Dinh An, Ba Thac and Tran Di. But after a long time of alluvial sedimentation, the Ba Thac estuary has been gradually filled by nature and is now located deep inland. According to the speculation of the people here, the Hau river – head of Cu Lao Dung across Vam Dai Ngai was deposited by alluvial, making the flow into the Ba Thac River weaker and weaker, so it is not enough to push the huge amount of alluvium which gradually filling the Ba Thac estuary. This alluvial stream poured into the sea by Dinh An estuary and gradually filled the south due to the influence of coastal currents, gradually covering the Ba Thac estuary.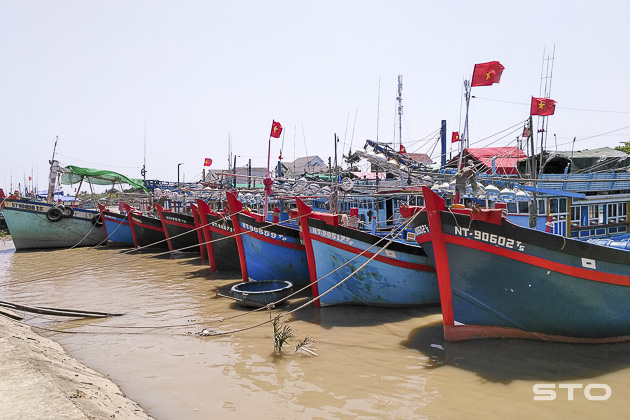 Tran De is the last estuary of the majestic Cuu Long river. There is Tran De port located at Kinh Ba (now in Tran De town, Tran De district, Soc Trang province), which is a new neighborhood, crowded houses, crowded ships, vehicles, and full of dried fish. Every time a fishing boat comes to the dock, the whole port area is bustling with laughter, bustling with buyers and sellers. At times when the sea is rough or after the fishing season, fishermen's boats pull back and park the whole river. In the dry season, people here go digging Cu Nang, catching rats, sea crabs, goby fish along the canal for their livelihoods. Electricity, roads, schools, and stations were almost nonexistent at that time, in early 2019 we had the opportunity to return to Tran De to feel the change of the old land that was extremely poor! Comrade Luu Huu Danh – Deputy Secretary and Chairman of the District People's Committee said that in 2018 the district deployed 99 projects with an investment capital of over VND 183 billion, the proportion of households with electricity accounted for 99.49%, clean water is 97%. Up to now, Tran De has 3 communes meeting the national standards of new countryside, that is Thanh Thoi Thuan commune, Lich Hoi Thuong and Vien Binh commune, only Dai An commune 2 strives to reach new rural standards in 2019. The area of ​​rice cultivation is 45,906 ha, in which specialty rice accounts for 87% of the average yield of 6.1 tons / ha. Especially, the mechanization of the production stage accounts for 95%, the large sample field model contributes to the efficiency and increase production value.
Particularly, fisheries are identified as the spearhead of the district's economy by the district. Aquaculture area is 6,358ha, in which, shrimp farming is 5,115ha. From improved extensive farming, now farmers have switched to most of the industrial farming model, with less risk and more efficiency. Particularly, the field of fishing and logistics services also have positive changes. The whole district has 620 ships, including 353 offshore fishing boats, exploiting output annually reaching over 50,000 tons. At the same time, the district focuses on improving the quality of works: Tran De fishing port, Mo O fishing wharf, Mo O eco-tourism area, Tran De – Con Dao high-speed ferry route, Tran De commercial area… to attract tourists. In addition, the district is interested in building brands for typical marine products, expanding areas for cultural entertainment, cuisine, and hotels … This is the basic foundation for the district to develop sustainable tourism in the next period.
With today's achievements, in the future Tran De will be rich in economy, strong in politics, national defense and security, and be a key economic region of Soc Trang province.
Le Truc Vinh – Soc Trang Newspaper