Up to now, there are 02 high-speed boats going to Con Co Quang Tri, Con Co Tourist high-speed boats and Chin Nghia Quang Tri boat, which are replacing each other every day to carry passengers, militia and regular people to the island.
The most appropriate time to travel to Con Co Island is summer, from March to August each year, of which May, June and July are calm weather times. Please refer to the information of the Con Co cruise ship to book ticket for your journey!
Chin Nghia Quang Tri boat
Chin Nghia Quang Tri Co., Ltd, first established in May 2018, joint venture with Chin Nghia Quang Ngai Company. Implementation of the investment project to attract and exploit tourism, transport passengers and goods for Cua Viet – Con Co route. According to Official Letter No. 1872 / UBND-VX of the People's Committee of Quang Tri province signed on May 8, 2017.
In the first days, Chin Nghia Quang Ngai took Chin Nghia 01 and Chin Nghia 02 high-speed boats to operate on Cua Viet – Con Co route respectively. However, due to the time of Covid-19 pandemic handing over the Chin Nghia 02 ship to Chin Nghia Quang Tri Co., Ltd. and changed its name to Chin Nghia Quang Tri ship.
Chin Nghia Quang Tri high-speed boat is a solid, strong, wave-resistant steel vessel with a capacity of 156 passengers and nearly 30 tons of cargo operating on Cua Viet route to Con Co Island with a journey time of 1 hour 10 minutes. The ship is 24.5m long, 4.4m wide, with a total capacity of 820 hp main engine, maximum speed of 16 nautical miles, carrying 156 passengers. Ship is made of steel shell, equipped with marine equipment that fully meets the standards of passenger transportation by sea.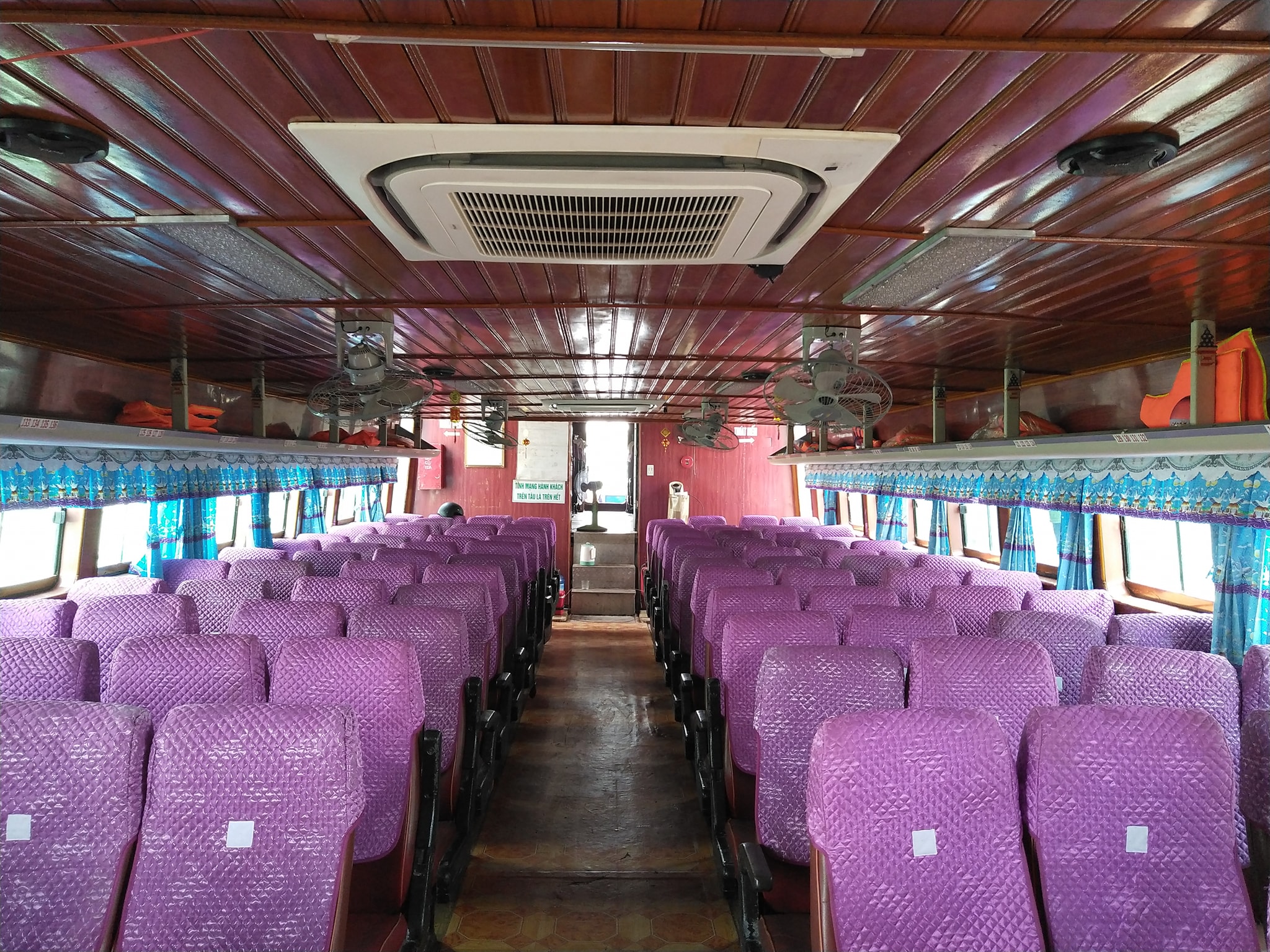 With a team of experienced crew members, fully qualified, enthusiastic at work. Always put the safety of passengers first. Chin Nghia Quang Tri high-speed boat with strong steel cover to withstand good waves. Total capacity of 156 seats is like a sturdy steel bridge connecting the Vietnamese gate serving tourists and militia on the island.
Con Co Tourist boat
Con Co Tourist high-speed boat, numbered QT 00666, has a total investment of 24.1 billion VND. Con Co Tourist has an aluminum alloy shell and cabin, 27.5m long, 5.5 m wide, 2.5 m high, and a maximum speed of 20 nautical miles. The ship has 2 engines 600HP @ 2100vg / ph of MTU-Rolls Royce Power, originating from Germany. With the above specifications, Con Co Tourist boat can operate in the condition of level 5 waves, carrying 80 passengers with 5 crew members.
Every week, there are three high-speed cruise ships named Con Tourist with 80 seats taking tourists to and from the island. From Cua Viet port, at 8 o'clock every second day, the ship started to leave the anchor, 50 minutes later to the island; The ship returns to the mainland on Tuesday. Continuing Thursday and Saturday mornings, the ship heads out to the island and returns on Friday and Sunday mornings. In addition to these specified times, the rest of the week, when delegations need, the Center for Con Co Service – Tourism is ready to serve. Ticket price is 440,000 VND / tourist for one turn.