Hung Phat 26 high-speed craft is nearly 45 meters long and 7.8 meters wide. The 3-storey ferry is modernly designed with a capacity of 250 passengers and about 30 tons of cargo, running at a speed of 20 nautical miles, can operate in wind weather conditions up to level 8. This high-speed craft invested by Hung Phat Trading and Service Joint Stock Company (Phu Quy Island) with a total capital of 55 billion VND to run on Phan Thiet – Phu Quy route.
Contact to book Hung Phat fast ferry ticket to Phu Quy : 0889211234 – 0889271234 – 0889371234
Basic information about Hung Phat 26 ferry
4 years ago, Hung Phat 26 ferry of Hung Phat Trading and Service Joint Stock Company was located in My Khe village, Tam Thanh commune, Phu Quy district, Binh Thuan province, led by Mr. Nguyen Thanh Nhanh as director. The ferry has helped shorten the travel time from Phu Quy island to the mainland from 6 hours to 3 hours in November 2019. With an investment of over 55 billion VND, for the first time, Phu Quy has a private enterprise that dares to invest in building such large passenger transport ferries. Hung Phat 26 ferry is contributing to Phu Quy becoming a place for tourists to visit the island easier and more convenient for people living on the island.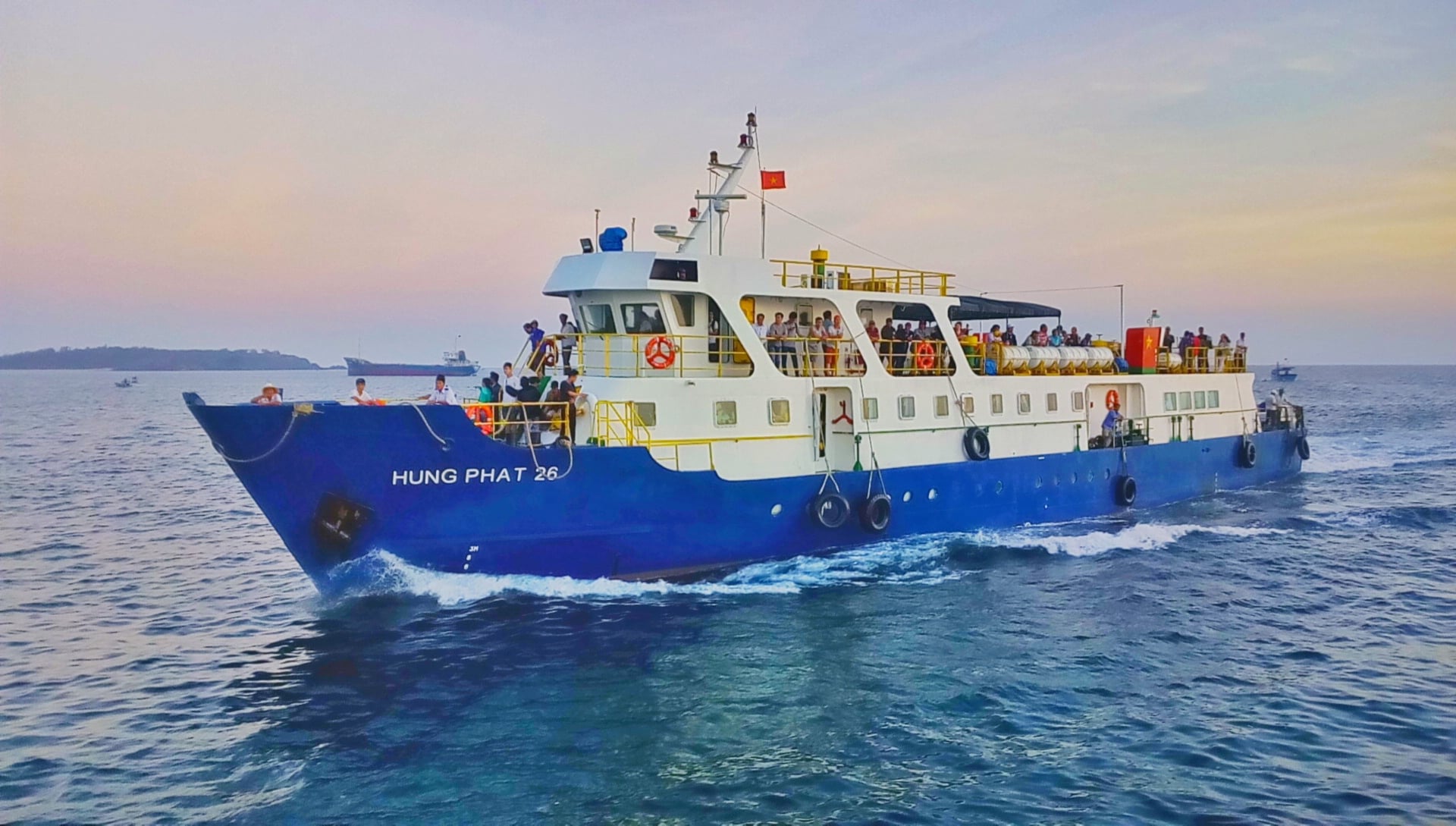 Hung Phat 26 ferry s 46.05m long, 7.8m wide, and 4.1m high; draft 2.1m, main engine KATA50-M2: capacity 2 x 1,700HP; running speed 20 nautical miles / hour; level 1 operating area on the sea of ​​Vietnam and withstand the waves of level 8. This is the first steel-shell fast ferry designed and newly built in Vietnam, the line of modern technology ships with wave level 8 still ensures security, suitable for transport Phan Thiet – Phu Quy route.
The ferry is designed in a style which suitable for passenger carrying. It has 3 floors and can carry 250 passengers and about 50 tons of cargo. The support equipment and interior decoration are clearly arranged in separate zones. The ferry is equipped with a separate air-conditioning system for each floor, each room to ensure passengers comfort throughout their journey at sea. The ferry has 250 beds with full blankets, pillows … and canteens to serve passenger such as snacks, drinking water.
Hung Phat 26 ferry becomes the choice of many passengers without feeling tired. Daily departure time according to the tidal calendar registered monthly on facebook Fanpage: "Hung Phat 26 fast ferry" so it is very convenient for tourists. All feedback and suggestions from tourists are promptly and publicly updated so that the company can adjust and ensure satisfaction from passengers.
Hung Phat 26 fast ferry ticket on Phan Thiet – Phu Quy route
Bed/Chair: 250,000 VND / ticket
Air-conditioned room: 350.000 VND / ticket
Inbox for booking: https://www.facebook.com/taucaotocphuquy
Services on Hung Phat 26 ferry
Bed / chair compartments with air-conditioned
The ferry's canteen has many dishes to assist passengers with dining
Seat compartment with TV, full life jackets and protection
On board are support water, cold towels, mats, pillows
If passenger has motion sickness signs, you can purchase drugs against motion sickness, or get a nausea bag at the canteen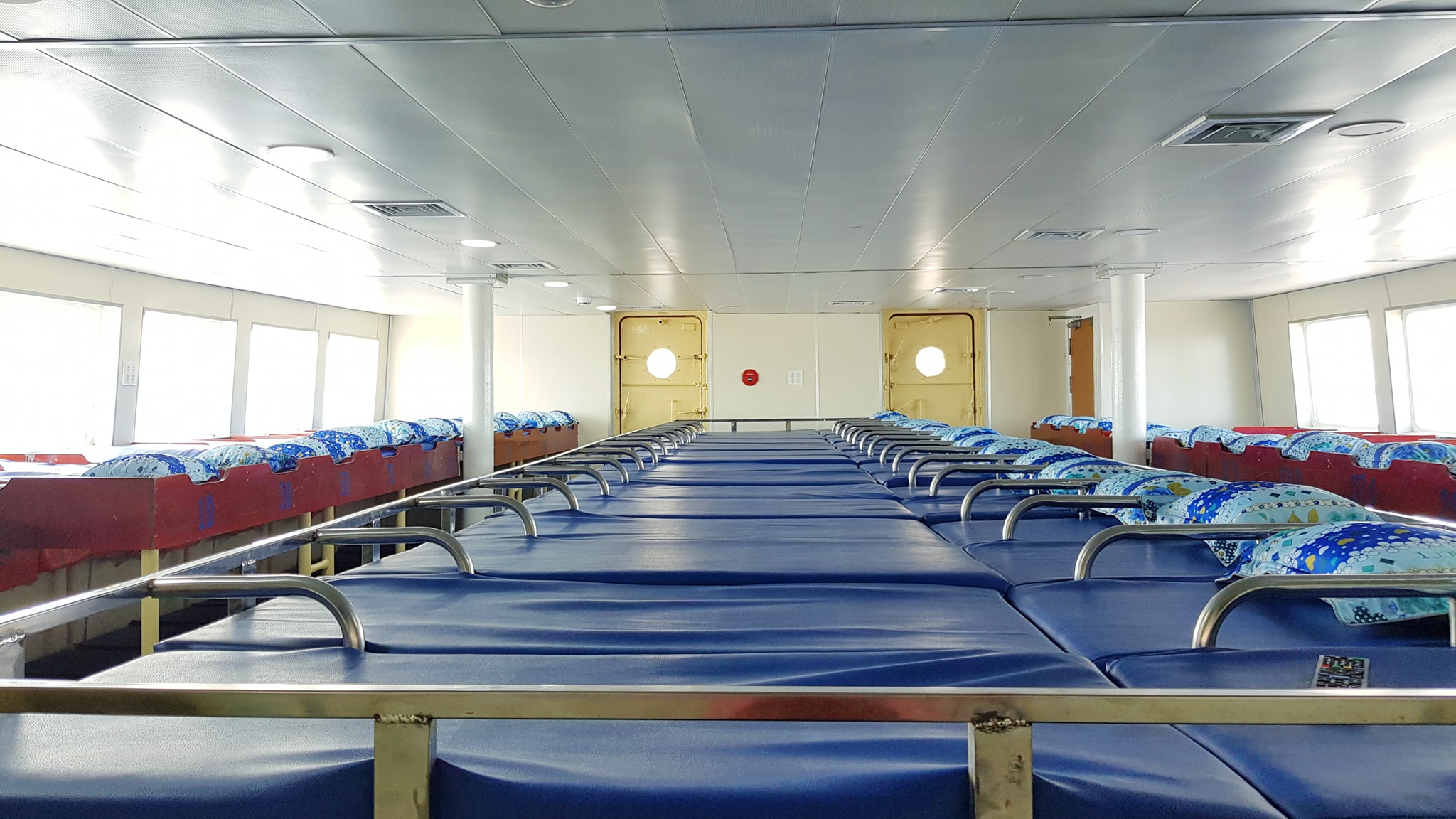 The operating time of Hung Phat high-speed craft
Address of Hung Phat Express Ferry Ticket Office:
Phan Thiet ticket office: Fixed office at 195 Pham Van Dong, Hung Long ward, Phan Thiet city (running along the bank of Phan Thiet embankment), about 150m from Phan Thiet transport port.
Phu Quy ticket office: Fixed office at 207-209 Vo Van Kiet, Tam Thanh commune, Phu Quy island (Hung Phat Hotel).
Working time: Morning from 7:00 to 11:00. Afternoon from 13:00 – 17:00.
Benefits when choosing Hung Phat fast ferry
For the residents of Phu Quy: when entering the mainland, passengers are consulted and supported by shuttle bus and hotels, motels to stay. In particular, passengers are supported to transport goods with standard quantities. Other fast ferries do not seem to support this service. People in Phu Quy can sign in goods from Phan Thiet to Phu Quy, or Phu Quy – Phan Thiet.
For mainland people traveling to Phu Quy: passengers will be advised to support book rooms at the island's largest hotel "Hung Phat Hotel". In addition, support many customer services such as: motorbike rental – car, restaurant, canoe rental, book Phu Quy tour,…
Especially, there is a FREE car transport service at Phu Quy port to the motel.
See more: The ferries operate on Phan Thiet – Phu Quy route