Tourists will have the chance to visit Hang Duong cemetery when coming to Con Dao. This is the resting place of thousands of Viet Nam revolutionaries and patriots who sacrificed their lives for our country's liberty during 113 years under the brutal yoke of French colonialism and American imperialism.
Hang Duong cemetery has an area of190.000m2. They estimated there are about 20 thousand prisoners resting in Con Dao. However,not all of which is located in Hang Duong cemetery. The first cemetery made in the Cow cage area (relic of skulls ground). After that, they moved this cemetery to Hang Keo. After 1934 and especially the period of 1941, the regime of white terror after the Southern uprising has killed thousands of prisoners. Hang Keo cemetery was almost full so theFrench made Hang Duong cemetery to bury prisoners.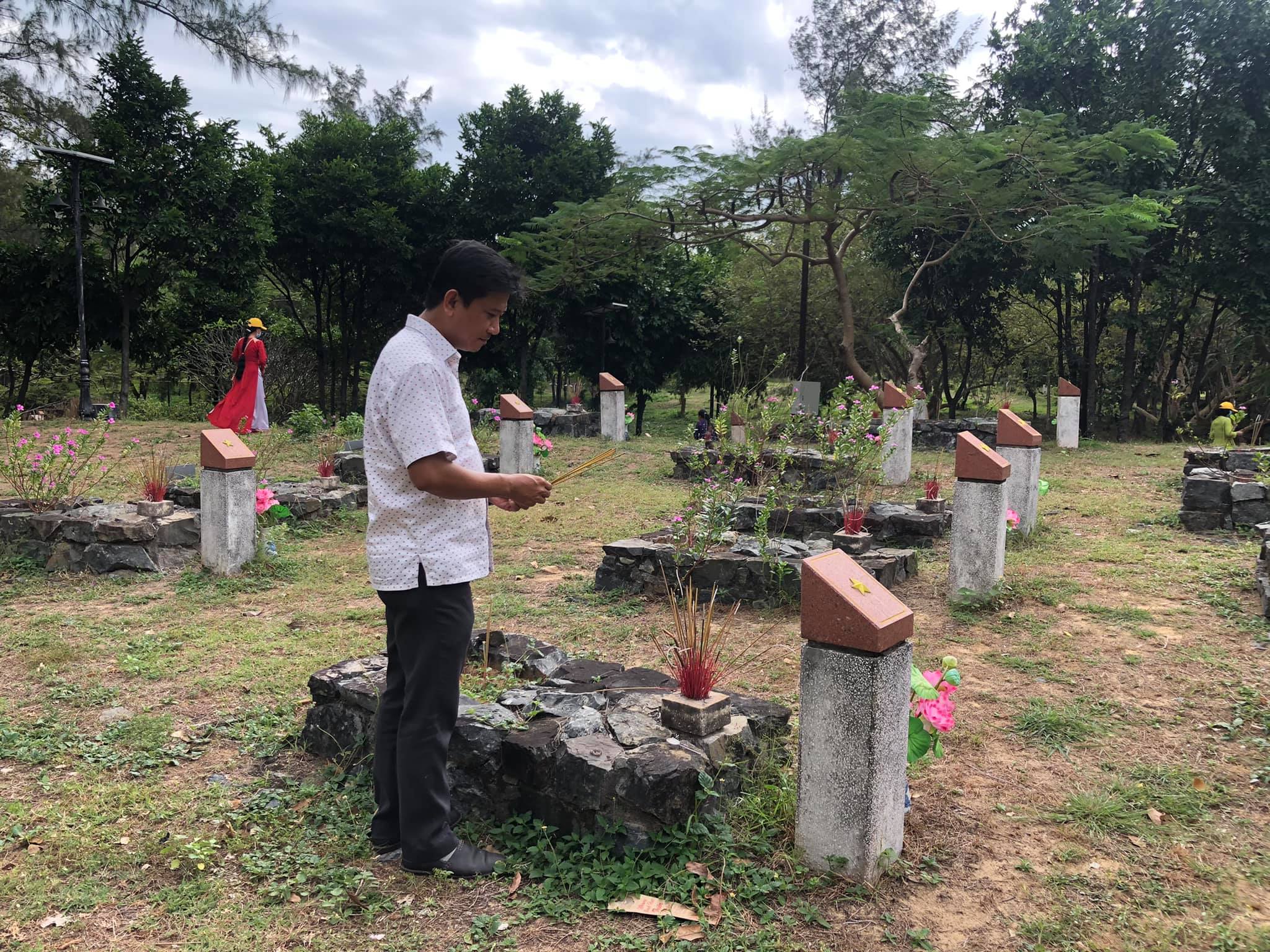 Currently Hang Duong cemetery is divided into four zones: A, B, C and D (B Zoneis divided into 2 parts: B1 and B2).
The A zone of Hang Duong Cemetery is the place where the first tombs buried (about 1934). The tomb of Mr. Le Hong Phong (late General Secretary of the Viet Nam Communist Party), Nguyen An Ninh (a strong – willed patriotic scholar) were put here.
By the end of 1944, A Zone was full with graves. Thus, they have extended the cemetery to the south (i.e. B Zonecurrently). Remains of prisoners against the French (1945 – 1954) is buried next to the sand dune and stretched to the southeast where the graves of a heroic woman of Vietnam People's Armed Forces Vo Thi Sau, Cao Van Ngoc, Luu Chi Hieu were put.
Remains of prisoners against American were buried in the rest of the B zone (also called B2 area).
To about 1960 they had to bury the graves of prisoners in the C zone. There arethe grave of the heroes of Viet Nam People's Armed Forces such as Le Van Viet, Nguyen Thi Thanh(Tran Thi Hoa), Huynh Tan Loi.
Hang Duong cemetery was started to build and embellish on 19th December 1992. Beside 3 above zones, they constructed more D zone. This is the place they reassembled162 remains from the cemetery Hang Keo, Hon Cau and some places on the Con Dao island . Among these remains, there is graves Viet Nam People's Armed Forces hero Tran Van Thoi.
Hang Duong cemetery is a monument of the vindictive hatred. This cemetery has action on denouncing colonialism, imperialism regime and educating traditional values for future generations. Therefore Hang Duong Cemetery is different from the other martyrs' cemeteries in our country. This relic does not display differently from historical fact but it harmonizes with the natural landscape, make profound impress.
"Con Lon Mountains was mixed with blood
Con Lon land buried five to six layers of human bones
Every step obscured a life
Each stone was a sky of pain "
Or:
"Hang Duong cemetery buried many fates
"A layer and more other layers covered
Flat surface, no protruding mound
No tombstone, no name and no age … "
The above verses espress the way of burying the prisoners of imperialism and colonialism in Con Dao island. Specially in the French, whenever a prisoner dies,the guards buried for the unfortunate man by putting him into two bags. One bag covered from the head to toe, one other bag cover from the foot up. Then they tied it with a string andtook to the cemetery. They dug a hole to bury down in the rudimentary way. They plug a wooden peg which attached analuminum piece (2 x 3 cm). There was only a brief record of theprisoners' number and date of the dead. Just a few days later, strong winds or buffalos, oxen stepped randomly down on wooden pegs … Lost all trace.
In addition, there were many prisoners who met an accident or died of exhaustion. Their bodies were buried by the guardson the spot. Many escaping voyages of the prisoners met storms and many boats, ferries were sunk at sea. For these reasons,throughout the Con Dao island had prisoners' dead bodies.
To experience 113 exile years of Con Dao island, there were about 20 thousand people who rested in peace. But all the remaining traces are just 1,921 graves on fact. We just found full name of 13 graves. Many political prisoners held their stable will and kept secret for our revolution by giving fake names, fake hometown … in the process of being arrested.
Despite the graves were named or unnamed, embellished or still buried every handful of earth here is a vestige of revolutionary events of everymartyr, Viet Nam citizens, the periods of struggle in Con Dao prison.
Hang Duong cemetery was especially recognized as the Nation's particularly important relic bythe Ministry of Culture – Information with decision No.54-VHQD on 29th April 1979. This relic was also recognized as the Nation's special relic by Prime Minister with decision 548 / QD-TTg on 10th May 2012.