Con Dao Express 36 fast ferry on Vung Tau – Con Dao Island route operated by Phu Quoc Express Fast Ferry Joint Stock Company, operating from February 15. The ferry attracts a large number of people and tourists to participate in the experience of the sea crossing to Con Dao Island. Many people are satisfied with the service quality and attitude of the staffs and crews.
"CHECK IN" ON THE SEA
At 7:00 a.m. on March 8, we arrived at Cau Da port (Front Beach, Vung Tau City) to check in on Con Dao Express 36 high-speed craft to Con Dao Island. According to the announcement of the ticket agent, passengers must be present 30 to 45 minutes before the departure of the ferry, so Cau Da port is now quite crowded. At 7:15, the ferry issued a notice inviting passengers to check in on the ferry. The red-hull Express 36 and Cau Da port view became the "check in" address for many people before boarding the ferry. We also took a few photos as a memory and joined the flow of people to enter the ticket gate.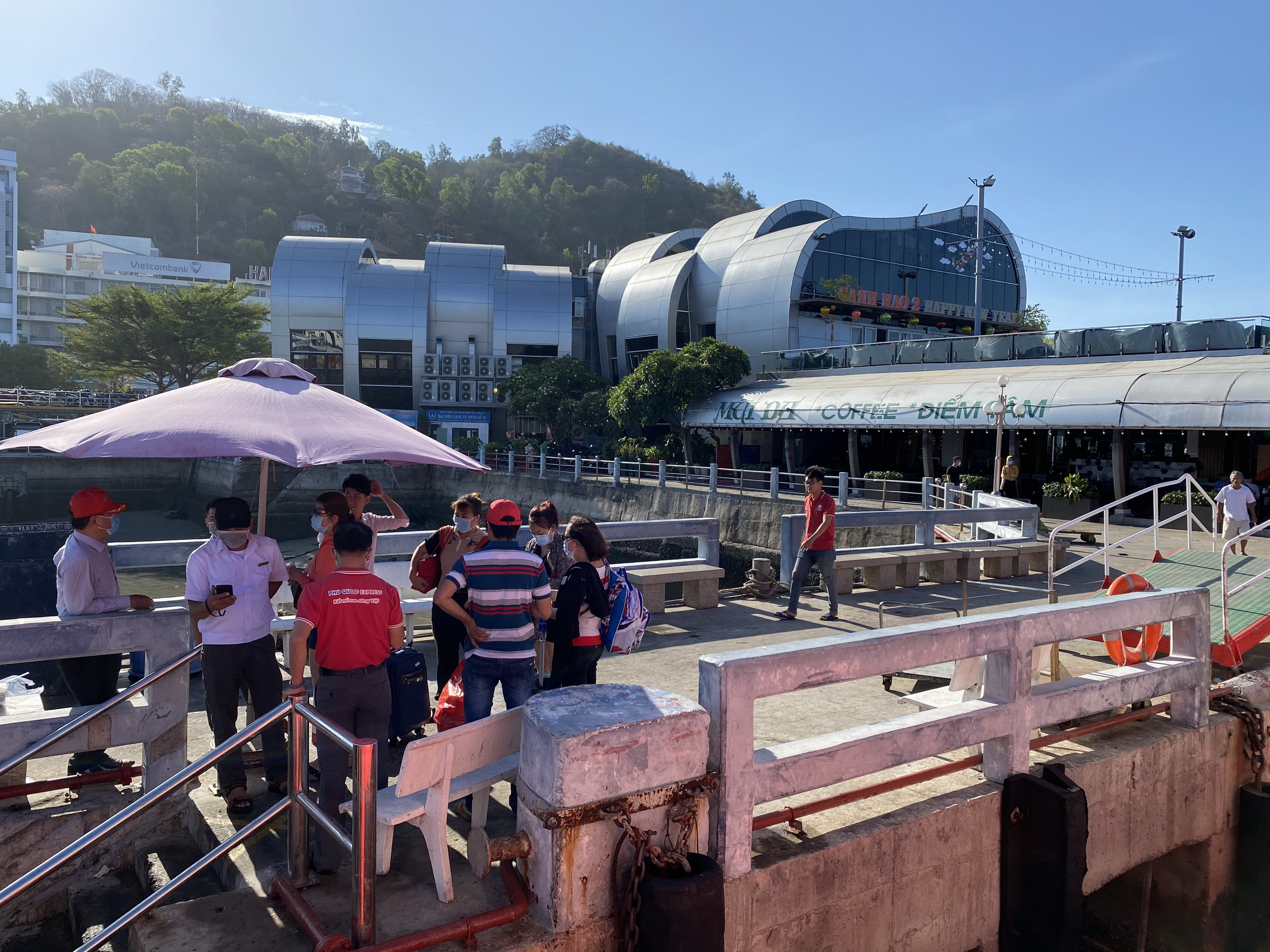 Because there are nearly ten of employees who are arranged to control tickets, assist passengers to put luggage on the ferry, guide passengers to sit the correct number of seats, so getting off the ferry is quite fast. The warming, enthusiastic and friendly smile of the welcoming staff made many people impressed. Ms. Mai Hoang Nga, a visitor from Hanoi, said: This is the first time I experience a craft ride to Con Dao Island. Nice ferry, comfortable seats. The passageway on the ferry is wide open. Service staff with a cheerful, polite and dedicated attitude ".
At 8 o'clock, the ship left the dock and began its journey to Con Dao Island. When the ferry runs for nearly 10 minutes, the deck doors are open to allow passengers to enter and exit the scenery. The deck area of ​​the ship is quite large, surrounded by an iron frame and a 2-layer arc-shaped steel railing to make the handrail secure and safe.The ship splits white foam, the flag of the Fatherland is fluttering on the roof, Big Mountain and the panorama of Front Beach fading away. The charming picture of the sea and sky appears, making everyone excited and taking advantage of "check in" to record beautiful moments with friends and relatives.
Ms. Nguyen Thi Nhien (Ward 2, Vung Tau City) said: Before, every time she went to Con Dao Island, from Vung Tau, she had to move to Ho Chi Minh City in order to fly, it is not only inconvenient, but also the ticket price is quite high and difficult to buy. And when there is high-speed craft, she has to experience it. "The sea this season is calm. Sitting on the deck watching boats pass by, breathing the sea breeze, feeling extremely refreshing and comfortable. Ferry departs on time, 4 hours later arrives Con Dao Island. The ferry runs smoothly, so I don't get seasick. I will share this feeling with my friends for everyone to experience, " Ms. Nguyen Thi Nhien said.
WILL INCREASE MORE SHIPS
Con Dao Express 36 high-speed craft on Vung Tau – Con Dao Island route was invested, exploited and operated by Phu Quoc Express Ship Joint Stock Company from February 15. The ferry has a capacity of 598 passengers, is equipped with 4 Roll – Royce MTU engines, reaching a maximum speed of 35 nautical miles / hour (about 60km / h). Every day, the ferry departs from Cau Da port (Vung Tau city) to Ben Dam port (Con Dao Island) at 8 o'clock and returns at 13:30 a day. On weekdays (Monday – Thursday), the fare for economy class is from 660,000 VND / time, VIP class is 1,200,000 VND / time, the elderly and children are 550,000 VND / time. From Friday – Sunday and (Lunar) New Year, holidays, the price of VIP seat will not change; economy seat is 880,000 VND / adult; 700,000 VND for the elderly and children. Passengers are served drinking water and free cold towels. In addition, the ferry also serves soft drinks and instant noodles.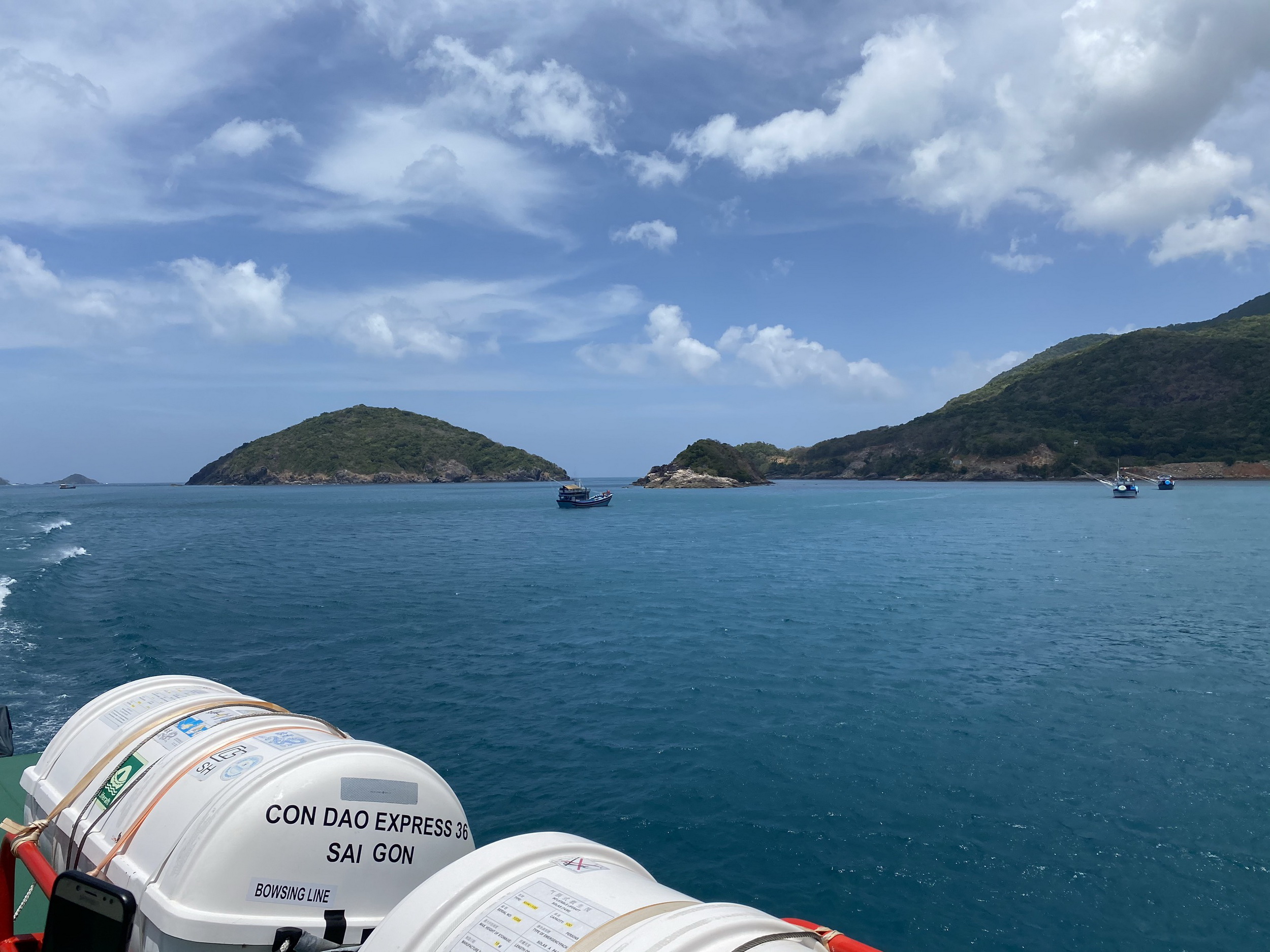 According to Mr. Vu Van Khuong, Chairman hold General Director of Phu Quoc High-Speed ​​Craft Joint Stock Company, from the inauguration date up to now, the operating capacity of Con Dao Express 36 high-speed craft is quite good, weekdays are above 60% and always out of space on weekends. Facing increased travel demand, the company is building a new similar ship, which is expected to launch in May to meet the travel needs of residents and tourists this summer.
Currently, Phu Quoc Express Craft Joint Stock Company has more than 50 agents selling Con Dao Express 36 high-speed craft ticket in Ho Chi Minh City, Dong Nai, BR-VT and Hanoi. In the near future, the company will open more agents in the Northern and Central provinces for convenience for customers to buy tickets.
According to Mr. Vu Van Khuong, the high-speed craft Con Dao Express 36 is designed according to European standards and ensures the national standards on classification and building of high-speed crafts. The ship is equipped with 2 large lifeboats, a life buoy system and a personal float for passengers along the hull. The advantages of a two-hull ship are safety, balance and stability, minimizing seasickness. However, for passengers who are not familiar with the waves, we still recommend that guests limit their movement on board, equipped with anti-seasick drugs to have a fun and safe cruise.
Contact for booking
1. Contact to buy and deliver ticket at Con Dao Island: 0987 556 294
Address: No. 25 Vo Thi Sau street, Con Dao district, Ba Ria – Vung Tau province
2. Contact to buy and deliver ticket in Ba Ria city: 0389546426
Address: No. 100 Pham Van Dong, Phuoc Trung Ward, Ba Ria City, Ba Ria – Vung Tau Province
3. Contact to buy and deliver ticket in Vung Tau City: 088 937 1234
Address: 555 Nguyen An Ninh, Nguyen An Ninh Ward, Vung Tau City, Ba Ria – Vung Tau Province
4. Contact to buy and deliver ticket at CAN THO city: 0889271234
Address: 243 Hoang Quoc Viet, Ben Ninh Kieu, Ninh Kieu District, Can Tho City
5. Contact to buy and deliver ticket at SÓC TRANG: 088 921 1234
Address: Cang Hamlet, Tran De Town, Tran De District, Soc Trang City
Besides, customers can visit fanpage: https://www.facebook.com/taucaotoccondaovungtau or https://taucaotoc.vn to book ticket.