Cau Da port located in Front Beach, Vung Tau City, located at 09 Ha Long, Ward 2, Vung Tau City. This is currently a fast ferry pier and pilot ship of Vung Tau Maritime Administration. It is also famous as a historical relic combining tourism and sightseeing of the coastal city.
Currently, Cau Da port pier (Front Beach): is the main route to dock high-speed crafts on Vung Tau – Con Dao route, it was renovated and upgraded to a large scale with 2 berths of 155m in length to dock a 250HK hydrofoil and HK service area. Length 155m berth, area 0.93ha.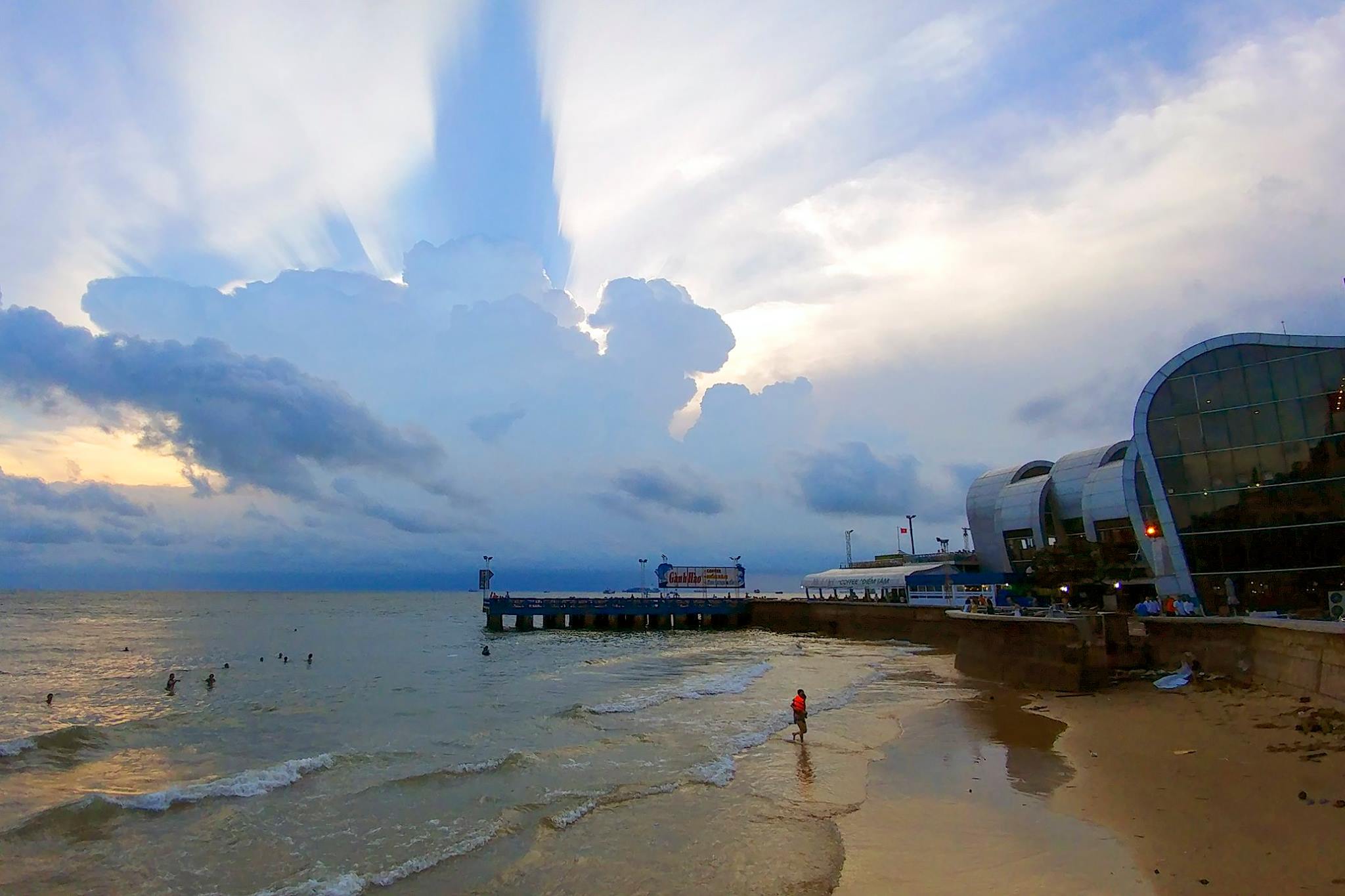 Guide to Cau Da Port – Vung Tau: is the hydrofoil pier to Ho Chi Minh City before, now there is Ganh Hao 2 restaurant operating here.
Map to Cau Da Port – Vung Tau
Cau Da Port – Vung Tau is Vung Tau passenger ship port for passengers traveling on Vung Tau – Con Dao Island route today. Passengers can refer the map to go to the exact destination they need. In many cases today, customers often confuse the pier on 30/4 street.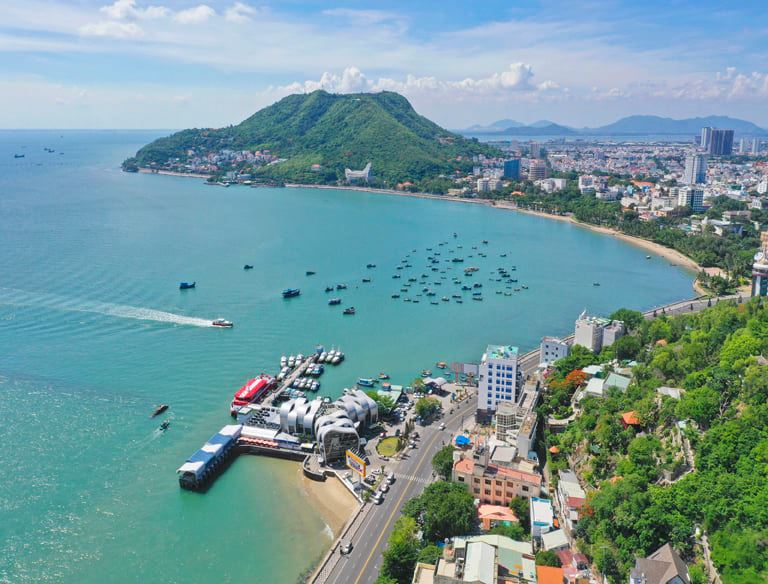 Parking at Cau Da Port
Cau Da Port – Vung Tau has now invested in 2-storey motorbike parking to serve passengers on fast ferry to Con Dao Island, and at the same time, park motorbikes and cars overnight. This is one of the most favorable points for customers, go and get the car/motorbike right away.
Price:
4-7 seater car: 100,000 VND / day / night
Motorbike: 10,000 VND / day / night
Note for passengers who park their cars at Cau Da port: Due to the location right next to the sea, passengers parking the car 2 days 1 night or maybe longer time, after returning to wash the car carefully to preserve the car better.
Ganh Hao 2 Restaurant at Cau Da Port
Ganh Hao 2 Restaurant and Mui Da Coffee Shop were opened right at Hydrofoil pier – Fast ferry pier to Con Dao Island today. Ganh Hao 2 restaurant is attractive in each dish. Ganh Hao's menu is quite rich with more than 100 dishes cooked in Asian – European style. Each dish is meticulous care from the selection of fresh food sources to the elaborate processing and decoration.
Ganh Hao Restaurant – a convergence of delicious coastal dishes such as shrimp, crab, fish, squid, … and especially "fresh oyster" a very nutritious dish. Each dish brings different feelings which are very interesting and appealing to all customers who have arrived here.
Ground floor: Coffee, breakfast, lunch, dinner
1st & 2nd floor: Seafood restaurant and Vietnamese rice dishes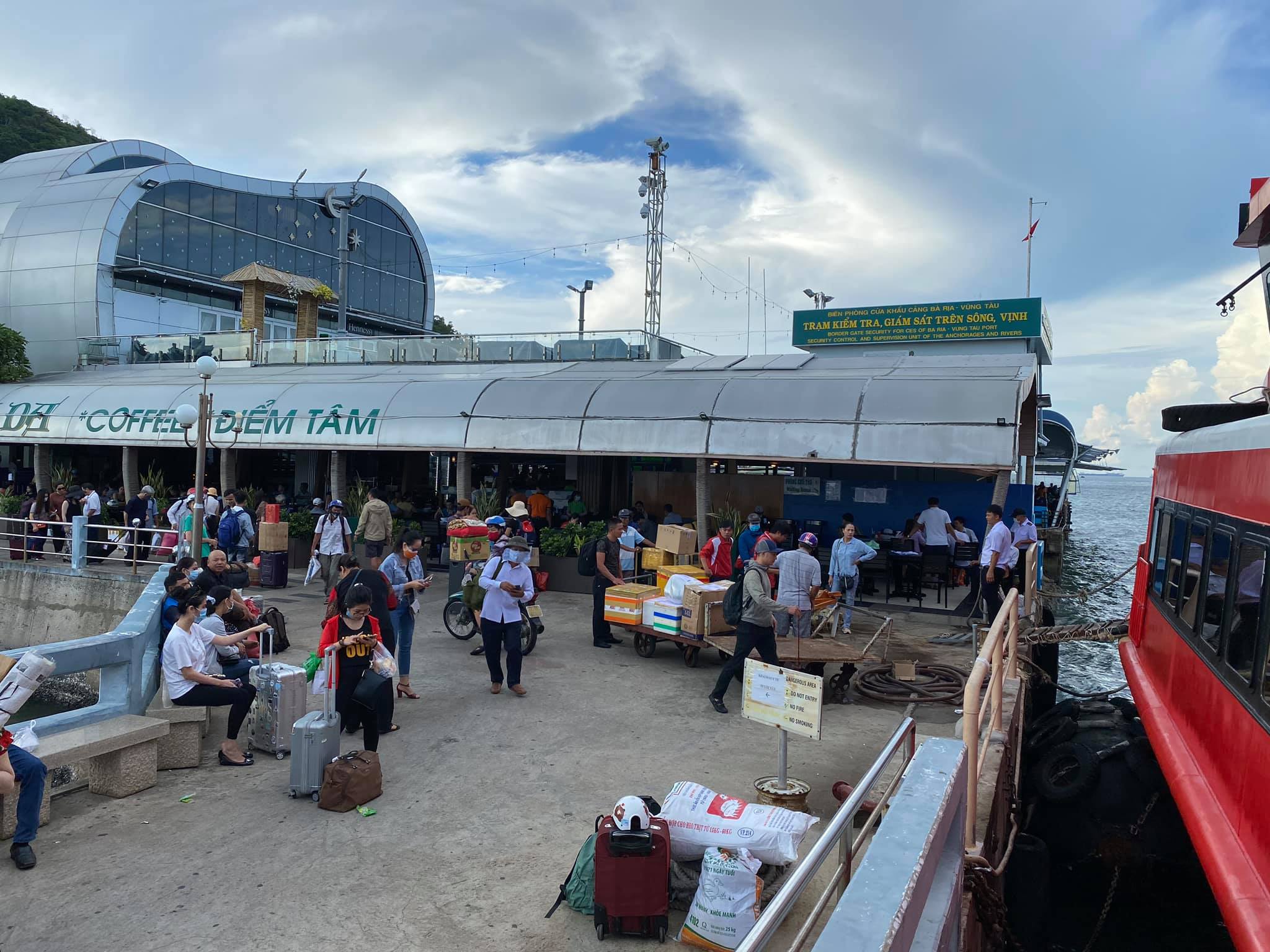 Other convenient services at Cau Da port – Vung Tau
Sacombank's ATM
Passengers can withdraw money to buy fast ferry ticket as well as prepare enough cash to use when going to Con Dao. ATM 1011-Vung Tau hydrofoils, Address: 9 Ha Long, Ward 2, Vung Tau City. Phone: 1900555588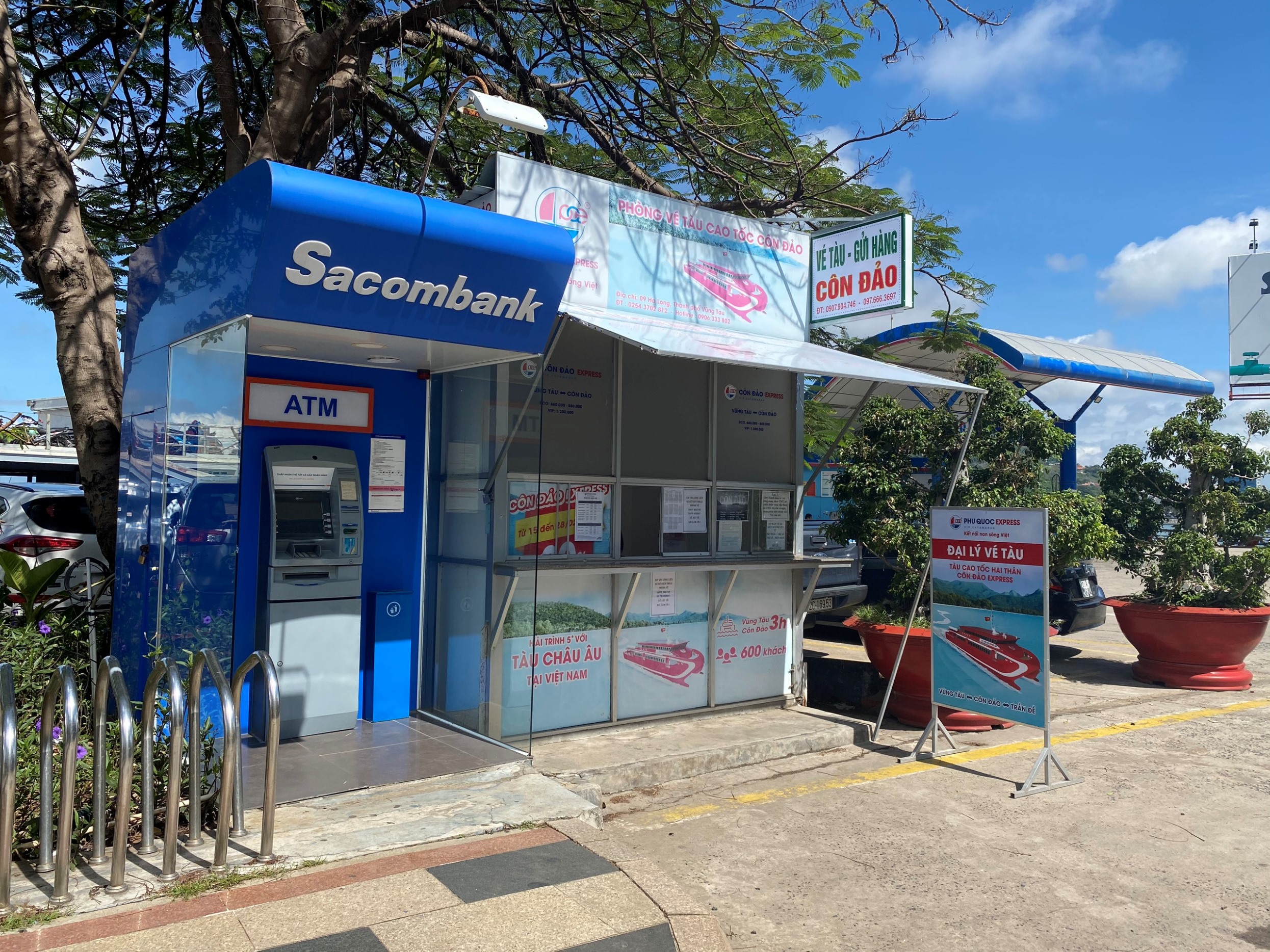 Fast ferry ticket office
Here, there are two fast ferry lines with ticketing counter, namely Con Dao Express, selling ferry ticket from Vung Tau to Con Dao Island, departing right at Cau Da Port – Vung Tau and Greenlines DP fast ferry line, selling Vung Tau – Can Gio and Vung Tau – Bach Dang fast ferry ticket.
The ancient Cau Da artillery battlefield
Not as large as the ancient artillery battlefield at Big Mountain, but Cau Da artillery battlefield was also one of the important works, marking the ambition of the French colonialists to build Vung Tau into a military port.
In 1890, French rulers in Southern and in Vung Tau proposed to build in Vung Tau a port for military purposes, as an anchor, to avoid storms for ships operating at sea, at the same time serving the loading and unloading of weapons and goods for the resort city and the military of Vung Tau. But the project has not been approved because at that time the situation of Indochina was both stable and the budget was difficult.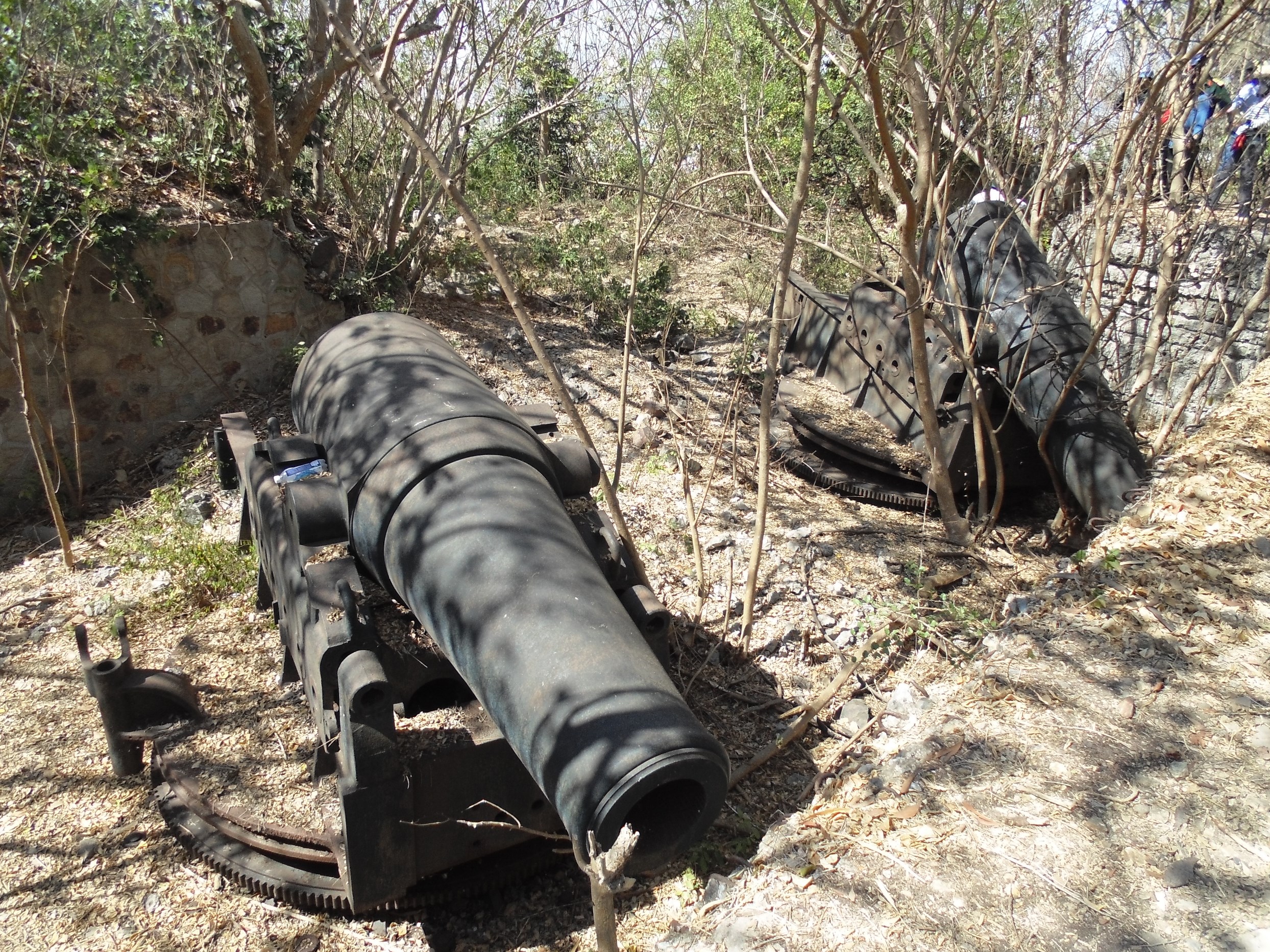 In 1896, the above project was implemented. Tien Cang – Vung Tau is a dyke longer than 400m, the toe of the dyke is 15m wide, the dyke surface is 4m wide and is embankment with stone, pouring concrete from the Northern tip of Small mountain to the middle of the sea, parallel to Front Beach (Hang Dua bay). Vung Tau port embankment was designed by a French engineer and the mayor of Vung Tau at that time, Outrey approved the construction.
To make this road lead to the middle of the sea, the French spent 45,000 quan rom the colonial exploitation budget. The workers were forced prisoners, they were patriotic members who joined the anti-French movements, failed and eventually became slaves of the colonialists. To make this dyke, the French colonialists mobilized more than thousands of prisoners to transport, carry nearly 50,000m3 of stone, with heavy, big rocks to embank the breakwater, they had to soak in the water, exposure in the sky for a long time. After completing the dyke the French realized the mistake of their engineers, the one most responsible for being Outrey. The dyke runs in the opposite direction to the rivers flowing into Ganh Rai Bay. On the other hand, due to the impact of the ocean currents, the harbor became a barrier dam, a place where mud and sea sand were deposited … This pier was completely disabled before Giap Thin storm (1904) completely destroyed. Today, in the days when the tide goes down, people still see a long rocky dike running straight into the sea, a testimony of brutality by the French colonialists that over the century, the tide has not eroded, cover up.
The French colonialists realized the military significance of Vung Tau gateway, right after taking the Southern, they quickly installed here many artillery docks and then developed into a solid-scale military line. The organization of the Vung Tau line was aimed at creating a strategic military corridor, ensuring absolute safety for the gateway to the Southeastern land that the colonialists directly ruled, ensuring the anchorage of French fleets operating in Vien Dong, ensuring Vung Tau to be a resort and convalescence city of the colonial army.
Vung Tau line was formed into three large groups, linked together on the high points of Small Mountain, Big Mountain with all 23 cannons with caliber 140mm-300mm. These three artillery battlefields started construction in 1895. Governor-general of Indochina did not forget to emphasize the deadline: "Vung Tau must be built into a strong enough place, construction of artillery battlefields must be done before 1897 ".
From Cau Da, tourists can go to Cau Da artillery battlefield along the way to Light House, Vung Tau, or follow the entrance to Tinh Xa Ngoc Bich, Buu Son Pagoda or the small road next to Hai Au Hotel, Ha Long Street, the battlefield was located at an altitude of 15m on the south side of Small Mountain with 4 cannons 5.5m long, caliber 240mm arranged in the shape of a bow, barreled towards Front Beach – Can Gio, Ho Chi Minh City, creating a wide field of view and range. The cannons were arranged evenly 18m apart, able to spin 3600 on the turret, raise or lower the range thanks to the ranged gearbox.
Together with the artillery battle on Small Mountain, Big Mountain, Cau Da – Front Beach formed a complex of historical relics, ranked national relics by the Ministry of Culture.