Are you looking for the best fare for fast ferry from Can Tho to Con Dao Island? Don't worry, with the fare from only 610,000 VND, you already own Can Tho – Con Dao Island fast ferry ticket with spacious seats, comfortable luggage with Con Dao Express.
The best time to travel to Con Dao Island
The climate of Con Dao Island is characterized by a hot and humid sub-equatorial ocean, the living environment in Con Dao Island is very fresh, the average temperature is about 26-27 degree Celcius, cool all year round. The end of February to June is the most suitable time to come to Con Dao Island. At this time, the sea here is the quietest and most calm.
During the year the weather is divided into 2 distinct seasons. Rainy season (May to November) and dry season (December to April). Every time, Con Dao Island wears a different beauty. So do not hesitate to plan a trip to Con Dao Island with friends and relatives.
Dry season (December to April): the weather is dry and sunny, very suitable for marine tourism activities. You can have fun at the clear blue beaches, bask on the fine sand or experience scuba diving, fishing, …
Rainy season (May to November): Although it is the rainy season, it is not continuous or interrupted. Traveling to Con Dao Island during this time is also very interesting.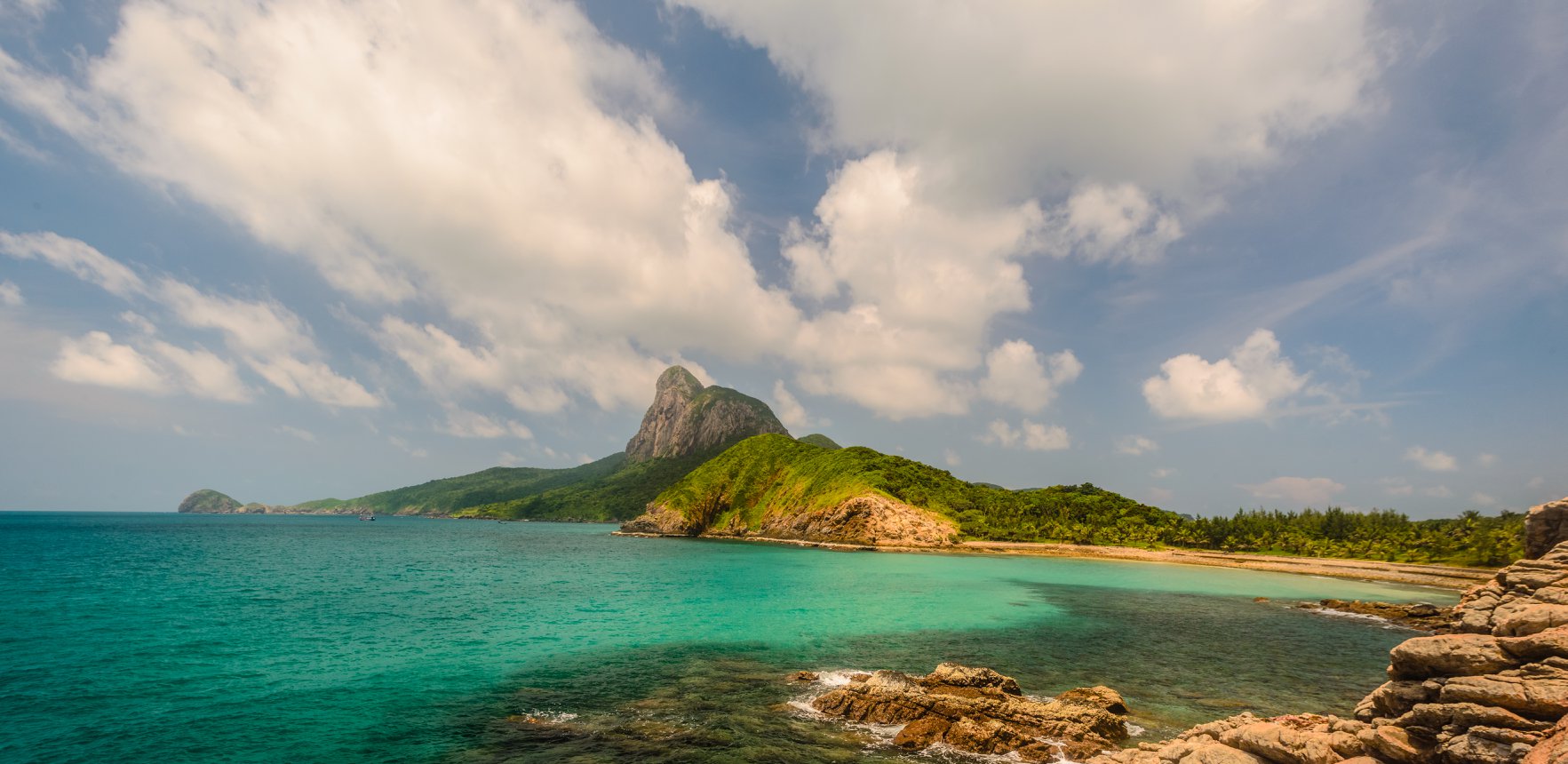 How long does the ferry take from Can Tho to Con Dao Island?
From Can Tho to Con Dao Island, you have to go through a 177km long journey. If traveling by plane from Can Tho to Con Dao Island, it takes about 55 minutes. If traveling by fast ferry takes about 4 hours, although the time is slower, many customers prefer to choose because the fast ferry fare is only half of the airfare.
To get to Ben Dam Port (Con Dao Island), you need to be at Ninh Kieu pier (Can Tho) about 45 minutes before departure time to do procedures such as check in and board … Note, the ferry runs on time. on the ticket and do not wait for passengers.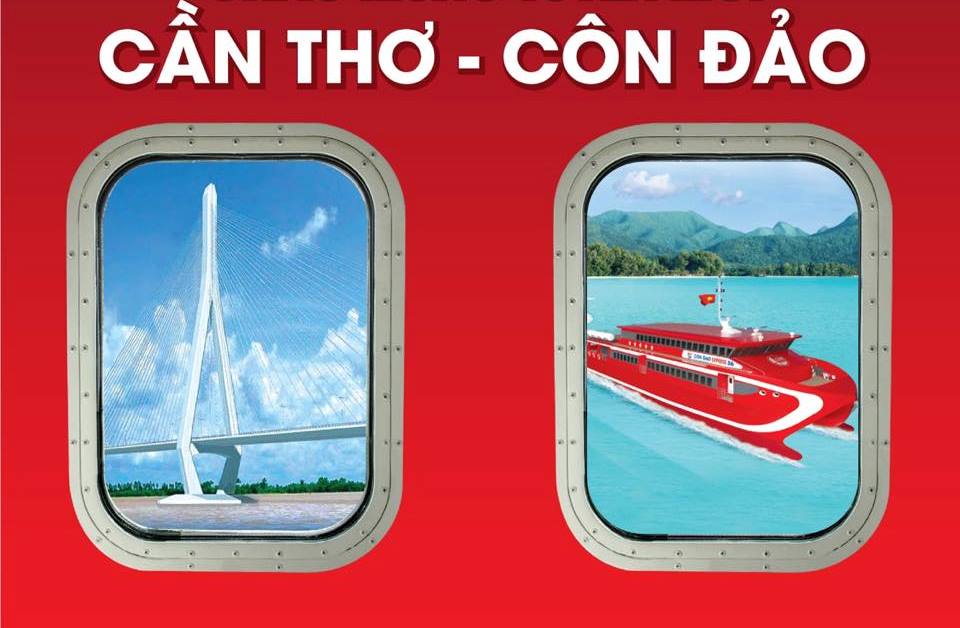 Currently, only Con Dao Express is operating Can Tho to Da Nang route. There is 01 ferry every day to go and return to meet customers in the Southwestern region who need to travel, visit and explore Con Dao.
Information about Ben Dam Port – Con Dao Island
Located neatly in Ben Dam Bay, surrounded by mountains, Ben Dam port is considered to be a prime location to provide essential services for ships.
Currently, Ben Dam Port has become the main and only entry point for thousands of ships, including domestic and international ferries to Con Dao Island. Transshipment of goods, passengers, transactions, seafood trading and provision of marine logistics services for the province's and neighboring provinces fishing in the waters become very active.
| | |
| --- | --- |
| Name of the operator of the port | Ben Dam Port Management Board |
| Port location | Ben Dam Con Dao district |
| Port operation performance | General wharf (bulk cargo, dry cargo …) |
| Port are | 2,7ha |
| Throughput capacity of the harbor | 30,000 tons/year |
| Agency Of Maritime State Management | Maritime Administration of Vung Tau |
| Deadweight tonnage (DWT) | 2.000 |
| Length of wharf | 82 |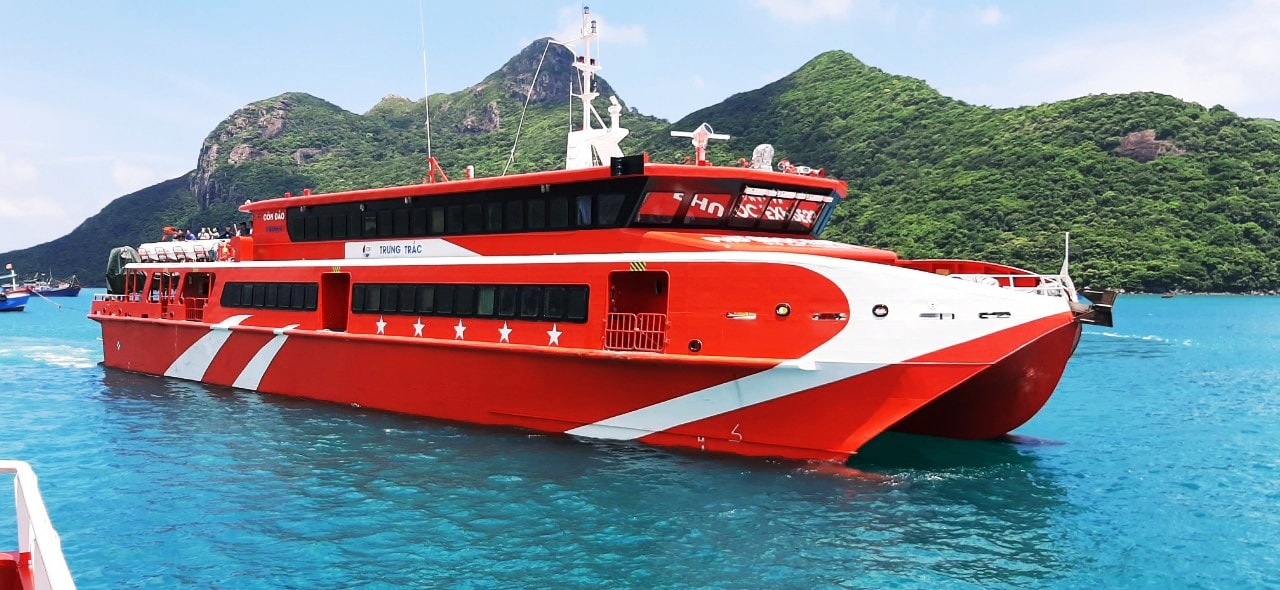 Moving from Ben Dam port to the center of Con Dao distric

t
From Ben Dam Port to the center of Con Dao district, there is a distance of about 15km, normally in other places it may take you only about 15 minutes by car, but in Con Dao Island, because the road is close to the mountain and the sea is relatively around, so it takes about 30 minutes drive.
In Con Dao Island, there are tram, taxi or 16-seats car for you to go as family. Do not worry about not having a car to the center because if you have a ferry schedule, taxi, service car, motorbike taxi and even motorbike rental services can deliver the car to you right at the pier at the price of only 100,000 – 150,000 / day depending on each type of scooter to freely roam on the island.
The price of taxi and electric car in Con Dao Island is relatively high, about 20,000 VND / km, with the distance from Ben Dam port to Con Son town you can lose about 300,000 VND if you follow the car meter, but if you deal with the driver, it only costs about 220,000 VND (Save some money for drinking water in Con Dao Island).
How to book 

Can Tho – Con Dao Island 

high-speed craft ticket
The peak tourist season in Con Dao Island will start from December and end in September next year. Therefore, if you plan to travel to Con Dao Island during these times, you should order the high-speed craft ticket from Can Tho to Da Nang at least 2 weeks before the departure date to get the best seats according to the wishes of their families and groups.
Fare for Can Tho – Con Dao Island high-speed craft 
| | | | |
| --- | --- | --- | --- |
| Eco class | Children/Senior | VIP class | Note |
| 610,000 | 520,000 | 990,000 | Mon → Thurs |
| 690,000 | 600,000 | 990,000 | Fri → Sun |
Note:
The above fares included VAT.
Children (6-11 years old) and senior (over 60 years old) apply Eco discounts according to the company's policy.
Children under 6 years old or less than 1m2 in case of sharing a seat with an accompanying adult are free of charge on board.
The special feature of the high-speed craft ticket from Can Tho to Con Dao Island is that most of them are kept stable all year round, there are rarely promotions and discounts, but if you are traveling in a large group, try to contact 0889211234 (For groups of 30 tourists or more).
In addition, you can refer to the high-speed craft routes to Con Dao Islandt o compare and make the right choice for your group:
Enjoy specialties – delicious dishes at Con Dao Island
In addition to visiting and exploring famous landmarks in Con Dao, tourists can also enjoy delicious dishes and specialties in Con Dao Island…
Vu Nang Snail
This is considered one of the rare specialties in Con Dao Island. The name of "Vu Nang" is transmitted by mouth because this snail has a shape similar to the nipple of girls.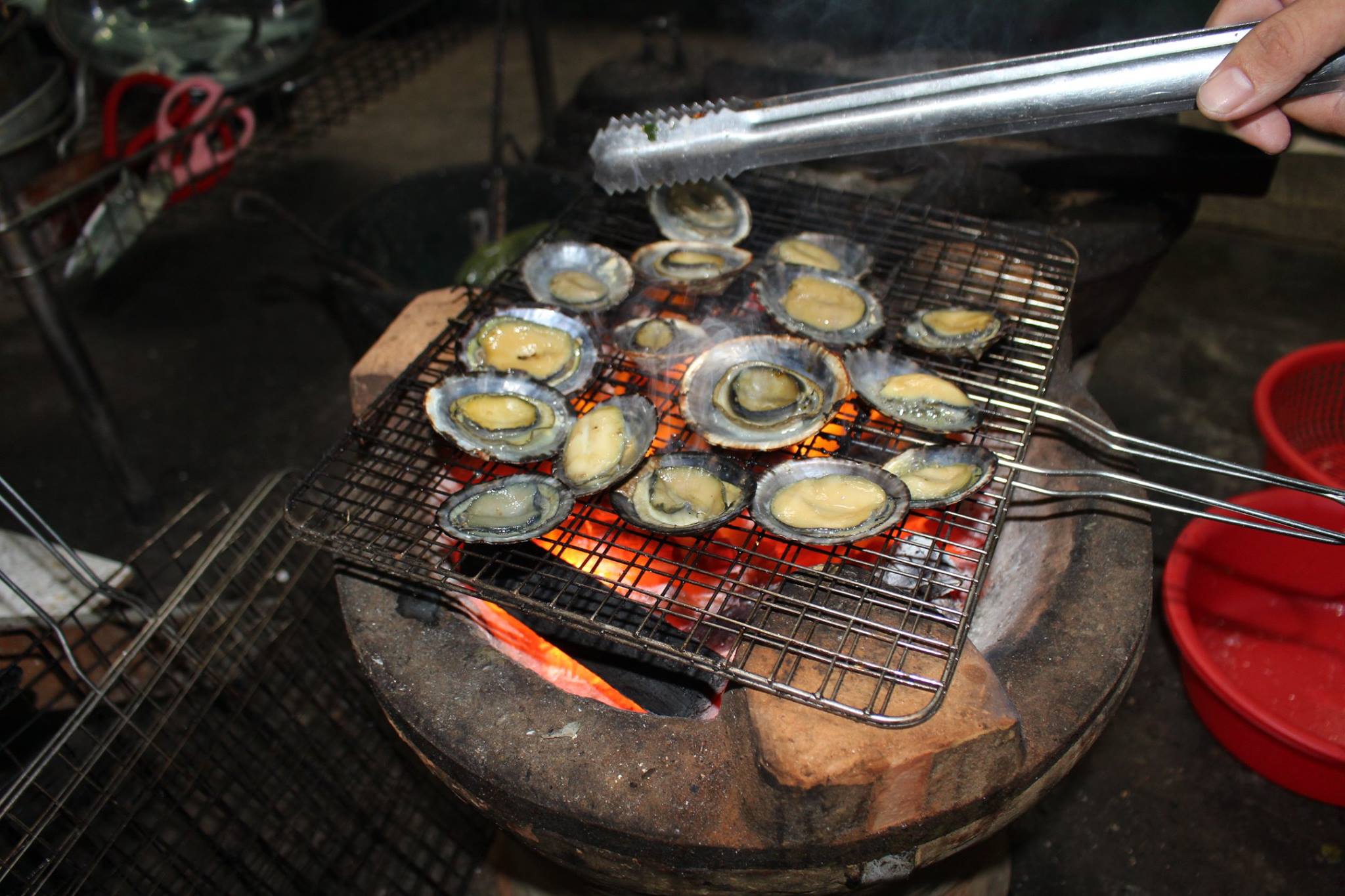 Vu Nang Snail can be processed in many ways such as: Grilled, boiled, steamed lemongrass or mixed with salad are very delicious … But the best way is still grilling, then coated with scallion oil, peanuts, then you just need use the fork to  push out gently, the snail is already on top of folk. Dab the body of the snail into a cup of sweet and sour fish sauce, you can feel the delicious sweetness, crispy of the snail, the spicy taste of the chili, the richness of the fish sauce.
Moon crab
Moon crabs usually live at a depth of 3 to 4 meters on coral reefs and even in Con Dao Island. The meat of this crab is delicious, both fragrant and firm. This type of crab can be processed in many familiar ways such as: Boiled, Steamed, Stir-fried with tamarind, …
Specialties oyster sauce – Con Dao Island
This is a popular sauce commonly used by the people of Con Dao Island in daily meals. The main material for processing so oyster sauce is the oyster available in nature. This type lives a lot on the rocks around the islands of the Con Lon (Con Dao) archipelago.
Every day, waiting for low tide, the oyster sauce makers run boats to the islands to get their guts. Oysters' gut are treated and washed and allowed to drain, then stir well with salt, chili powder, wine … according to a certain ratio and bottled. About 20 to 25 days later, the bottle of oyster fish sauce changes color, when the meat emerges on top and the water below it is bright red is edible. When traveling to Con Dao Island, tourists often bring bottles of oyster sauce as gifts to their relatives, family or friends.
Specialty Bang seed jam – Con Dao Island
This can be considered as a specialty that when talking about Con Dao Island, everyone immediately thinks about it and cannot forget the fragrant, fatty, crispy flavor of this dish.
In order to be able to process this dish, the people on the Island often pick ripe Bang, bring them to dry and then separate the filling inside. The kernels are usually cleaned, roasted until they are just cooked, and then processed in two ways:
Salt roasted Bang seeds: First, put a moderate amount of salt in the pan with a little water, let the salt simmer, and then add the well-cooked Bang seeds. Stir and let the salt soak dry into the seeds, until the shell turns brown and fragrant, you can eat it.
Sugar-roasted Bang seeds: Similar to the way to roast salt, the processor will add a quantity of white sugar with a little water according to the prescribed recipe and boil to a mixture of sugar and thick water. After that, add the roasted Bang seeds and stir until the dry sugar is absorbed into the Bang seeds and then lift it down, you should also pay attention to stir well to avoid the lumpiness of sugar, which will reduce the flavor of this dish.
Processing Bang seeds may sound simple, but it takes a whole day of work to get 1kg of Bang seeds. Therefore, the price of Bang seed jam is quite high at about 45,000 – 50,000 a jar or a bag of about 200g. There are times when the weather is out of season, the price of Bang seed jam can increase by about 400,000 – 500,000 VND / kg.
Seafood dishes in Con Dao Island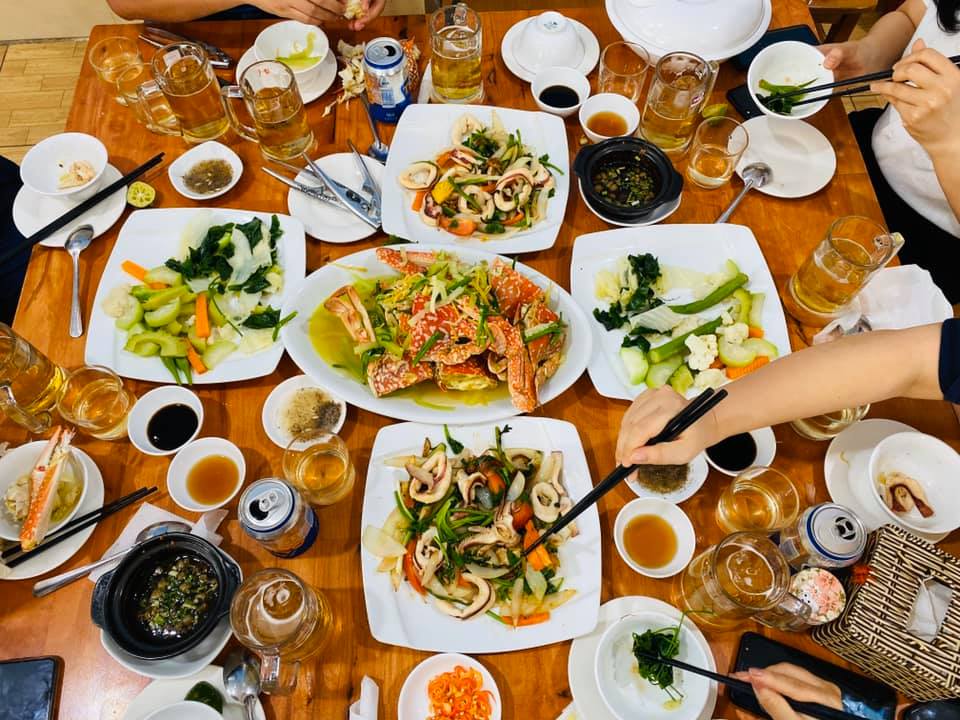 In addition, Con Dao Island also has many other seafood dishes that the most discerning diners must also be satisfied with for the freshness, attractive processing style in 3 regions style and reasonable prices:
Grilled half dried cuttle fish with sweet and sour fish sauce or chili sauce.
Grilled unicorn filefish with aluminum foil.
Fish mackerel.
The familiar grilled octopus but extremely attractive is also available at Con Dao Island.
Braised fish with hot rice
Salt simmered shrimp
Spicy and sour seafood hotpot
CONTACT HOTLINE ☎️ 0889371234 – 0389546426 – 0987 556 294 to book ticket.