Book Vung Tau – Con Dao Island fast ferry ticket to forget the daily busy days, reward yourself with a time to relax, rest, immerse yourself in the cool emerald blue water in the the island was once known as "hell on earth".
Coming to Con Dao Island, you will be delighted to explore a tourist paradise with many stretches of smooth white sand beaches, clear emerald green water, where colorful coral reefs converge. It is an ideal place for you to relax.
In addition, Con Dao Island is often referred to as an island specializing in imprisoning and torturing political prisoners. From an isolated and traumatic island, Con Dao Island has become an ideal tourist destination with beautiful beaches, magnificent landscapes and attractive spiritual travel itineraries.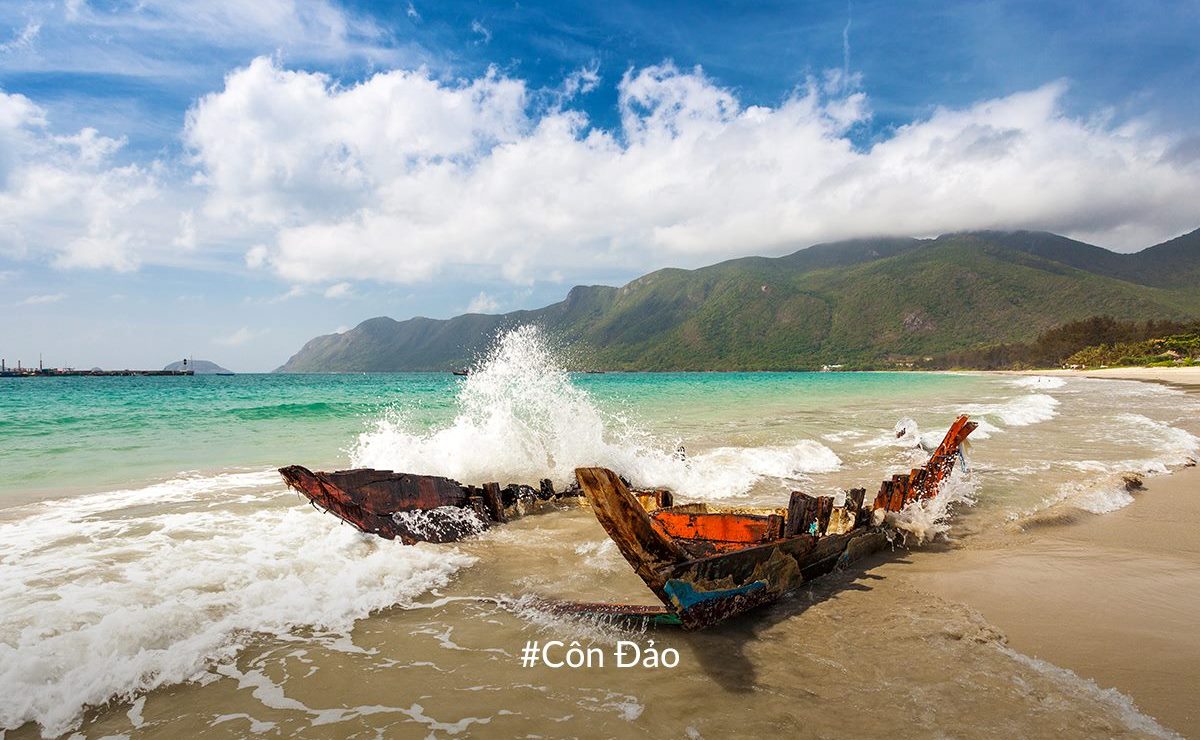 High-speed crafts go to Con Dao Island
Currently, there are two shipping lines operating high-speed crafts going to Con Dao Island, namely Con Dao Express (under Phu Quoc Express) and Superdong. Con Dao Express alone is operated by 03 largest two-hull high-speed ships in Vietnam, so it completely ensures safety and minimizes seasickness when coming to Con Dao Island.
Con Dao Express ferries are operating:
Book Vung Tau – Con Dao Island fast ferry ticket 
Fare for Vung Tau – Con Dao Island fast ferry 
| | | | |
| --- | --- | --- | --- |
| Eco class | Children/Senior | VIP class | Note |
| 660,000 | 550,000 | 1,200,000 | Mon → Thurs |
| 880,000 | 700,000 | 1,200,000 | Fri → Sun |
Note:
The above fares included VAT.

Children (6-11 years old) and senior (over 60 years old) apply Eco discounts according to the company's policy.

Children under 6 years old or less than 1m2 in case of sharing a seat with an accompanying adult are free of charge on board.
Schedule for Vung Tau – Con Dao Island high-speed craft 
Schedule can be changed according to reality.
| | | |
| --- | --- | --- |
| Route | Departure | Arrival |
| Vung Tau – Con Dao Island | 8:00 AM | 11:50 AM |
| Con Dao Island – Vung Tau | 13:00 PM | 17:20 PM |
Best time to travel Con Dao Island
The climate of Con Dao Island is oceanic climate. The average annual temperature is 26.9 degree Celcius. Average rainfall is 2,200 mm. Con Dao Island has two distinct seasons: the rainy season lasts from May to November, the dry season from December to April. January is the driest month of the year. The dry season is cooler, the average temperature is 24 degree Celcius, February is the coolest month, the average temperature is 22 degree Celcius. The muggiest month is May, sometimes up to 34 degree Celcius. The average annual humidity on the island is 80%.
The East – Northeast monsoon in Con Dao Island is usually very strong, from level 6 to level 7, causing many obstacles to living. Prisoners of the ancient resistance often took advantage of this monsoon season to release the rafts, then they escaped from prison to return to the mainland.
In general, Con Dao Island's climate is clean and convenient for human health. But this depends a lot on the specific location, where the place is high or low, whether there are obstacles to block the wind more or less.
March wind the old lady goes to the beach, so March to September is the best time to travel Con Dao Island. This time is the rainy season, but the rains in Con Dao Island last only about 1 hour, the rest of the time is sunny, suitable for sightseeing activities on the sea, diving and watching coral.
Time to travel from Vung Tau to Con Dao Island
The distance from Vung Tau to Con Dao Island is about 185km to the south along the coastline corresponding to 97 nautical miles, the time for fast ferry from Vung Tau to Con Dao Island is about 3 hours and 50 minutes.
With this distance, you can completely travel to Con Dao Island by helicopter and by plane departing from Ho Chi Minh City. However, to save costs, most passengers choose to take the fast ferry.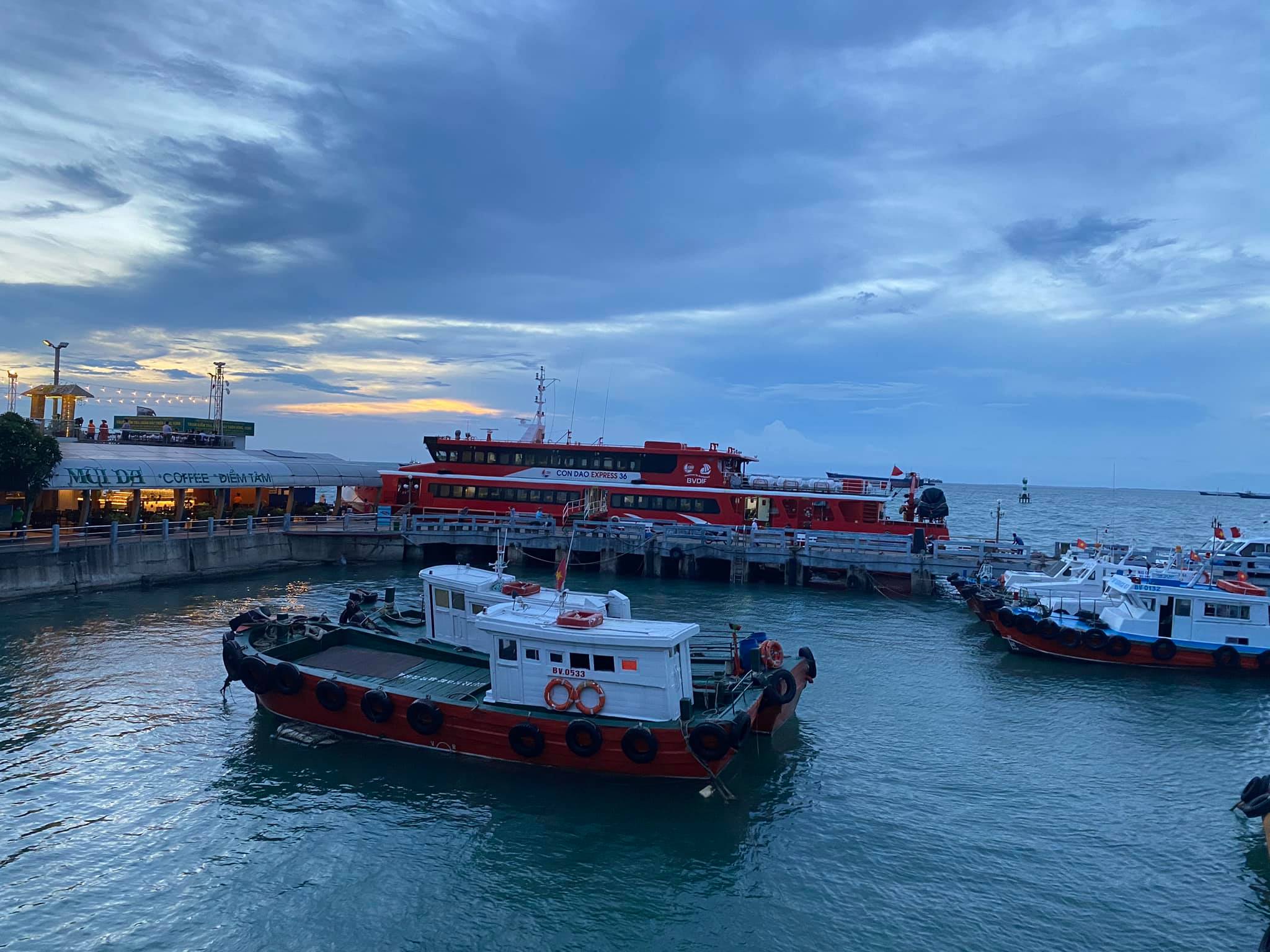 Ben Dam port – Con Dao Island
Departing from Cau Da port, Vung Tau city, the ferry will dock at Ben Dam Port, Con Dao Island, Ba Ria – Vung Tau province and far about 15km away from the center of Con Dao town.
Ben Dam Bay is the deepest bay in Con Dao Island with an average depth of 12m. Therefore, this is also the location of the main seaport of the island – Ben Dam Port with a total area of ​​33.1 ha and located 15km from the center of Con Dao town.
Ben Dam Port is located in Ben Dam Bay between Con Son Island and Hon Ba Island. It is shielded from the wind by two large peaks, Mount Cross and Love Peak, so the side of the Bay is very quiet. Around Ben Dam port the water is quite deep, but in Thong Dam and the nearby area, the average water depth is only 2m, and is the main wind-receiving place of the bay, so it can be considered as a paradise of marine sports, especially fishing.
Services at Ben Dam port
Transporting domestic and international tourists, transporting goods by sea.
Receiving ships and boats entering the port of loading.
Organize the supply of aquatic logistics services for the means of fishing in and out of ports and other goods.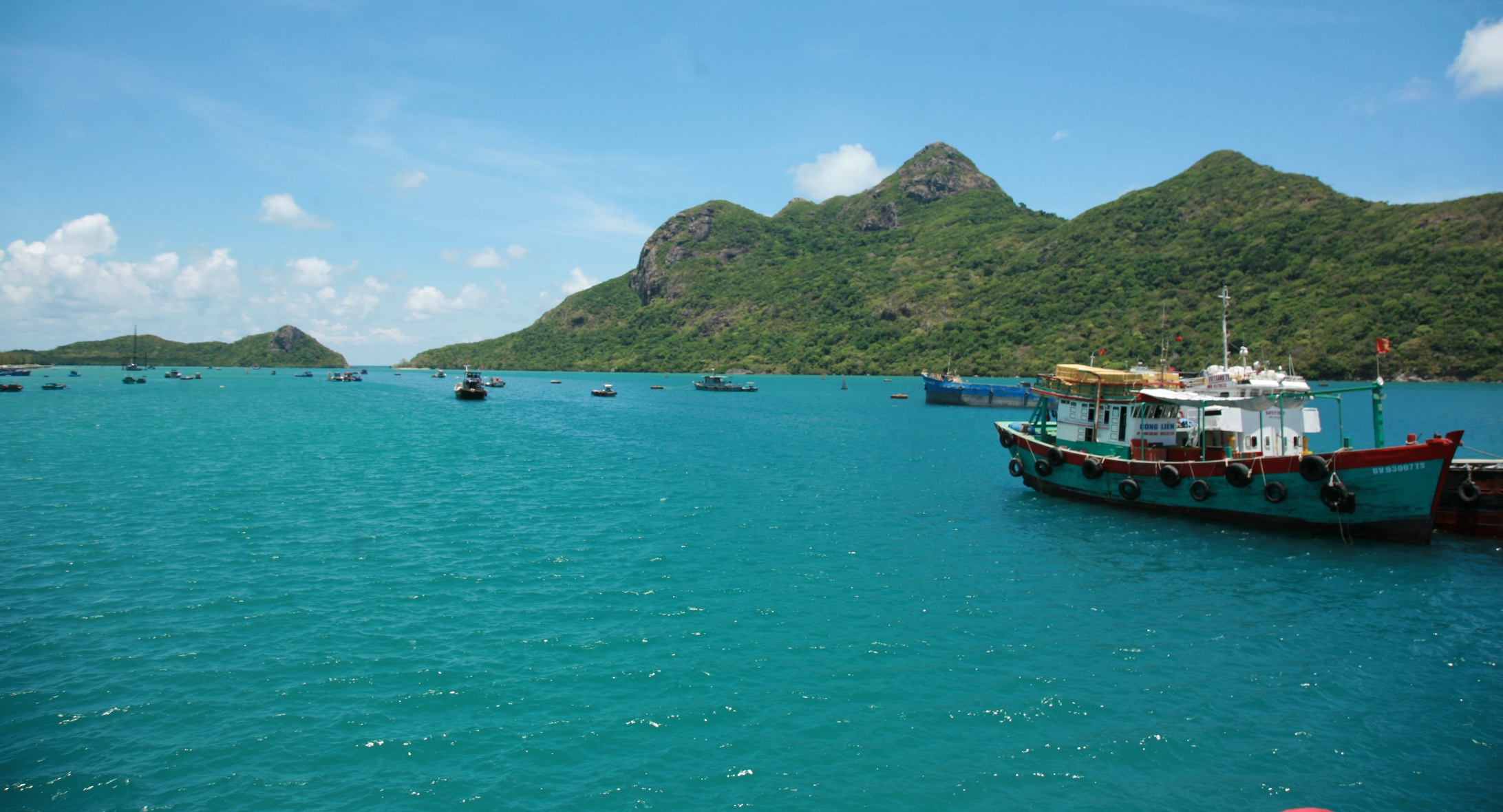 How to move from Ben Dam port to the town center
As mentioned above, from Ben Dam port to the center of Con Son town about 15km, you can travel by many different forms, we can recommend the following ways:
If you have booked a hotel service, most hotels have a free shuttle bus, so this is the best way we encourage our customers to be proactive in their journey.
Taxi: This vehicle is chosen a lot by its convenience and it is suitable for large groups of people with lots of luggage. Taxi fare in Con Dao Island is relatively high, if calculated by km, it will be 20,000 VND / km, from the pier to Con Dao town is about 280,000 VND. If you know a certain driver in Con Dao Island, please contact first, the price is only about 200,000 VND.
Motorbike taxi: This is a relatively cheap method, only about 100,000 VND – 200,000 VND / trip, however, this is the way we recommend that customers should not participate in Northeast monsoon because of its danger and roundabout roads between mountains and sea in Con Dao Island are relatively large.

Electric car: This is one of the relatively optimal options, the price is per passenger with only 40,000 – 50,000 VND / person, many passengers choose this option because they can move and admire the scenery at the same time in Con Dao Isand.
Basic introduction to Con Dao Island tourism
Con Dao Island is an archipelago located in the South-East of Vietnam, far 97 nautical miles away from Vung Tau and 120 nautical miles away from Ho Chi Minh City. Con Dao Island consists of 16 large and small islands, with an area of ​​76 km square. In which the largest island is Con Son island, with an area of ​​51 km square. The population is about 7,000 people (as of the end of 2015).
Looking on the map, Con Dao Island is like a bear reaching out to the East Sea, famous for many beautiful beaches, clear blue sea water and long sandy beaches … shaded by ancient Bang trees. Con Dao Island is also a National Park with primeval forests and rich and diverse fauna and flora with many colorful fish species swimming alongside colorful coral reefs. The forest has many types of orchids, wild animals with black squirrels, red belly squirrels, Gam Gi birds … Especially Con Dao Island is one of the only places in Vietnam to conserve sea cows (Dugong), dolphins, and sea ​​turtles (Vich) …
Con Dao Island used to be known as the place that nurtured the steadfast revolutionary spirit of the revolutionaries and Vietnamese patriots. Today, Con Dao Island is truly a paradise to explore. The people of Con Dao Island are hospitable, gentle and friendly, making visitors feel like their home when coming here.
Coming to Con Dao Island to find the sacred place, please burn incense stick of gratitude in Hang Duong cemetery. Con Dao Museum is a place to keep artifacts and historical images of the island, which are tiger cages, cow stables, Ma Thien Lanh bridge … Coming to Con Dao Island is to find primitive nature, admire the primeval forest of Ong Dung , So Ray. Fishing at Hon Bong Lan, squid fishing at the prow of Be boat, snorkeling, diving at Hon Tre, watching turtle give birth at night at Hon Bay Canh…
Con Dao Island archipelago consists of 16 islands with the following islet:
Con Lon or Con Son 51,52km square.
Hon Con Lon Nho, or Hon Ba 5,45km square.
Hon Bay Canh, or Hon Bay Canh 5,5km square.
Hon Cau 1,8km square.
Hon Bong Lan, or Bong Lang, Bong Lau 0,2km square.
Hon Vung 0,15km square.
Hon Troc 4,4km square.
Hon Trung, or Hon Da Bac, or Hon Da Trang 0,1km square
Hon Tai Lon 0,38km square.
Hon Tai Nho, or Hon Tho 0,1km square.
Hon Trac Lon 0,25km square.
Hon Trac Nho 0,1km square.
Hon Tre Lon 0,75km square.
Hon Tre Nho 0,25km square.
Hon Anh
Hon Em
Contact to book Con Dao high-speed craft ticket
1. Contact to buy and deliver ticket at Con Dao Island: 0987 556 294
Address: No. 25 Vo Thi Sau street, Con Dao district, Ba Ria – Vung Tau province
2.Contact to buy and deliver ticket in Ba Ria city: 0389546426
Address: No. 100 Pham Van Dong, Phuoc Trung, Ba Ria City, Ba Ria – Vung Tau Province
3. Contact to buy and deliver ticket in Vung Tau City: 088 937 1234
Address: No. 555 Nguyen An Ninh, Vung Tau City, Ba Ria – Vung Tau Province
4. Contact to buy and deliver ticket at CAN THO city: 0915 241 456
Address: 243 Hoang Quoc Viet, Ben Ninh Kieu, Ninh Kieu District, Can Tho City
5. Contact to buy and deliver ticket at SOC TRANG: 088 921 1234
Address: Cang Hamlet, Tran De Town, Tran De District, Soc Trang City
6. Contact to buy and deliver ticket in Ho Chi Minh City: 0909 946 292
Address: 13/3 Tran Ke Xuong, Ward 3, Binh Thanh District, Ho Chi Minh City