If you are planning a sea trip, booking Ho Chi Minh City – Vung Tau fast ferry ticket. The way to book is very simple and fast at taucaotoc.vn
Ho Chi Minh City (people often call it Saigon) is an important traffic and economic hub of Vietnam and the southern region. This place is the gateway for many international and domestic tourists who come to work, visit and travel to Saigon first and then go to neighboring localities. High-speed ferry from Saigon is one of the noticeable means of transport.
Also located in the Southeast region, Vung Tau is a favorite destination of many tourists wishing to return to the Sea. The dry weather almost all year round is the biggest advantage that helps Vung Tau attract tourists all months of the year. In particular, this beautiful coastal city is not only targeted by domestic tourists but also international tourists when preparing for the journey to discover Vietnam. This is the reason why high-speed ferry ticket from Saigon to Vung Tau are searched by many people all year round.
High-speed boats from Ho Chi Minh City to Vung Tau
Previously, many shipping lines used to operate boat from Saigon to Vung Tau by hydrofoils and high-speed boats. Up to now, when hydrofoils seem to be gradually outdated, Greenlines DP has invested in a modern fleet of two-hull high-speed boats running this route with a frequency of up to 8 trips/day on peak days, low season only 1-3 trips/day.
Time by high-speed boat from Saigon to Vung Tau is about 1 hour 30 minutes – 2 hours. Although the two localities, Ho Chi Minh City and Ba Ria – Vung Tau, have a common administrative boundary of 16.33 km long (Can Gio sea area). For this high-speed boat, the departure point is Bach Dang Pier (District 1) and the departure point is Ho May Tourist Area Pier in Vung Tau city, Ba Ria – Vung Tau province.

Fare for Ho Chi Minh City – Vung Tau fast ferry
From Monday to Friday:
Adult: 240,000 VND (12-62 years old)
Senior: 160,000 VND  (from 63 years old and above)
Children: 120,000 VND (from 6 to 11 years old):
Children 5 years and under are free of charge (sharing seat with parents)
Saturday, Sunday:
Adult: 280,000 VND (from 12 to 62 years old)
Senior: 180,000 VND (from 63 years old and above)
Children: 140,000 VND (from 6 to 11 years old)
Children 5 years and under are free of charge (sharing seat with parents)
Holidays, (Lunar) New Year, Compensating Days
Adult: 320,000 VND (from 12 to 62 years old)
Senior: 240,000 VND (from 63 years old and above)
Children: 180,000 VND (from 6 to 11 years old)
Children 5 years and under are free of charge (sharing seat with parents)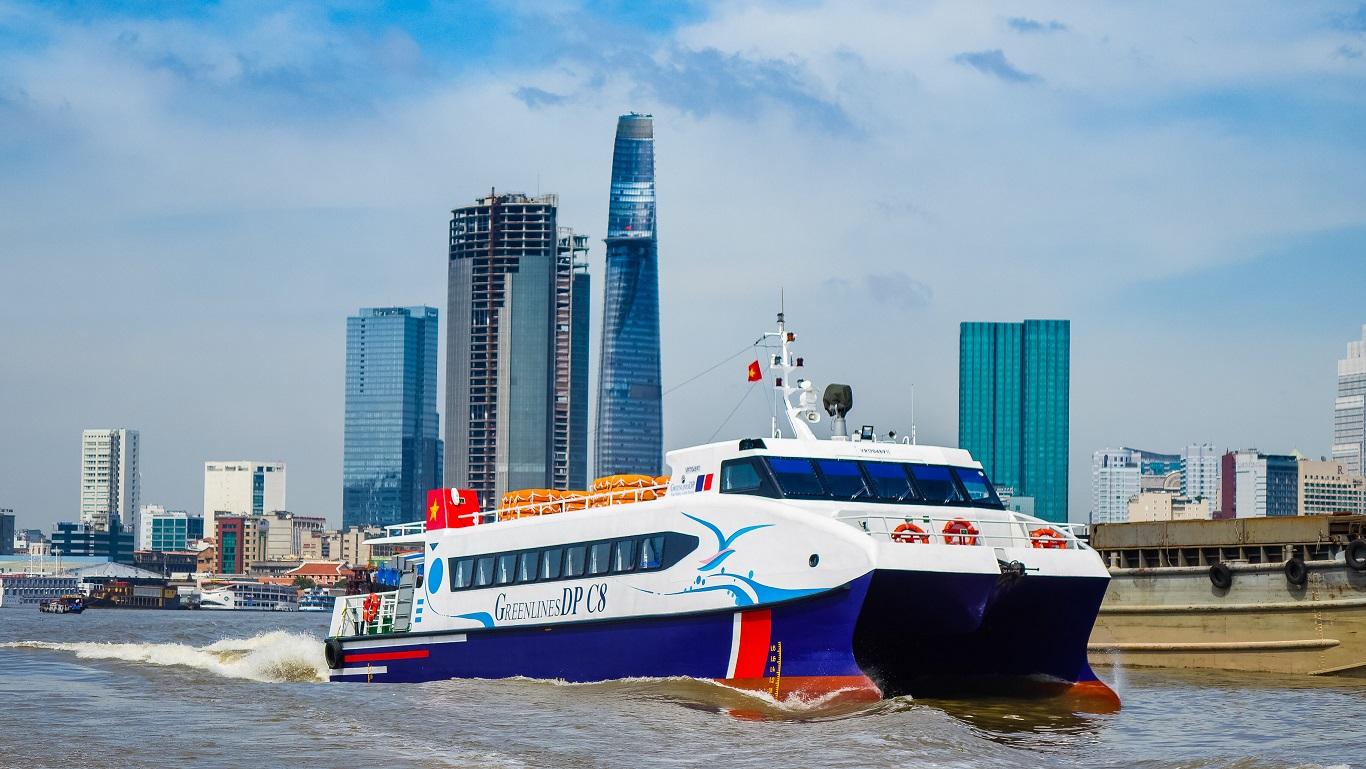 Handbook when traveling to Vung Tau
Vung Tau is located on the peninsula of the same name, is the provincial capital of Ba Ria – Vung Tau province. Lies protruding from the mainland like a strip of land with a length of about 14km and a width of about 6km. From here, one can see the East Sea both at sunrise and at sunset.
As a coastal city, with a coastline stretching 20km, Vung Tau has become a famous tourist destination for domestic and foreign tourists.
Besides, Vung Tau tourism is also a land with a long historical and cultural tradition with relics bearing the imprints of historical periods. Currently, the province has 29 relic sites ranked at the national level.
After docking at the Ho Chi Minh City high-speed train station to Vung Tau, you can refer to some points such as:
Back Beach
Vung Tau is a coastal city, so it has ideal beaches for tourists to relax and swim. Back Beach is one of the beautiful beaches of Vietnam, also known as Thuy Van (Thuy Duong). Located in the South of Vung Tau, stretching from the foot of Small Mountain, running for nearly 10km to Cua Lap, the long flat sand beach, clean, blue sea water, big waves.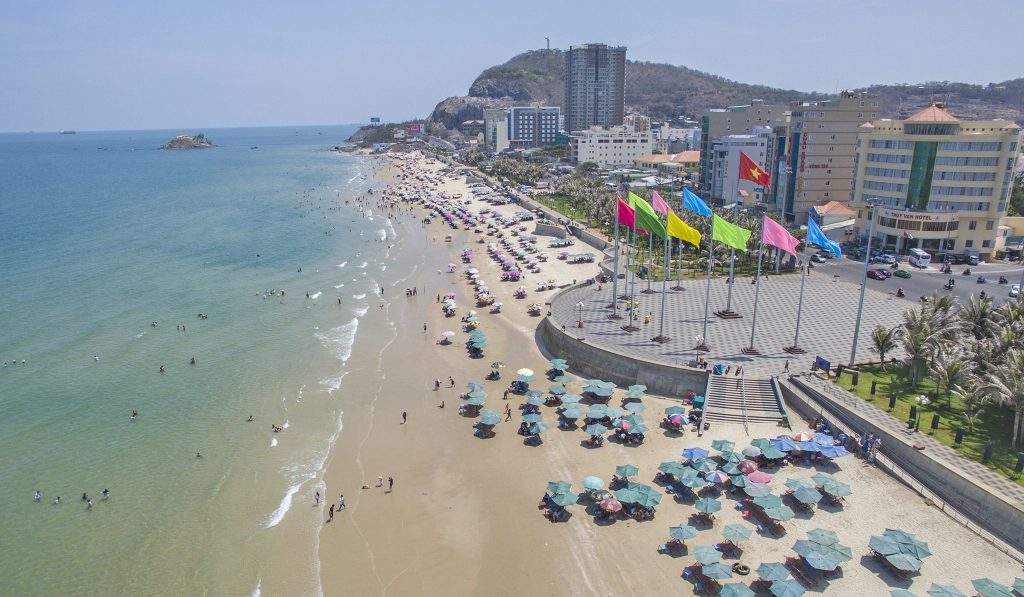 The front is the East Sea, the back is white sand dunes and immense casuarina forest. Visitors will have a comfortable feeling when immersed in the cool water of Back Beach, enjoying the fresh and cool air. At Back Beach, there is also a poplar forest, a large forest with ancient casuarina trees below the forest, and wooden guesthouses in the style of communal houses in the Central Highlands with all modern and rustic amenities.
Front Beach
Nearby is Front beach, also known as Tam Duong beach, the sea water is not as clean as Sau beach, so most tourists often focus on Sau beach to bathe. But at this front beach, visitors will find an unforgettable and romantic feeling that is a short sunset in the late afternoon and dawn in the morning.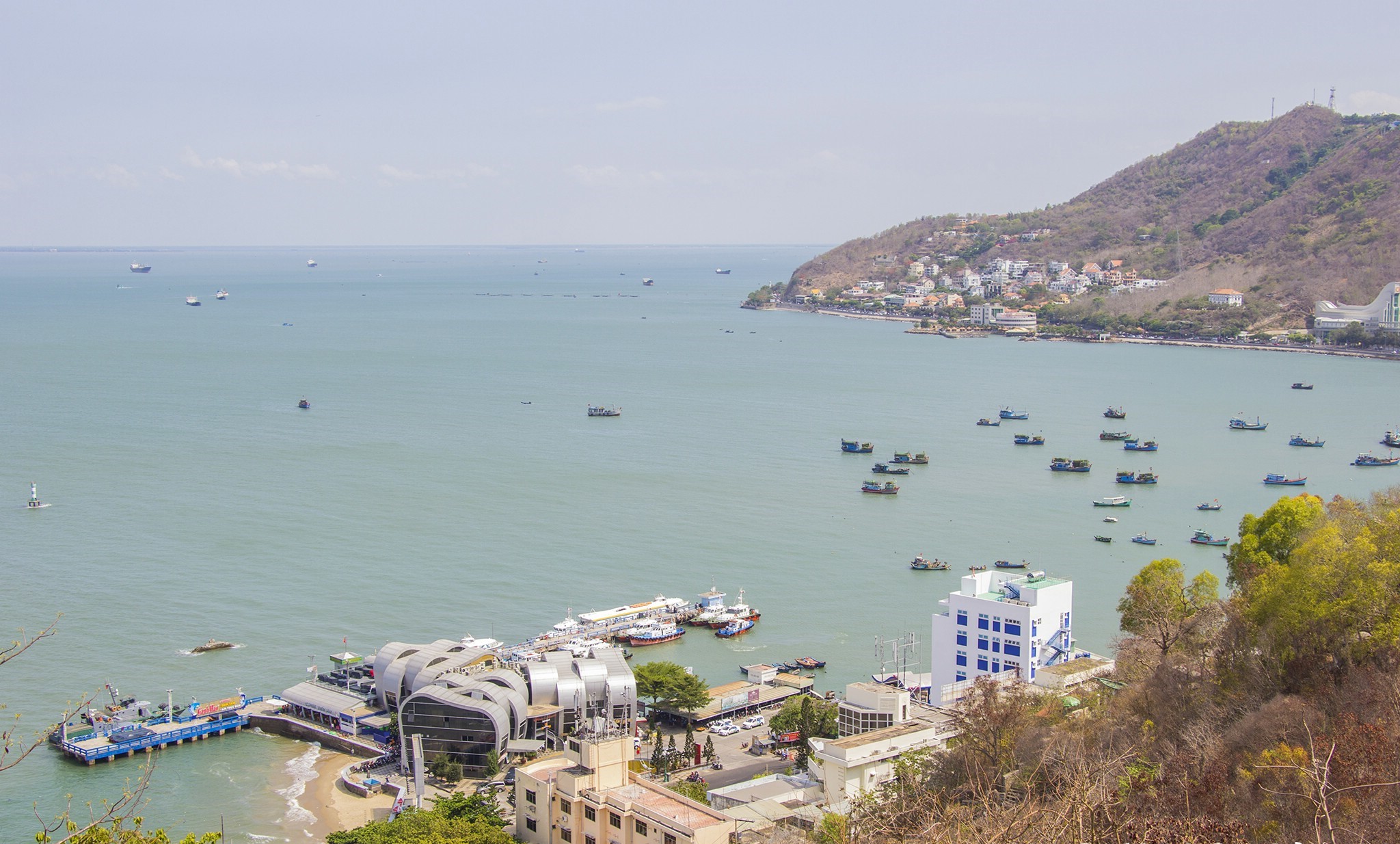 Along the coast are rows of coconut trees (that's why this place was previously called Hang Dua Bay) below is a park full of flowers for tourists to walk next to the sound of crashing waves. At night, along Tran Phu and Quang Trung streets, lights up with high pressure lights, and cafes shine with colorful lights.
Strawberry Beach
A Back beach with gentle and brilliant beauty, a splendid Front beach, and Vung Tau also have a peaceful Strawberry Beach. This beach has many poetic and windy rapids, the two ends of the beach have many large cliffs protruding into the sea, behind the beach is the terrain of the basin surrounded by luxuriant trees like a large mountainside, the foot of the mountain is steep and close. out to sea. Coming to Strawberry Beach, the noisy and bustling atmosphere is completely separate and gives visitors a sense of peace.
Big Mountain
Big Mountain is one of two beautiful mountains, located to the north of Vung Tau city, close to the sea, also known as Tuong Ky. Along the way there are many beautiful landscapes such as The White Palace, Thich Ca Phat Dai. Visitors can climb up to the top of Big Mountain to enjoy the fresh, cool air, and enjoy the panoramic view of Vung Tau city along the winding road around the city. southern. In addition, there is Stone Cape in front of the White Palace, Cao Trang stone cape at the beginning of Big Mountain roundabout in the afternoon.
Small Mountain
Contrary to Big Mountain, Small Mountain is located to the south of the city and has another name, Tao Phung. At the foot of the mountain is a coastal road with many hotels, restaurants, cafes, etc. At the top of Small Mountain, visitors have the opportunity to admire the 32m high Jesus Christ Statue, the tallest Jesus Christ Statue in the world. More interestingly, when climbing to the top of the mountain, visitors can also enjoy a unique architectural work that is the Lighthouse. Inside, there is a spiral staircase to the top and there is a way to the outside balcony to observe the panoramic view of Vung Tau.
And many attractive tourist destinations….
At the end of Small Mountain to the south is Nghinh Phong mountain embracing Vong Nguyet beach to the east and Pineapple beach to the west, the wind blows all year round. Continuing to go a short distance from Nghinh Phong, visitors come across Hon Ba – a jagged rock for a bridge.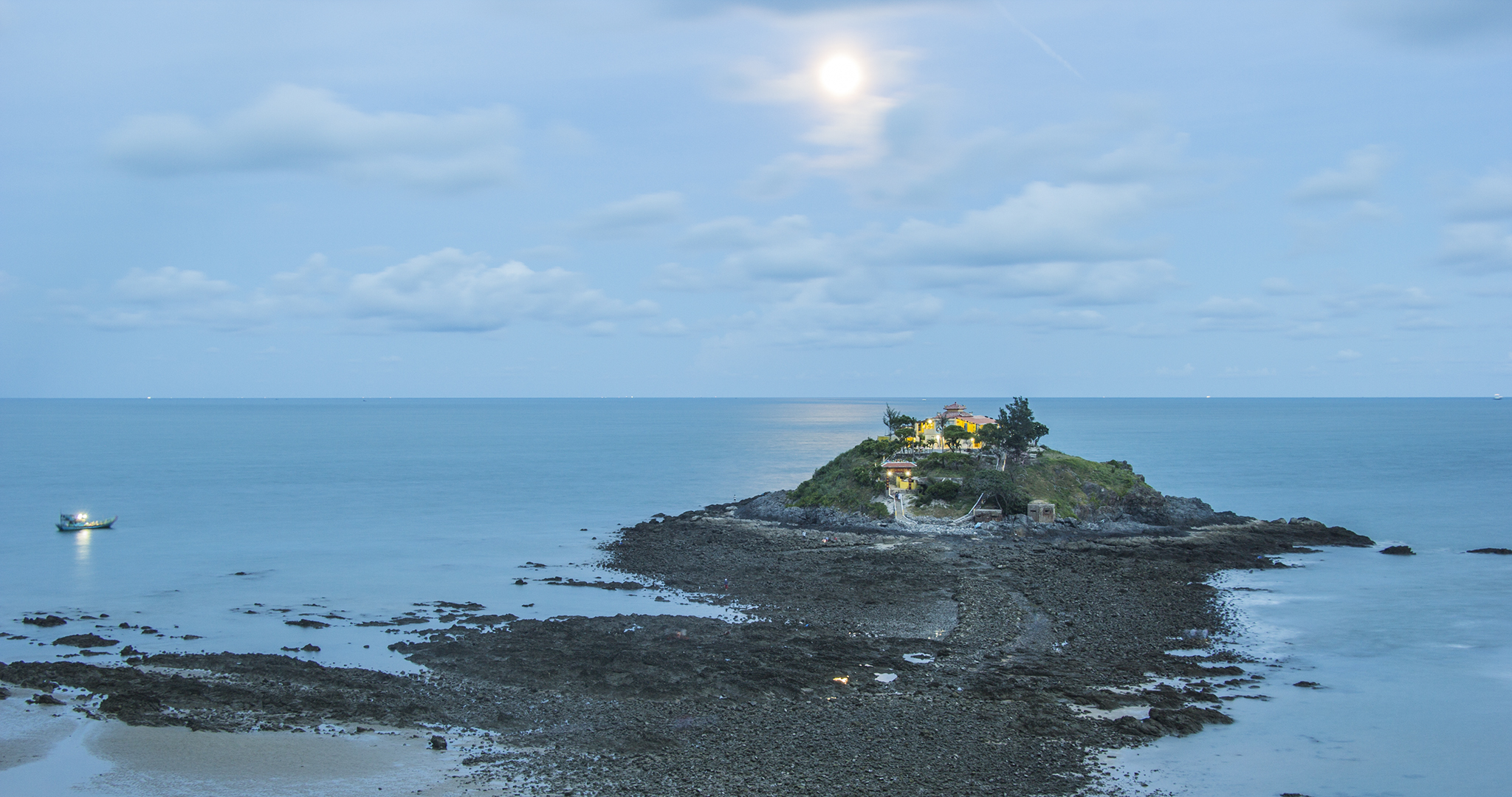 When the water is low, visitors can walk out here to play. On the Small Mountain detour running from Front Beach through O Quan Beach, Pineapple Beach, to Nghinh Phong and to Back Beach, is 6km long. There are many attractions on both sides of the road that attract many tourists such as Niet Ban Tinh Xa, Jesus Christ Statue, etc
.In addition to the two Big and Small Mountains, there is another mountain in Vung Tau that also attracts many visitors, which is Dinh Mountain located right in Tan Thanh district. This place is a complex of trees, am, pagodas, shrines, cups and mountains. Hidden along the mountainside are Hang pagodas, Dai Tung Lam pagoda, Tay Phuong pagoda, ..with many religious values. And originating from this mountain is the largest Dinh river in Vung Tau, flowing through Phuoc Le down the northwest direction 11km long, 1000km widest, 300m narrow, 25m deepest.
What to eat in Vung Tau?
Referring to Vung Tau, many people will remember dishes such as: Khot Cake, Stingray Hotpot, Bong Lan Cake, Centella Green Bean … and culinary streets with a simple but attractive space!
Food street with many options
One of the places to eat in Vung Tau definitely not to be missed is a series of restaurants on Tu Xuong Street (Ward 4). This place converges most of the dishes with prices from 10,000-50,000 VND such as: banh canh gio heo, bun dau, beef noodle soup, bo kho, hu tieu, rau ma dau xanh, smoothies, etc.You can enjoy delicious and eye-catching dishes from Korea or Japan such as sushi, mixed rice, bingsu – shaved ice, etc. The restaurants here serve diners from 6am to 11pm.
Especially if you visit Tu Xuong street, it is a pity that diners do not try Hang Quyen shumai bread (31 Tu Xuong, Vung Tau City). A mixed pan filled with shumai, greasy omelette, fresh herring, mixed in a sweet sauce, served with crispy hot bread. When I come home late from work and don't have time to cook dinner, I often visit Hang Quyen shumai restaurant. Shumai bread in here is very tasty and very cheap. Just spend 22,000 VND to have a satisfying dinner.
Still the "familiar, strange" snacks with affordable prices ranging from 10,000-30,000 VND, the snack area on Ba Huyen Thanh Quan street is also one of the top choices when coming to Vung Tau. This place is the meeting place for cheap snacks of students. Diners can find many dishes here such as goi cuon, banh canh gio heo, rieu noodle soup, canh bun, Hue noodle soup, grilled chickenmoothies, etc and especially the most famous dish is pha lau. Along Ba Huyen Thanh Quan street, there are many snacks such as beo cake, goi cuon, goi du du, bo bia… Pha lau in Baby Boy restaurant, 35 Ba Huyen Thanh Quan will make many diners want to eat due to blends of the sweetness and aroma of fresh coconut water, the fatty taste of coconut milk, the spicy taste of cinnamon, and the five flavors. When enjoying pha lau here, don't forget to add a little satay, creating a rich spicy taste.
"Paradise" for nightlife dinner
Coming to Vung Tau City, if at midnight suddenly your stomach rumbles and you need something to "fill the void", don't forget to visit Do Chieu Street (Ward 1, Vung Tau City). For decades, Do Chieu is truly the "nightlife street" of Vung Tau. Within just over 200m, from the area of ​​Do Chieu – Ly Tu Trong intersection to Do Chieu – Le Lai intersection, there are hundreds of large and small eateries close together, converging delicious dishes that can "beat" the customers. most gourmet. This food street has quite a variety of dishes, from crispy fried noodles, Hue beef noodle soup, hu tieu, Duong Chau fried rice, pigeon porridge, seafood, bread, banh tam, sticky rice, banh tieu, soft drinks, smoothies, rau ma…
If you are a foodie, you must have heard the name of banh tieu and sticky rice in Do Chieu. Although it's just a small trolley without even a table and chairs, it is always crowded with customers waiting to buy. This place only sells two types of cake: green bean cake and egg filling. Ms. Huynh Thi Bich Ha (52 years old, 43 Do Chieu, Vung Tau City) the owner of the sticky rice cake shop said, "The shop is usually open from 14:30 to 19:30, when customers come to buy I just start frying, so the cake will be hot and delicious." Coming here, diners will be able to witness firsthand from kneading the dough, to wrapping the filling and frying the cake. Basic ingredients include flour, sugar, sesame, … but the most important part of the cake is the filling. Green beans are steamed, pounded and then wrapped in a powdered shell. Each batch of bread is deep fried in hot oil until golden on all sides, then take out. Crispy crust mixed with sesame, wrapped in green bean paste just enough. With each piece of cake, diners will fully feel the crispy taste of the crust, the fleshy taste of sesame, the sweet aroma of green beans…
With affordable prices, Do Chieu Street is always crowded with customers from noon and crowded until late, there are nightclubs serving until 1-2 am. At weekends, Do Chieu food court is more bustling with a large number of tourists. Coming to Vung Tau, you must definitely enjoy banh tieu dau xanh in here, but you have to be patient, diners have to wait in line until 30 minutes later, the cake is small, hot, fragrant with sesame, accompanied by a fatty taste accompanied by the fatty taste of green bean paste, it's not a waste of time to wait.