Book fast ferry ticket from Ha Tien to Phu Quoc to fulfill your wish to once set foot on the pearl island to enjoy the tourism products here such as: swimming, bathing, climbing, relaxing, watching the scenery nature in the harmony between sea – sky – clouds – water – mountains and forests.
Book Ha Tien – Phu Quoc fast ferry ticket
Owning a fast ferry ticket from Ha Tien – Phu Quoc to explore the fishing villages with famous fish sauce, quality pearl farming and processing area, immense green pepper forests … It is impossible to miss the taste, Phu Quoc tourists will enjoy famous seafood dishes with the unique processing methods of indigenous people such as sour herring salad; Ham Ninh firm, sweet crab; swett snail or Bien Mai cockle grilled with chilli salt or melaleuca mushroom which is cool, nutritious …
Ha Tien – Phu Quoc high-speed craft ticket
VIP class: 350,000 VND
ECO class: 250,000 VND
Senior/Children: 200,000 VND
Note:
The above fare included VAT.
Children (6-11 years old) and Senior (over 60 years old) apply Eco discounts according to the company's policy.
Children under 6 years old or less than 1m2 in case of sharing a seat with an accompanying adult are free of charge on board.
Ferry schedule runs between Ha Tien – Phu Quoc
The schedule of Ha Tien – Phu Quoc fast ferry will be regularly changed based on the actual situation of the Phu Quoc tourism market.
Or you can book fast ferry ticket online at: https://vetaukiengiang.vn/dat-ve-tau-cao-toc-truc-tuyen/
To bring a good experience to customers, in addition to Ha Tien – Phu Quoc ferry. Taucaotoc.vn links with partners providing Vung Tau – Con Dao, Tran De – Con Dao, Rach Gia – Phu Quoc, Ca Mau – Nam Du – Phu Quoc,…. fast ferry round ticket with many attractive offers.
The most ideal time to travel to Phu Quoc?
With a temperate monsoon tropical climate, quite cool weather, Phu Quoc is an ideal destination that tourists can come at any time of the year, the temperature here fluctuates only about 28 degrees Celsius.
However, the rainy period in Phu Quoc falls from May to October, in which storms easily happen from July to October, so to be safe and not obstruct your trip, please pay attention to the weather forecast in advance when visiting Phu Quoc at this time.
Vehicles from Ha Tien to Phu Quoc
The distance from Ha Tien to Phu Quoc is about 45km and it will take about 1 hour 15 minutes if traveling by high-speed craft. With this traveling distance not too far, the travel is also very easy and convenient.
There will be about 10 ferries each day to Phu Quoc from Ha Tien so you can go in a variety of times, but morning ferries will be suitable for travel purposes as you will be able to swim in the afternoon of the first day when arriving in Phu Quoc. Do research carefully to choose a ferry to suit your travel time.
Information of Bai Vong port – Phu Quoc
The first stop of passengers is Bai Vong port, a pier located in Ham Ninh commune, about 10km from Duong Dong town center.
Currently, the port has more than 30 ferries / day to Phu Quoc by many different fast and slow ferry lines, on average each trip can carry 200-300 passengers, most high-speed ships dock Bai Vong port.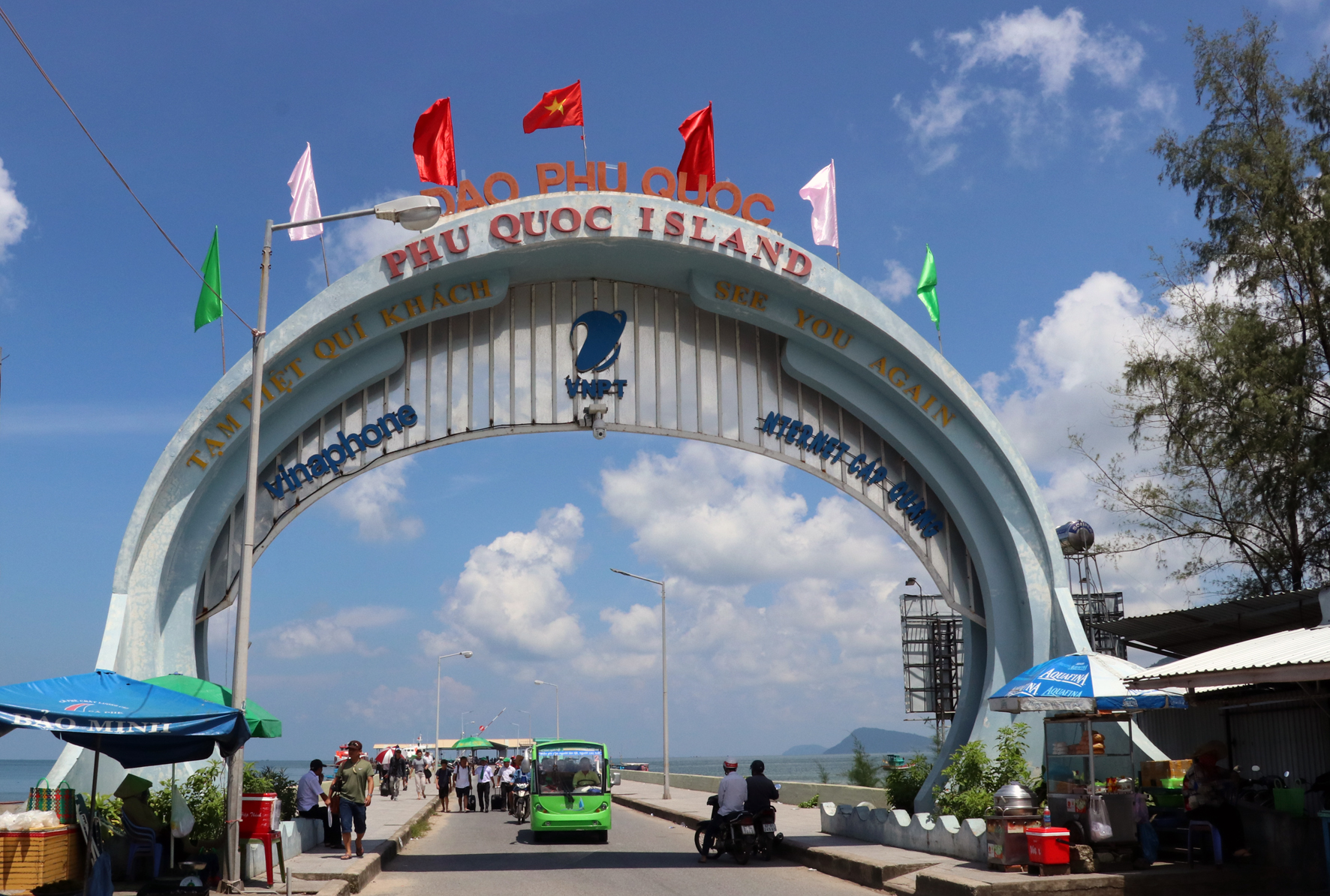 How to move from Bai Vong pier to the center of Phu Quoc:
With a distance of about 10km, you can go from Bai Vong to the center of Phu Quoc by many different ways such as taxi, bus, motorbike taxi, motorbike rental at the pier.
The simplest one can take the bus route Duong Dong town – Bai Vong:
Distance: 10 km
Hours of operation: Duong-Dong (07:00 – 13:00)
Number of trips: 14 trips / day
Trip time: 30 minutes / trip
Trip interval: 15 – 120 minutes
Roadmap of 2 routes
+ Departure route: Bai Vong port – Ganh Dau commune road – Provincial road 46 – Provincial road 47 – Duong Dong town
+ Return route: Duong Dong town – Provincial road 47 – Provincial road 46 – Ganh-Dau commune road – Bai Vong port
Tip for getting

Ha Tien – Phu Quoc high-speed craft ticket
Ha Tien – Phu Quoc high-speed craft ticket are currently relatively low, only 200,000 VND / ticket for senior / children and 250,000 VND / ticket for adult. However, it is difficult to buy at a lower price. However, it is difficult to buy at a lower price. But if you are traveling in a large group or a company / union plan to travel early, contact us via taucaotoc.vn for special offers.
For questions about the schedule, Ha Tien – Phu Quoc high-speed craft ticket as well as booking procedures, please contact taucaotoc.vn for the fastest advice and answers.
Telephone: 0889211234 – 0889271234
Email: Booking@taucaotoc.vn
Have a safe, happy trip!
CALL THE NAME OF PHU QUOC'S BEAUTIFUL DESTINATIONS 
Phu Quoc associates with many types of learning about historical-cultural relics, history-revolution, customs, island habits, fishing villages, traditional craft villages, study biological natural status and especially visit the historical relic of the Cay Dua Prison – a beautiful and shining symbol of revolutionary heroism, painful but very heroic of the Southern land of the field.
The sea and island of Phu Quoc are clear with long white sand shimmering, diverse ecological islands with intact pristine features and clear springs pouring down from the rocky rapids that easily captivate tourists from far away.
Mong Tay Island
Mong Tay Island is located in Duong Hoa commune, Kien Luong district, located off the coast of Kien Giang province, in the south of Phu Quoc island. The position between Ba Lua and Hai Tac archipelago, but Mong Tay island … "refused" belongs to any archipelago. This island is hidden from the maritime transport route, so few ships pass by, even without the touch of human hands. Therefore, people also call Mong Tay Island "Robinson Island".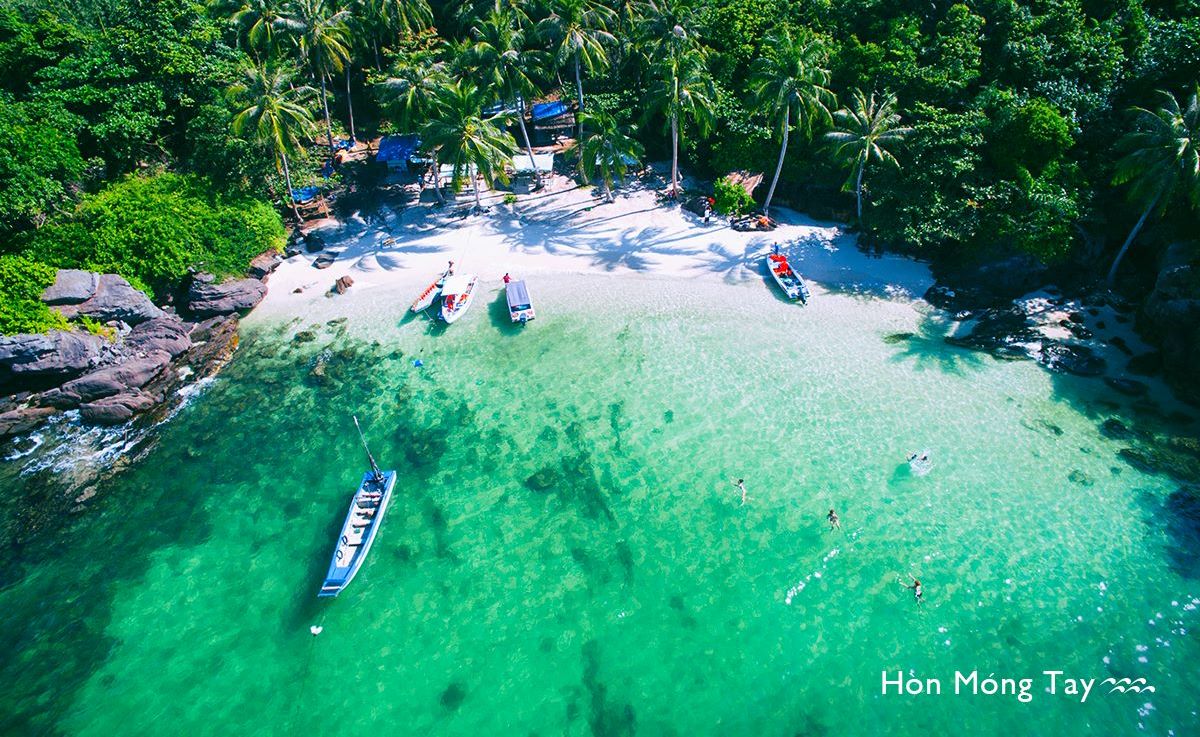 Mong Tay Island is one of the 5 most beautiful small islands on Phu Quoc Island and is extremely loved by tourists. The reason that this island is called Mong Tay Island is because there were many Mong Tay trees on the island. But now the number of trees on the island is very few. When coming to this small island, there are 4 experiences that tourists should definitely not miss.
Dam Ngang Island
Dam Ngang Island is located in a population of 17 large and small islands in the southeastern part of Phu Quoc island (Kien Giang province). This island also has another name is "Gam Ghi island". The island is very close to Mong Tay Island, May Rut trong island, May Rut ngoai island, Thom Island…where is only about 20 kilometers from the busy Duong Dong town.
The canoe will pick you up to surf the white waves, show you what slopes mean; before setting foot in the colorful coral reef in Dam Ngang Island. The island was so unspoiled that fishermen went to the beach to hear the waves roaring on the island wall and named it to go to the beach.
Rach Vem
On the largest island in Vietnam, the beaches in the North of the island in the Gulf of Thailand always attract tourists thanks to the rare wilderness. Located about 25 minutes by car from Vinpearl, crossing red dirt roads and primeval forests, Rach Vem attracts the idyllic and poetic features of a coastal fishing village.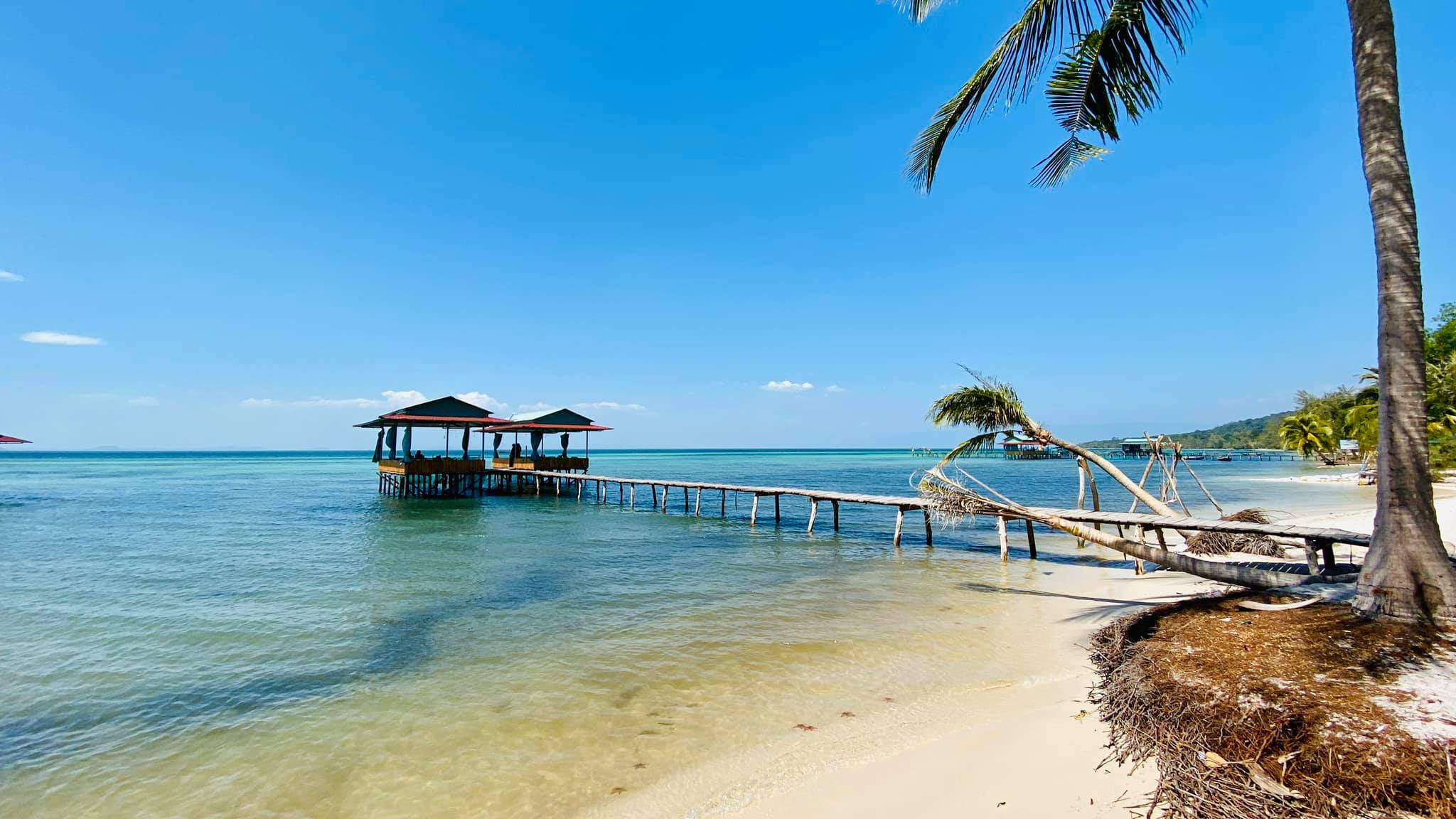 Here, tourists freely explore the interesting life of fishermen on unique rafts, can not ignore the feeling of fun on the wooden bridges winding on the water, or "selfie" with hundreds the bright orange starfish.
From Rach Vem, tourists can see and find Mui Ganh Dau beach, leisurely walk to watch the famous sunset along Vinpearl Bai Dai. The coral beaches, the "excursions" under the cool seabed or the high-class entertainment at VinWonders, exploring the wildlife world of Vinpearl Safari Phu Quoc have also become the most popular "specialty" of scenic paradise, playing Ngoc Island.
Ganh Dau
Located in the North of the Island in Ganh Dau commune, Phu Quoc district, Kien Giang province, Vietnam. This tourist destination possesses pristine beauty, idyllic beauty and a quiet and gentle space, is an extremely attractive destination for travelers looking for the ideal place to relax and reduce stress.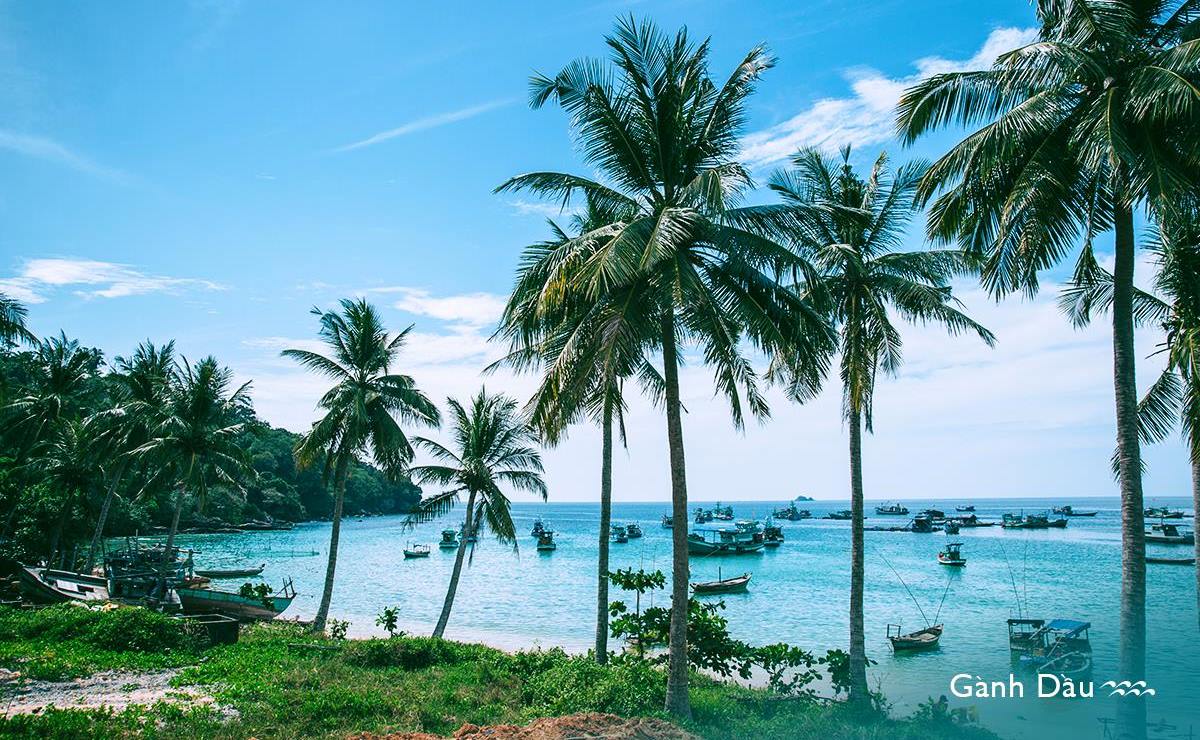 The most impressive thing is to see an amazing stretch of rock, this cliff makes you have interesting fantasies, the rocks are convex, laned horizontally, cut vertically, hollowed out, deepened, arious shapes at the end of Ganh Dau cape.
Also from Ganh Dau cape, visitors will see Hon Nam or Kaoh Ses and Ta Lon mountain of Cambodia or Hon Ban in the West rising in the middle of the sea.
Ong Lang Beach
Unlike the famous beaches in Phu Quoc, Ong Lang Beach seems to be out of the flow of life by its wild features and strange tranquility. Located on the west bank of Phu Quoc, more than 6 km from Duong Dong town, Ong Lang Beach does not stretch continuously but is interrupted by rocks interspersed with sandy beaches. Although located between the two towns of Duong Dong – Cua Can, but the "raw gem" Mr. Lang has been peaceful and calm for many years, still a beauty only for those who have the charm to come.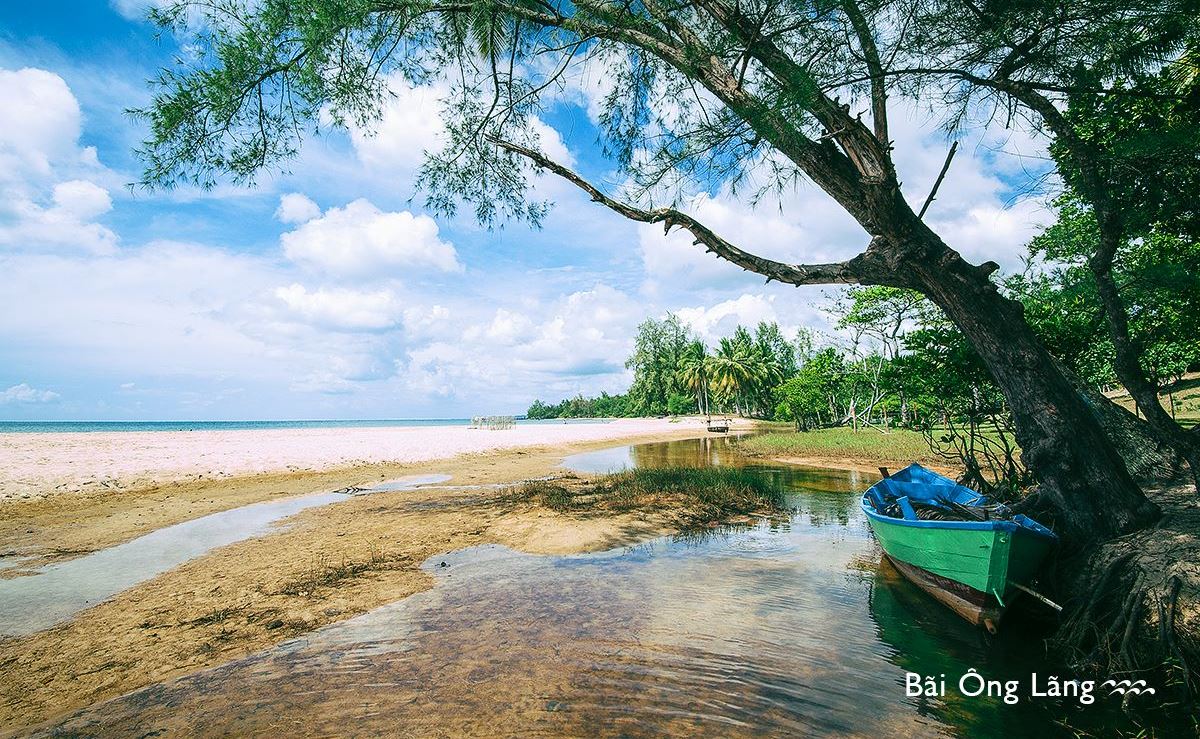 From Ong Lang beach, more than 10 minutes to the south, Duong Dong town and international tourist port, about 15 minutes to the north, is Vinpearl Land entertainment center and casino. "Geographically close but far from awareness" is what tourists have to say when coming to Ong Lang Beach. It is hard to imagine that even on the artery connecting Duong Dong with the bustling North of the island, there is still a beach that still retains the untouched beauty of the ocean.
Dai Beach
Dai Beach is located in the district of Phu Quoc island, in the bay area between Thailand and Vietnam. With a length of 15 km, Dai Beach runs along the northwest coast from Ganh Dau Cape to Cua Can. Dai Beach was voted as the top of the 13 most pristine and beautiful beaches.
Dai Beach is famous for its pristine white sand, clear blue sea, few moored boats or big trees planted close to the sea. The air here is very fresh and captivates tourists by the scent of the sea mixed with the scent of the forest.
Dai Beach is very different from other beaches, this place has a wild but elegant beauty, not much affected by smoke and dust, bringing comfort to tourists every time you come here to relax. That is the reason that Dai beach is attractive for domestic and foreign tourists.
Contact for booking Ha Tien – Phu Quoc fast ferry
To book ha Tien – Phu Quoc fast ferry ticket, you can contact our ticket office across the country:
Contact phone
Ba Ria – Vung Tau: 088 937 1234
Ho Chi Minh city: 0909 946 292
Soc Trang: 088 921 1234
Phu Quoc: 0977997736
Ca Mau: 0916783883
Nationwide:  088 937 1234
Other channels:
Email: booking@taucaotoc.vn
Fanpage: Phu Quoc Express fast ferry ticket agent
Website: https://vetaukiengiang.vn/dat-ve-tau-cao-toc-truc-tuyen/