Soc Trang is the locality with the closest land to Con Dao Island towards the East Sea, so Con Dao Island – Tran De high-speed craft is always preferred by many passengers because the time at sea is only 1 hour 45 minutes.
Con Dao archipelago is 97 nautical miles from Vung Tau city by sea. The closest place to Con Dao Island on the mainland is Vinh Hai commune, Vinh Chau town, Soc Trang province, 40 nautical miles away. With a distance of 102km from Con Dao Island to Tran De, it is considered as the current shortest expressway in Con Dao Island to the mainland.
Book Con Dao Island – Tran De fast ferry ticket 
The fast ferry from Con Dao Island to Vung Tau is about 55 nautical miles, with a speed of 30 nautical miles / hour will take about 1 hour 45 minutes at sea. And now, there are 02 lines operating this route, namely Con Dao Express and Superdong.
Con Dao Express
Superdong
1.Operation: Trung Trac – The largest two-hull high-speed

craft in Vietnam

1. Operation: The Superdong Con Dao I and Con Dao II

are white, single hull

2. Capacity: 598 passengers
2. Capacity: 306 passengers
3. Speed: 30 – 35 nautical miles / hour
3. Speed: 26 – 28 nautical miles / hour
4. Average fare: 320,000 VND / adult
4. Average fare: 310,000 VND / adult
As one of the agents of Con Dao Express, taucaotoc.vn proposes customers to choose Trung Trac fast ferry because it is safer and faster. With the distance from Con Dao Island – Tran De, if you depart from Ben Dam port at 12:00, you will arrive at Tran De pier at 13:45 minutes. 
Fare for Con Dao Island – Tran De high-speed craft 
Fare from Monday to Thursday
(VND )
Fare from Friday to Sunday
(VND )
VIP: 500,000
VIP: 500,000
ECO: 320,000
ECO: 350,000
Senior / Children: 260,000
Senior / Children: 290,000
Note:
The above fares include VAT, apply for 1 turn.

Children (6-11 years old) and senior (over 60 years old) apply Eco discounts according to the company's policy.

Children under 6 years old or less than 1m2 in case of sharing a seat with an accompanying adult are free of charge on board.
Buy fast ferry ticket in Con Dao Island
To book fast ferry ticket from Con Dao Island to Vung Tau online, you can contact: 0889371234 – 0987 556 294 – 0889271234 – 038 954 6426
In case customers want to buy ticket directly and pay cash, please contact:
Ticket office taucaotoc.vn in Con Dao Island
Address: 25 Vo Thi Sau, Con Dao district, Ba Ria – Vung Tau province

Cellphone: 0987 556 294

Email: 

ngthanhloan294@gmail.com
Pick up point at Tran De
The pick-up point in Soc Trang province is the pier of Con Dao Express in Tran De town (from Kinh Ba bridge towards the side of the town's People's Committee, if asked the local people is the fast ferry pier – Red Ferry).
How to move from Tran De to the localities
When the ferry arrives at Tran De station at 13:45, this time there are many Tran De bus routes to Can Tho, Tran De to Ho Chi Minh City or to the center of Soc Trang city. Vehicles here are mainly motorbike taxi (wagon). So when booking, you should call bus companies like Phuong Trang, My Duyen … to book ticket in advance.
Motorbike taxi is a very popular vehicle, Tran De motorbike taxi is considered friendly, quite good … The fare is relatively cheap, you should negotiate the fare in advance and ask the drivers where they need to be, they will advise enthusiastically even when you are not going.
In case you want to return to Can Tho, you can transit Con Dao Express high-speed craft running the Tran De – Can Tho route.
For the convenience of traveling and safe time-saving, we always encourage you to book services in advance.
The famous tourist spots in Tran De
With the location of the eastern gateway of Soc Trang province, this is a convenient location for the construction of ports and industrial parks, creating advantages for Tran De to develop economic in all 3 regions (agriculture – forestry – fishery, industry – handicraft, service – trade), has an important position and role in economic development, trade exchange and national security in Soc Trang province as well as in the delta region. Mekong River.
Tran De district is a coastal district of Soc Trang province, located on the traffic axis of the National Highway South of the Hau River, in the district there are two big rivers flowing through the Hau River and My Thanh River, flowing into the sea through Tran De estuary and My Thanh. Tran De is the last major estuary of the nine majestic estuaries of the Mekong River. Tran De port is located at Kinh Ba, Trung Binh commune, Tran De district, next to the fishing port, is a new neighborhood, close-up houses, crowded vehicles.
Since the fast ferry lines Superdong, Con Dao Express opened the lines Tran De – Con Dao Island, Can Tho – Tran De … has opened up many favorable opportunities for tourism development in Tran De district.
Kinh Ba Market – Tran De
Crossing Kinh Ba bridge, going along the shore of the fishing port, across Kinh Ba market, located right at Tran De fishing port, Kinh Ba – Tran De market is now a bright spot for marine profession on the south bank of Tran De river mouth (Tran De district, Soc Trang).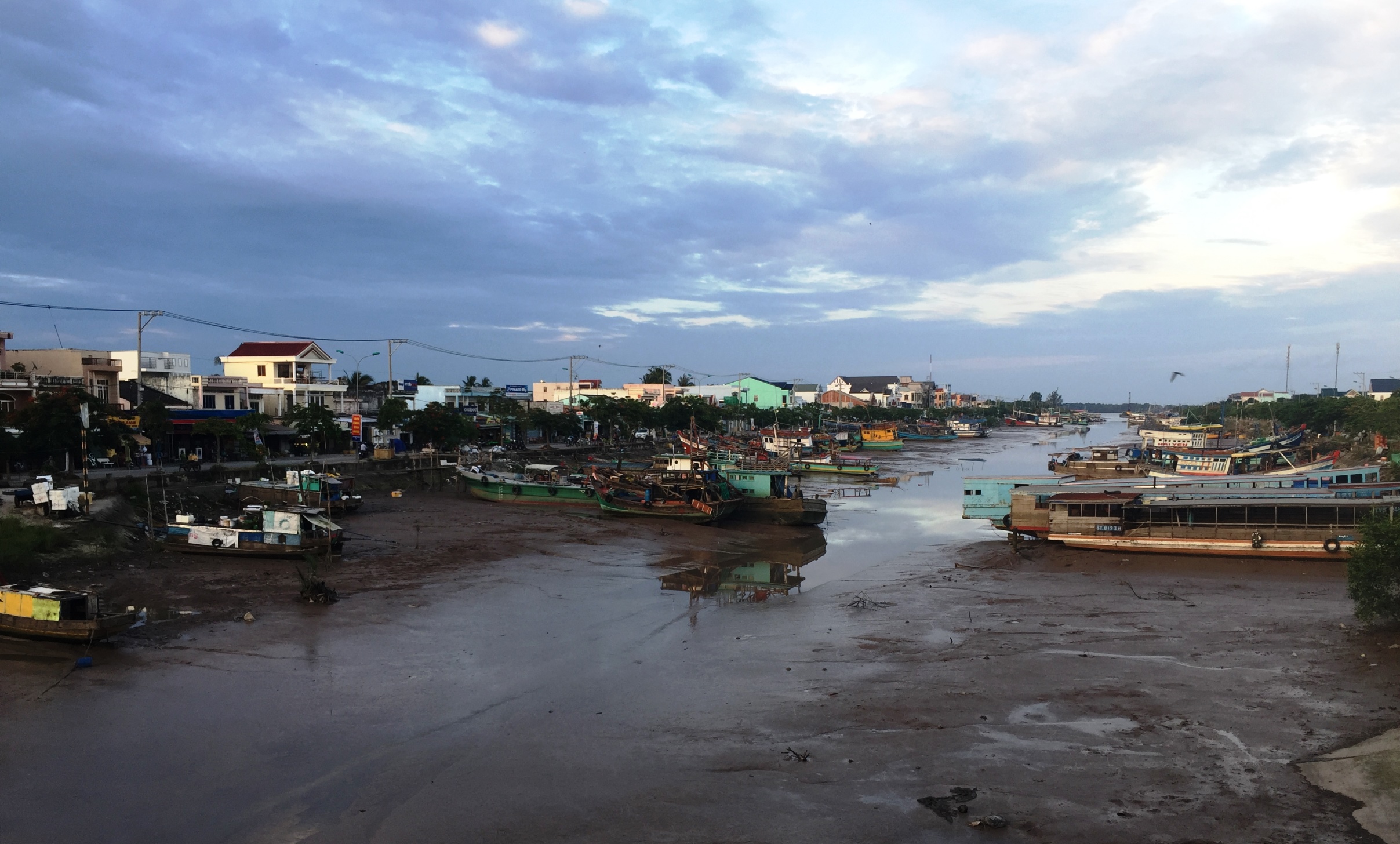 In general, the market still has the look of a market for trading and selling essential goods of a town rather than a market for tourism. Beside the stalls selling dried specialties and fresh seafood are the stands selling fruit, cosmetics, phone repair and groceries, there is completely no souvenir booths. Especially the dried seafood at Kinh Ba – Tran De market is relatively affordable.
Mo O (Tran De) – an attractive tourist destination
Mo O ecotourism site is 30km away from southeast of the center of Soc Trang province, close to the My Thanh river mouth in the East Sea area, 5km away from the center of Tran De district, where there is a natural forest area over 260 hectares, is home to many rare birds, reptiles and seafood (snakes, turtles, crabs, storks, fish …).
Coming to Mo O, tourists can walk on the smooth sand stretching for kilometers or let the immense soul bring the waves or sunbathe as hobby. Tourists can see the undulating boats in the distance where their nets flickering by the vast ocean waves far away from the horizon …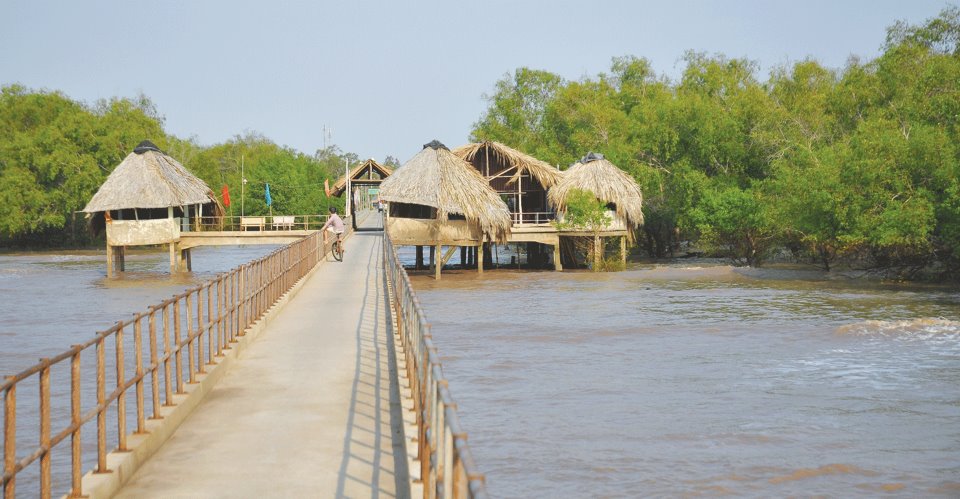 The beach has a gentle sandy beach with many trees shading, tourists can organize sea sports such as windsurfing, volleyball, football, pétanque, cross-country running freely … the fishing grounds here are abundant. Shrimp and fish can spread nets, push the catches of sea fish by hand or when the water sprint, you can catch "Ba Khia", rough mudskipper, but they are really delicious and nutritious ….
Tourists can also explore Mo O on three-leaf skiffs deep in the fascinating forest to admire the wild landscape of the tropical coastal natural forest. Sitting on a skiff, tourists will relax under the green canopies and delightfully contemplate the layered trees, with colorful purple flowers in a cool, fresh space, picking ripe and ripe fruits with their hands to cook sour soup with rice, fish, and then you will remember forever…
When the Kinh Ba (Tran De) – Con Dao Island tourist fast ferry pier is completed, the tour will be connected from transit places to Con Dao Island. Tran De is ready to welcome tourists with attractive tourist destinations and products.