Passengers traveling by air to Con Dao Island or other routes who want to experience Con Dao Island – Can Tho fast ferry to enjoy the scenery on the sea, along the Hau River from Tran De Gate to Ben Ninh Kieu, should refer to this information.
After traveling on Con Dao beach, drop barefoot in warm water, immerse in the waves, snorkel in the blue water in Con Dao Island. Many passengers want to return to the river region, Can Tho is a worthy destination to experience in the journey to find Southern land.
Can Tho is a city directly under the Central Government, located in the center of the Mekong Delta. Known as Tay Do – Capital of the South West more than a hundred years ago, Can Tho now has become a class I city and is one of the four provinces in the key economic region of the Mekong Delta. Long and the fourth key economic region of Vietnam.
Fares for 

Con Dao Island – Can Tho 

high-speed craft 
Con Dao Island high-speed craft to Can Tho has a total fare of the route for the economy class is 610,000 VND / way; Fare for senior / children is 520,000 VND. Especially, fare of VIP seats is 990,000 VND. Currently, only Con Dao Express focuses on exploiting this high-speed craft line. Fare from Monday – Thursday will be lower than on weekends, New Year holidays:
The specific fares are as follows:
| | | | |
| --- | --- | --- | --- |
| Eco class   | Children / Senior | VIP class | Note |
| 610,000 | 520,000 | 990,000 | Mon → Thurs |
| 690,000 | 620,000 | 990,000 | Fri → Sun |
Time to take Con Dao Island high-speed craft to Can Tho is 4 hours, the distance between two localities is 177km, the journey departs from Ben Dam Port (Con Dao Island) to the East Sea to Ben Tran De (Soc Trang)  to pick up and drop off passengers, here, the fast ferry will go straight along the Hau river to continue on Ben Ninh Kieu (Can Tho).
The fast ferry's frequent reference schedule:
| | | | |
| --- | --- | --- | --- |
| Route | Departure time | Transshipment at Tran De | Landing time |
| Can Tho – Con Dao | 7:00 | 9:00 | 11:00 |
| Con Dao – Can Tho | 12:00 | 14:00 | 16:00 |
The ferry will arrive at Ben Ninh Kieu, Can Tho city at about 16:00 pm, where you can continue the process of exploring this Tay Do land!
See more: Can Tho – Con Dao Island high-speed craft ticket
Ben Ninh Kieu, Can Tho City
Ben Ninh Kieu is located between the confluence of Hau river and Can Tho river, Tan An ward, Ninh Kieu district, Can Tho city. With the charming river and water beauty, the image of Ben Ninh Kieu has entered poetry and become a symbol of Can Tho.
Ben Ninh Kieu is the center of Can Tho city, from here you can take a taxi to Tra Noc airport only about 23km with the amount of 200,000 VND or take a motorbike taxi or taxi to visit the points on the shore. Particularly for floating markets, there must be ships and boats on the pier, the cost can be negotiated with the ship owners on the shore.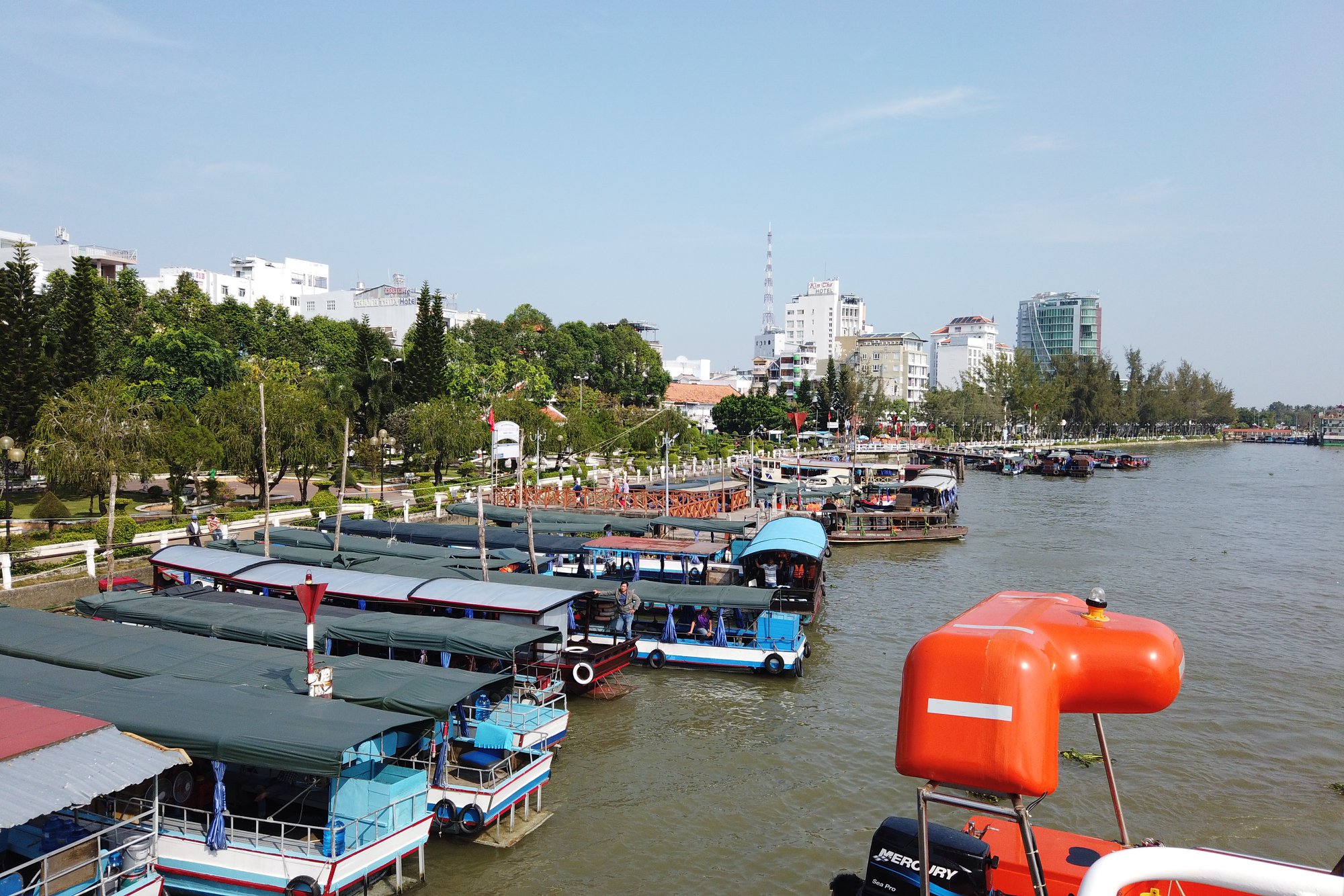 Ben Ninh Kieu was originally a river pier at the beginning of Can Tho market. In 1876, the French occupied Can Tho, the river pier was built with bricks and stones along the bank to prevent waves and became a pier of the mainland of the province – where trade and goods were very busy. The river pier was named Quai de Commerce (Commercial pier) by the French, while the people called it the popular name Hang Duong pier because there were rows of poplar trees or Le Loi pier along the riverbank because of the road along the river's edge. The name is Le Loi Street. In 1957, Can Tho Province Governor Do Van Chuoc at that time established a promenade and a bonsai park at Hang Duong pier. After that, Do Van Chuoc submitted to Ngo Dinh Diem (the President of the Republic of Vietnam) to name the park and promenade Ninh Kieu after the historical place of Ninh Kieu (now is Chuc Son town, Chuong district. America, Hanoi city) – the place marked the victory of the Minh invaders of North Binh Vuong Le Loi and the insurgent Lam Son.
Today, Ninh Kieu pier is invested to become a tourist park with an area of ​​7,000m², attracting a large number of locals and tourists to sightsee, walk, take the air. Standing at Ben Ninh Kieu, tourists can see Can Tho Bridge – the longest main span cable-stayed bridge in Southeast Asia at the time of completion (April 2010). In the park there is a bronze statue of President Ho Chi Minh, 7.2m high, placed on a 3.6m high pedestal, weighing more than 12 tons. Le Loi Street along the river is now Hai Ba Trung Street, the first walking city and night market in Can Tho was planned. Here, every 100m there is a row selling different items such as food, fruit, souvenirs …
To fully feel the beauty of the western river region, tourists to Can Tho do not miss the opportunity to experience the cruise on Ben Ninh Kieu. Every evening, from 7:00 a.m. to 9:00 p.m., the boat will take you to the Hau River, enjoy specialties and special cultural performances in the South.
Tourist spots you should visit when coming to Can Tho
Cai Rang floating market
Cai Rang Floating Market has long been famous for attracting tourists because of its uniqueness and excitement. The market takes place on the river, specializing in buying and selling all kinds of fruits and agricultural products of the region. Early in the morning, hundreds of boats and boats gathered and traded. In front of the boat, the seller hangs the products on a bamboo tree for the buyer to recognize without needing to sell it (local people call it Cay Beo).
Arriving in Can Tho, tourists rent a cruise ship in Ben Ninh Kieu to go to the floating market in the early morning, the most suitable is from 5:00 am to 7:00 am. In 2016, Cai Rang Floating Market is a national intangible cultural heritage and in the Top 6 busiest floating markets in the world.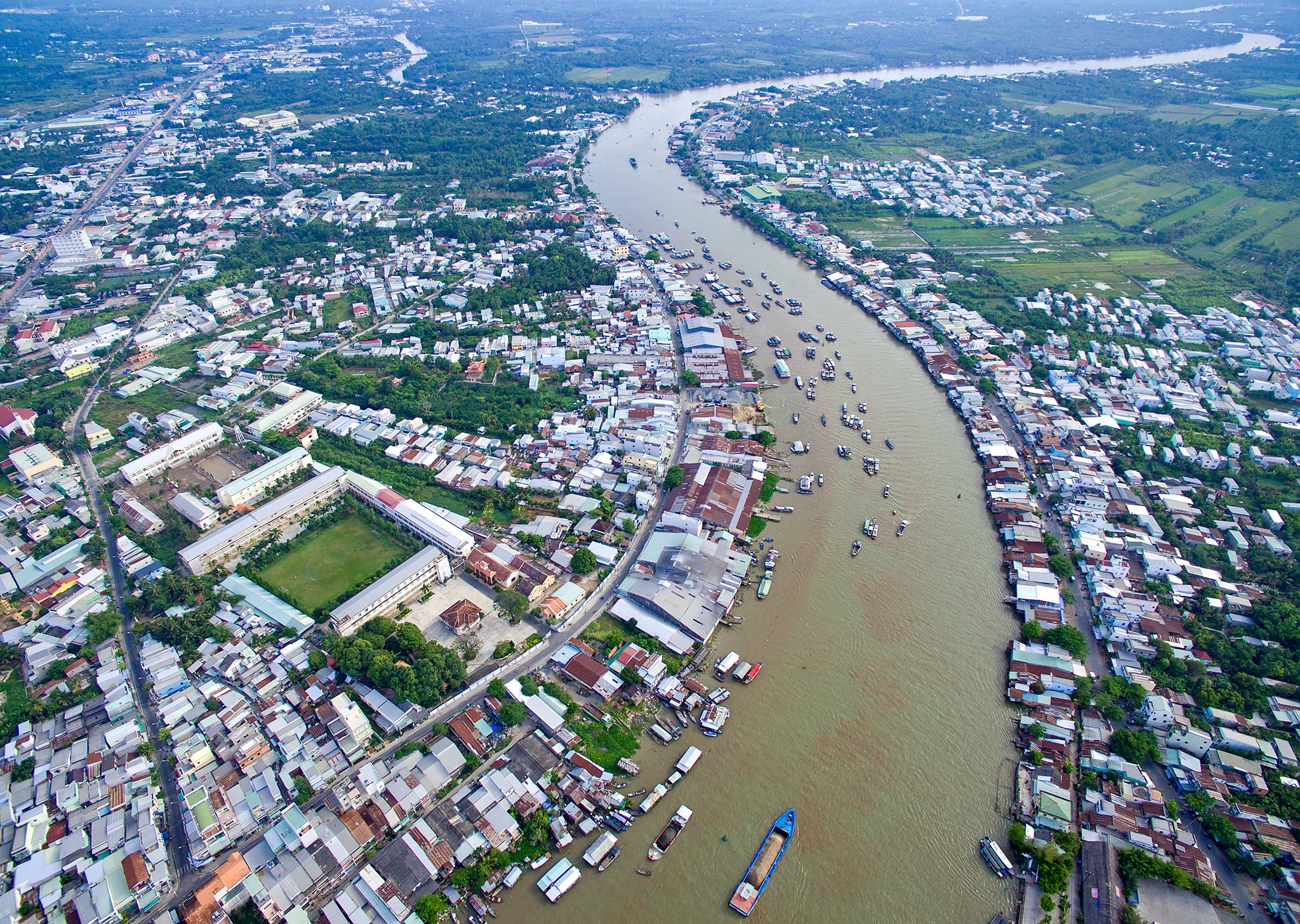 Ninh Kieu pedestrian bridge
The pedestrian bridge was built connecting Ninh Kieu pier and Cai Khe islet, forming a chain of prominent tourist destinations, attracting many tourists. The bridge is 199 meters long, 7.2 meters wide, with an S-shaped winding. Can Tho city is the only locality in Vietnam to receive the 2016 Asian Landscape award in Yinchuan City (China).
The Asian Landscape Awards is an annual contest, first held in 2010 under the coordination of four organizations: United Nations Office of Human Settlement in the Asia-Pacific region, the Commission. Asian settlement, Asian Landscape Design Organization and Fukuoka City Urban Research Center (Japan).
Con Son community tourism
Con Son is about 6km from Ben Ninh Kieu, about 67ha wide with 79 households living. With a beautiful location, surrounded by crags, all four sides are adjacent to the Hau river, the land on the dunes all year round is alluvial so it is quite fertile, lush fruit trees, this is the land of rambutan. mango, grapefruit, jackfruit, guava, breast milk, mulberry Ha Chau, … Lunar New Year is also the season where there are many ripe fruits … Especially here, there are snakehead fish that are quite fun. Address: Area 1, Bui Huu Nghia Ward, Binh Thuy District, City. Can Tho.
The secret to booking Con Dao Island – Can Tho cheap high-speed craft ticket
Travel demand of Vietnamese people is increasing day by day. The high-speed craft route Can Tho – Con Dao Island is expected to be one of the busiest fast ferry routes because it connects 13 southwestern provinces and cities to Con Dao Island. Therefore, to get a high-speed craft ticket from Con Dao Island to Can Tho, plan your trip soon. In particular, this fast ferry will be very hot during the holidays, New Year and the summer so if you intend to go, you should book early to choose the ticket that suits your needs.
In particular, booking high-speed craft tickets on taucaotoc.vn will help you easily compare fares between different routes and we provide specific instructions for each fast ferry route to help the passenger booking process quickly and simply more than ever.
Taucaotoc.vn hopes to accompany you for an easy and inspiring travel.