Ben Dam port is the main entry point for all types of sea transport to Con Dao Island. This is also a point providing essential services for offshore fishing boats.
Ben Dam port, Con Dao Island is located in Ben Dam Bay, in Con Dao district, Ba Ria – Vung Tau province and about 15km from the center of Con Dao town.
Ben Dam Bay is the deepest bay in Con Dao Island with an average depth of 12m. Therefore, this is also the location of the main seaport of the island – Ben Dam Port with a total area of ​​33.1 ha and located 15km from the center of Con Dao town.
Ben Dam Port is located in Ben Dam Bay between Con Son Island and Hon Bat. It is shielded from the wind by two large peaks, Mount Cross and Love Peak, so the side of the Bay is very quiet. The area around Ben Dam port are quite deep, but in Hong Dam and the nearby area, the average depth of water is only 2m, and is the main wind-receiving place of the bay, so it can be considered as paradise of marine sports, especially fishing.
Location and parameters of Ben Dam port
Address: Ben Dam Bay, Con Dao District, Ba Ria – Vung Tau Province
Ben Dam port – Con Dao: 08 ° 39'00 "- 106 ° 33'00 ″ E
Pilot return point: 08 ° 40'30 ″ N – 106 ° 32'42 ″ E
Con Dao port – Vung Tau: 10 ° 24'48 "- 107 ° 03'00"
Pilot return point: 10 ° 19'00 ″ N – 107 ° 02'00 ″ E
Ben Dam Port is 2km long, can accommodate up to 20 boats and large cruise ships, which further affirms its importance in both the economic and tourism sectors of Con Dao Island.
Basic parameters of Ben Dam – Con Dao port:
Total length: 1.3 km
Channel depth: -12 m
Tidal regime: semi-diurnal
Average variation: 4 m
Maximum draft: 9.5 m
Maximum size of vessel acceptable:  2,000 Dwt
VTU – 41 – 2015
Sea area: Ba Ria – Vung Tau province
Flow name: Ben Dam – Con Dao Island
Based on the map of depth of the symbol BĐ-CĐ_1506, scale of 1/5000, measured and completed in June 2015 by Southern Maritime Surveying Enterprise
Within the design scope of access channel to Ben Dam port – Con Dao Island with a length of 3.5km:
The section from the buoy "0" to the upstream of the "0" + 2.9km, approximately 2.9km in length, 200m in width, the minimum depth in meters from the water level of "0" Nautical chart reaches 10.0m above.
Puddle of turns ship in front of Ben Dam port from upstream buoy "0" + 2.9km to buoy "DN", approximately 0.6km in length, 400m in width, minimum depth in meters from water level "0" Hai furniture reaches 7.5m or more.
Basic introduction about Ben Dam Con Dao Port
Ben Dam port not only is an anchoring place, a stopover for both fishermen and tourists, but also seen as the savior before the big storms. The climate here is quite pleasant, not too windy like above, nor too sunny like outside the other quays, stormy winds can still be assured along each beautiful road leading to the residence.
Currently, Ben Dam port – Con Dao Island is the place to receive Con Dao high-speed crafts, cargo ships from Vung Tau, Phuoc Tinh, Tran De … and other localities to Con Dao Island.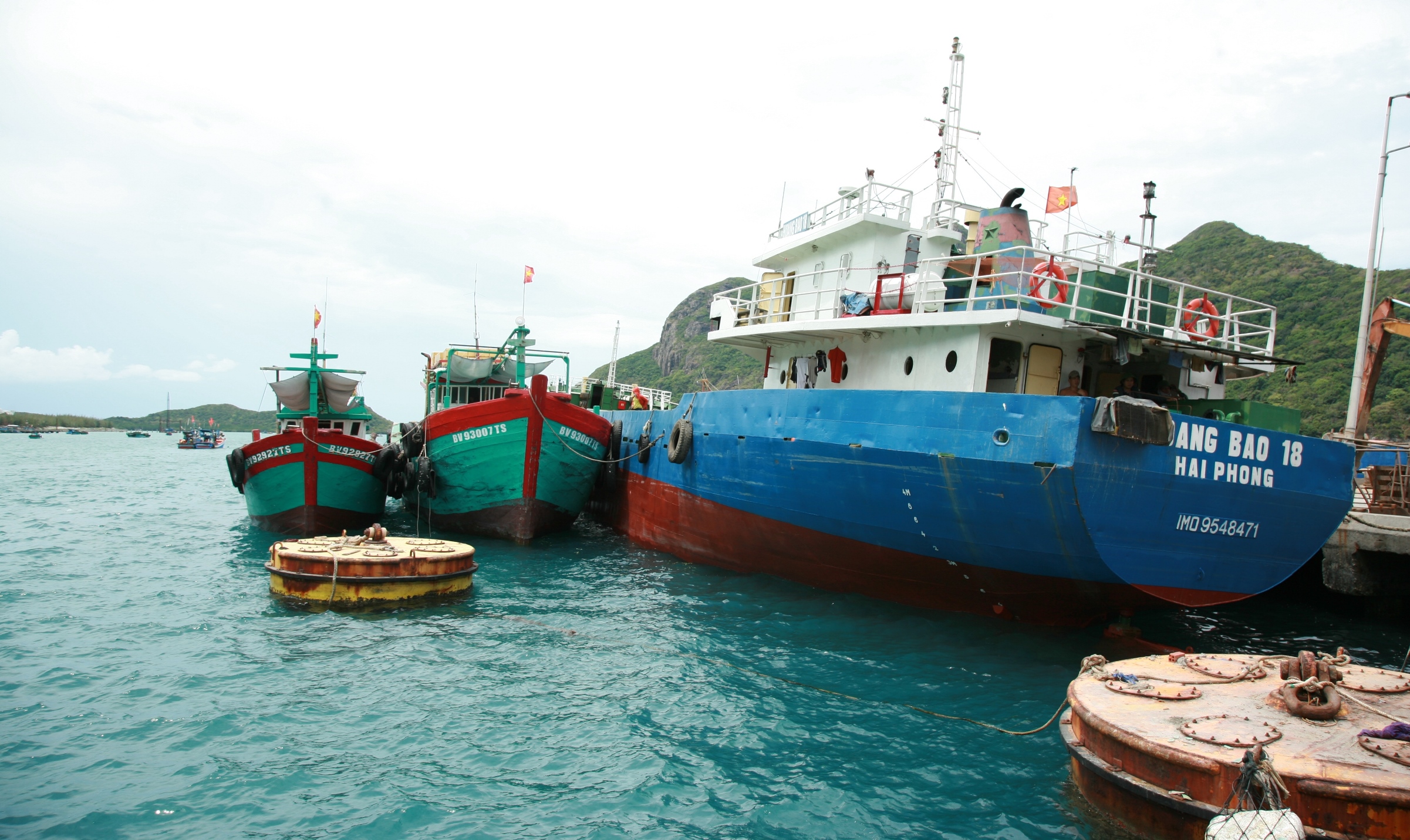 The existing Ben Dam port was invested and built according to Decision No. 216 / QD-KHĐT on May 12, 1997 of the Ministry of Fisheries (now the Ministry of Agriculture and Rural Development). After completion, the port was assigned to the Ben Dam Port Management Board to manage and operate from 2000 to present. Ben Dam port has become the entry point for all kinds of boats, fishing boats, sea means of transport, including international passenger ships. Precisely from this real demand, Ben Dam port has "reluctantly" to become a general port with full functions such as loading and unloading goods, renting of transport and handling vehicles, providing logistics services for fishing, transporting tourists, receiving moored boats … Therefore, the use of the port has exceeded its design capacity.
In order to exploit the advantages and bring into full play the functions of Ben Dam port; on August 16, 2018, the Provincial People's Committee issued Decision No. 2280 / QD-UBND approving the design and estimate of construction of investment projects to upgrade, to expand Ben Dam port into a large-scale general port, meeting the socio-economic development requirements of Con Dao district. Accordingly; on November 9, 2018, the project of upgrading and expanding Ben Dam port was started construction. Project Management Board specialized in provincial transport as an investor. Provincial Traffic Works Joint Stock Company is the construction unit.
According to Ben Dam Port Management Board, at present, the demand of transporting passengers and goods through the port is increasing. Every year, the average volume of goods through the port is approximately 300,000 tons; passengers 40-50 thousand turns. Meanwhile, the port is only invested in construction with the features of a small fishing port, the current main port is only 82m long, 14m wide, designed to receive ships of 1,000 tons, the maximum capacity can only receive ships of 2,000 tons. Therefore, it has not taken full advantage of the water area of ​​Ben Dam bay to serve the economic development of Con Dao district.
Headquarters of Ben Dam Port Management Board (HQ Address): 1007/36 30/4 Street, Ward 11, Vung Tau City, Ba Ria-Vung Tau province. Phone (Tel): (84.254) 621048 Fax: (84.254) 621047
Berth facilities
| | | | |
| --- | --- | --- | --- |
| (Name/No.) | Length | Depth alongside | Vessel/Cargo |
| Wharf 2,000 DWT | 82 m | -9.5 m | Cargo vessel 2,000 DWT and passenger cruise with 100m length |
| Wharf 500 DWT | 150 m | -5.5 m | Cargo vessel 500 DWT |
| Con Dao port – Vung Tau | 110 m | -7 m | Cargo vessel 2,000 DWT and passenger cruise) |
Storage facilities
Ben Dam port – Con Dao Island
Total port area: 24,000 m2

Open storage

: 

5,725 m2
Con Dao port – Vung Tau
Total port area: 20,300 m2

Warehouses:

500 m2
Major equipment
Shore crane: 02 (5-10 MT)
Forklift: 03 (2.5-5 MT)
Canoe: 01 (90 HP)
Excavator: 02 (1-2 m3)
Transport vessel: 02 (2,200 HP)
Planning of Ben Dam Port area
Ben Dam port area and associated services: Area: 89.23 ha; Population: 560 people
Ben Dam port area is developed on the basis of improving and upgrading the existing Ben Dam port. This area will develop many functional areas, including activities of tourism promotion, trade, port logistics, small industry, cargo storage, fishing services, fisheries services … to serving the inhabitants of the island and storm shelter boats, contributing to supporting the connection with other areas of Con Dao Island. Development of a mixed-use business area (including motels, hotels and other services) in the NorthEast area of ​​the main wharf area and the area along Ben Dam street.
NorthWest region: Arranging clusters of production enterprises and port logistic facilities, mainly industrial and handicraft establishments which cause less environmental pollution such as: cold storage, mechanical processing for agricultural production, fishery logistics, maritime services, traditional handicraft industries.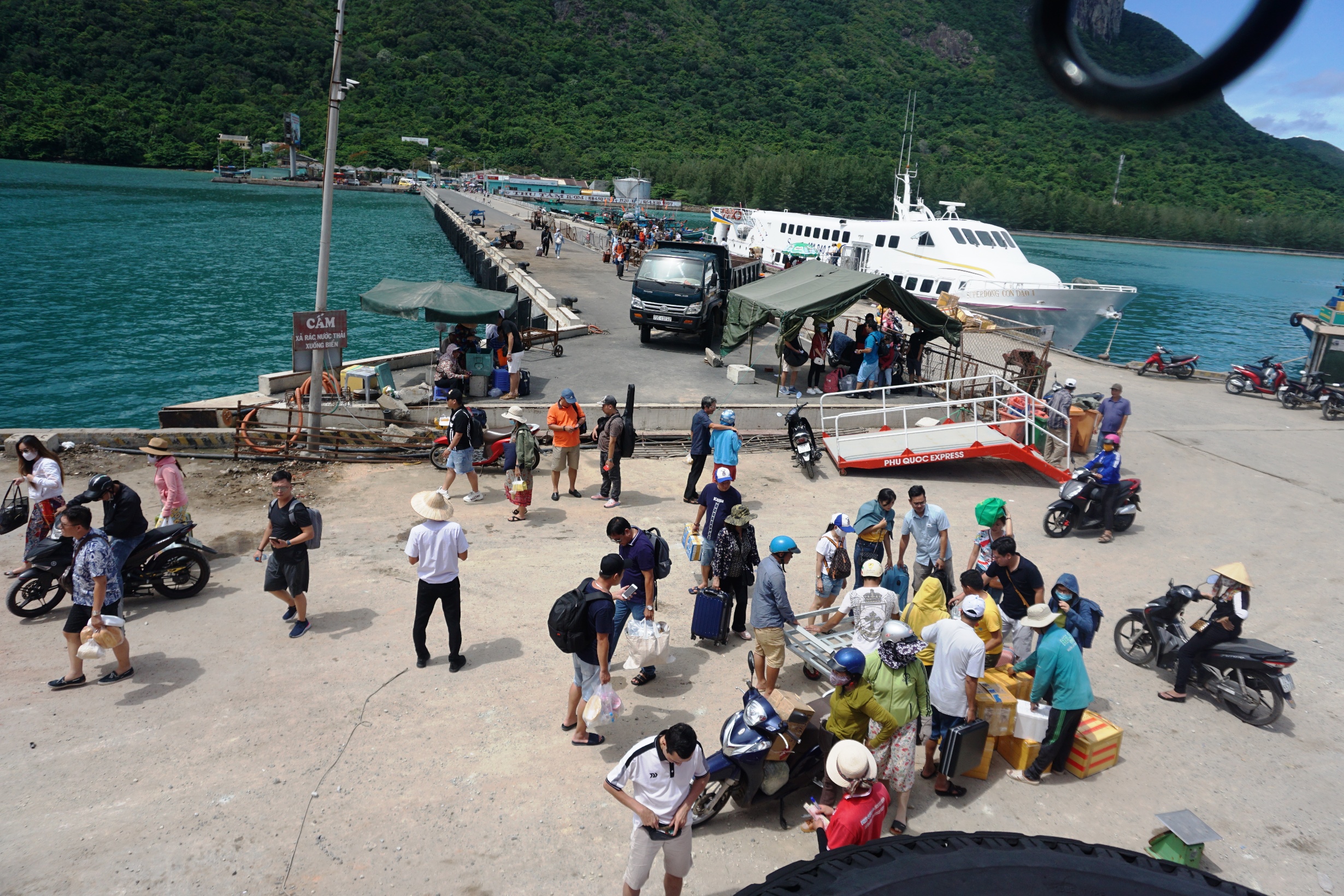 Tour to visit Ben Dam Port – Hon Ba in Con Dao Island
08h00: Guide to pick up the group at the hotel to depart to visit the eco-tourism route of Con Dao town center – Ben Dam bay – Hon Ba. Ben Dam Bay is located in the southwest of Con Son island, 14km south of Con Dao town, on the way, you can visit Mui Ca Map – Nhat Beach – Love Peak and Ben Dam Bay.
08:30: Tourists visit Ben Dam port and learn logistics activities for fishing, life of people in the port area. Ben Dam port is the place to receive offshore fishing, import-export goods and provide seafood logistics services for fishing vessels from the Central to the region and also local vessels. The port is the destination of two passenger ships on Con Dao Island – Vung Tau route. The port has built breakwaters, cold storage systems, processing factories, seafood markets, … are all put into use. Ben Dam port is an ideal place for boats anchored to avoid storms and logistic exchange between fishermen and Con Dao Island small business. From Ben Dam port, tourists depart to Hon Ba by fishermen's boat.
09:00: Arrive in Hon Ba, visit Hon Ba ranger station and continue walking through Dam Quoc forest. On the way, tourists can encounter many wild animals such as squirrels, lizards, mountain crabs, birds … According to legend, Lord Nguyen Anh detained Lady Phi Yen when she intended to prevent the way to seek reinforcement French.
09:30: Arrive at Dam Quoc beach, visitors visit mangrove forests, swim with snorkel to see marine life. Together with coral reefs and seagrass beds, mangroves are important habitats and foraging areas for many other marine species; at the same time it also has the effect of reducing the intensity of waves on the beach. Tourists enjoy the scenery to relax, take a rest for lunch
13:00: Tourists return to the ranger station back to town, end of the tour.