The distance between Ha Tien and Phu Quoc is about 45km and it will take about 1 hour 15 minutes by fast ferry, in this article we will show the most accurate ways to book Ha Tien – Phu Quoc high-speed craft ticket today.
Both cities in Kien Giang, Ha Tien and Phu Quoc provinces have the most similar temperature and weather, with 2 rainy and sunny seasons. The best time to travel to Phu Quoc Ha Tien is in the dry season. That is from the end of October of the calendar year to April next year, in addition it can last until June if the weather is favorable. Particularly, the sea route between these two localities is compared to be the quietest in the country because it is located in the bay, so the fast ferry ride is extremely smooth and does not feel seasick.
Currently, there are many shipping and ferry lines operating on this route including: Phu Quoc Express, Superdong, Binh An, Thanh Thoi… However, in this article we only focus on the two largest high-speed craft carriers. This Vietnam is competing on the Ha Tien Phu Quoc route with a modern and synchronous fleet.
Phu Quoc Express on Ha Tien – Phu Quoc route
Phu Quoc Express fast ferries on Ha Tien – Phu Quoc route are all designed according to European standards, equipped with an environmentally friendly RollRoyce MTU machine, the optimal train speed up to 30 nautical miles, capacity of carrying nearly 300 passengers. Phu Quoc Express offers passengers a smooth, safe journey in a luxurious and comfortable space with 5-star service at a reasonable price.
With the message "Connecting Vietnamese rivers", Phu Quoc Express committed to bringing smooth, safe, classy journeys with the best service. Phu Quoc Express two-hull of Poland's Phu Quoc Express designed and newly built at Company 189 (Ministry of Defense) with the following specifications: length 32.68m, largest width 9.6m, height 2.8m network, 1.3m submerged dimension, the amount of water occupying 99 tons. The propulsion system consists of 2 engines with a total capacity of 1,816 horsepower, the entire structure is solid with the hull and cabin made of high-grade aluminum alloy used for ships.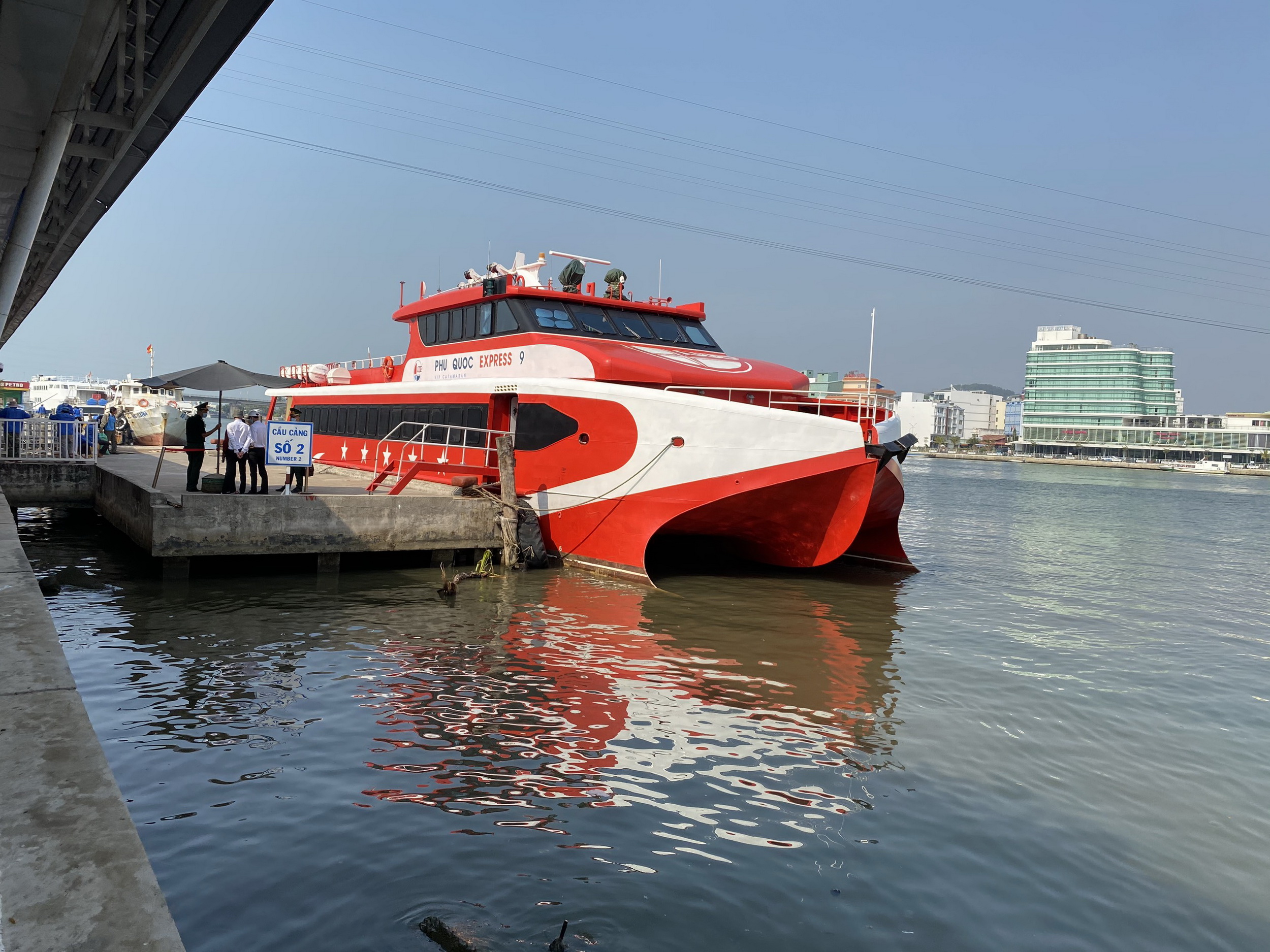 In particular, the ferry has a modern control system with advanced and synchronous marine equipment. In addition, the hull is spacious, low noise, sleek and designed according to European technology.
Fare for Ha Tien – Phu Quoc fast ferry of Phu Quoc Express:
Standard ECO class: 250,000 VND / time, VIP: 350,000 VND / time, For children under 6 years old free of charge when sitting with an adult. Children / Senior / People with disabilities: 80% of the regular fare. (Children: from 6-12 years old and Senior: over 60 years old).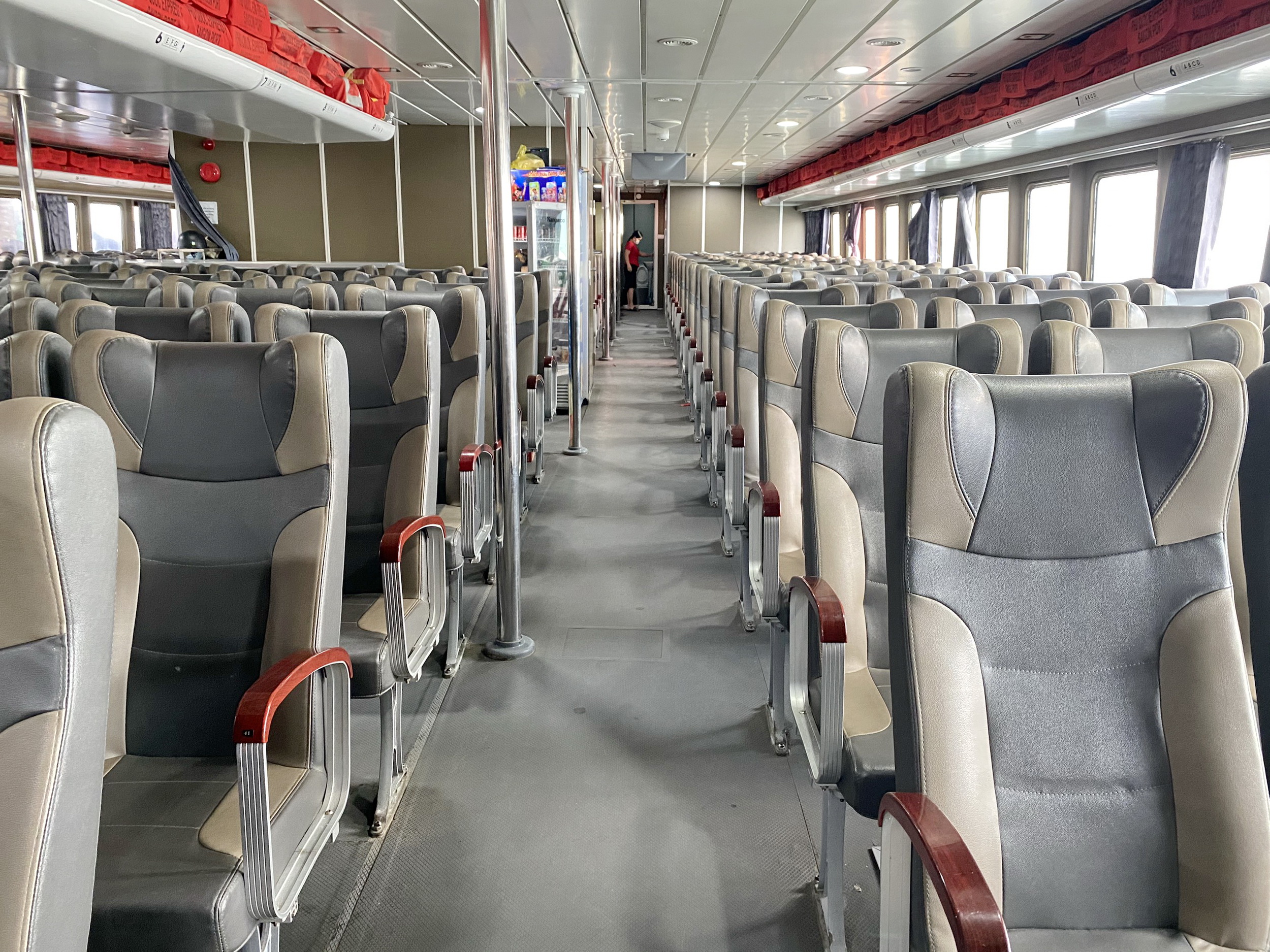 Schedule for Ha Tien – Phu Quoc fast ferry mainly on the following hour markers:
Ha Tien – Phu Quoc at: 6h00, 7h45, 9h45, 11h45, 13h45, 15h30 and Phu Quoc – Ha Tien at: 6h00, 8h00, 9h45, 11h45, 13h45, 15h30
To book Ha Tien – Phu Quoc fast ferry ticket, please contact the phone numbers: 0889211234 – 0889271234 -0889371234, support booking through ZALO, Phone, Facebook, email … and many other forms via Phu Quoc fast ferry ticket agent as long as it is the most convenient for passengers.
Superdong ferry on Ha Tien – Phu Quoc route
Superdong is one of the pioneering shipping lines on Ha Tien – Phu Quoc route with a fleet of 4 regularly operating ships, including: Supperdong VI-VII-VIII-IX with 275 passengers reaching a speed of 26-28 nautical miles, running from Ha Tien to Phu Quoc in 1 hour 45 minutes. The main attraction of this shipping company is that there is a shuttle bus from Ben Vong port to Duong Dong town. If you go from Ha Tien with ticket price of 30,000 VND / time, passengers can book by phone or ticket office at the pier.
Departure time at Ha Tien pier to Phu Quoc: 7h45, 0h40, 13h15 and from Phu Quoc to Ha Tien at 08:00, 09:35, 13:00. On peak occasions such as holidays or New Year, the shipping line will increase more routes to serve the travel needs of tourists.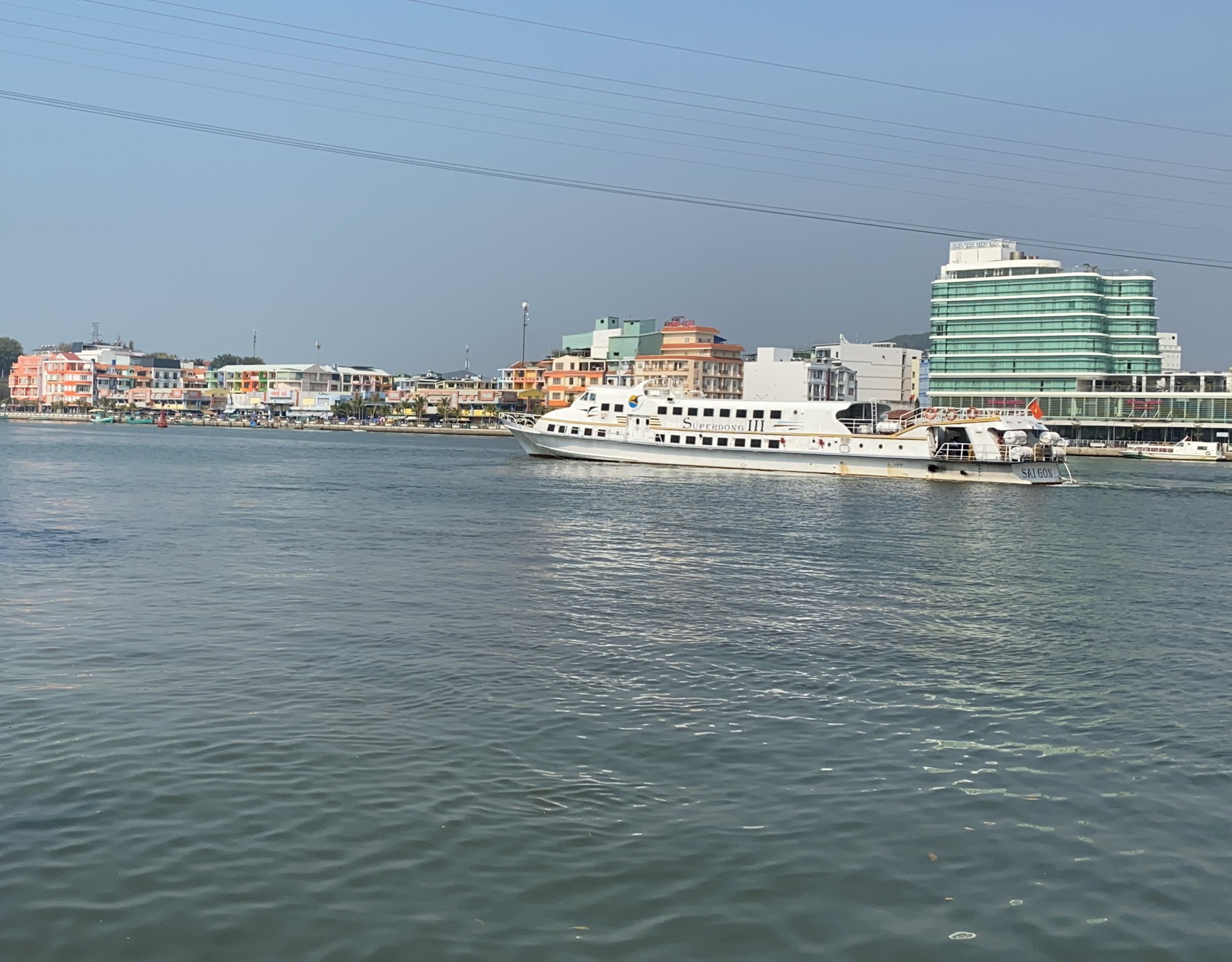 In addition to high-speed crafts, Superdong also has 02 high-speed ferries for passengers and other means of transport from shore to Phu Quoc Island, Superdong Ferry can accommodate 229 passengers; 150 motorbikes; 40 4-seater cars or 25 7-seater cars or 11 13-ton trucks and many cargoes.
Fare for Superdong ferry on Ha Tien – Phu Quoc route:
Adult: 230,000 VND / time, Children: 160,000 VND, Senior: 195,000 VND, People with disability: 170,000 VND
Notes when traveling on Ha Tien – Phu Quoc fast ferry
For passengers bringing motorbikes to Phu Quoc, they must register their number plates before booking tickets to ensure they are traveling with them because each train can carry only 10-30 motorbikes / trip.
Always bring your identification when traveling on the ferry: Citizen card, ID card, driver's license or passport * (* required for foreigners).
The number of tourists coming to Phu Quoc on peak days and holidays is quite crowded, so you need to book in advance to avoid running out of tickets.
Should be present 45 minutes before ferry run time.
You will save more travel costs if you use the bus of shipping line to travel from the center to the pier, the cost per ticket is about 30,000 VND
Ferry time depends on weather conditions. Shipping lines are allowed to change trips, change ships, service schedules without being liable for compensation.
During the trip, please keep your ticket for checking.
For luggage with the number of kilograms in excess of the prescribed limit, it is forbidden to bring baggage with odor, water, or dirt on board. As for your hand luggage and belongings, please keep your own.
In particular, prohibited goods such as explosives, inflammables, chemicals, and drugs are not allowed on board. If found, it will be fined according to regulations.
It is strictly forbidden to leave the train compartment. If anyone violates, the company will not be responsible in case of an accident.